So you're looking for ways on how to get more likes on Facebook! It's not that hard and obviously if you do it right, you'll get more exposure for your content that will lead to more leads and sales in your marketing.
Get More Likes on Facebook

The first thing you have to do is respect the platform like Gary Vaynerchuk says in his book Jab Jab Right Hook.
Facebook isn't a place that people go to buy things. However, millions of dollars are made through Facebook everyday from advertisers doing it right.
On the contrary, millions of dollars are wasted everyday from people doing it all wrong.
Whether you're spending money on the Facebook Ad Platform or you're just updating your posts it's important to know how to do it right when learning how to get more likes on Facebook.
Why Do People Hang Out on Facebook for Hours a Day?
They're there to get entertained, possibly catch up on the news, and snoop on their friends.
If you understand the psychology of why people are there in the first place, then you'll have an easier time getting them to like and share your content.
All you have to do is entertain their needs!
1st Tip to More Likes on Facebook –
Create Viral Shareable Content
This was actually one of the pivotal changes I made that has contributed to a 300% increase in likes and shares on Facebook.
Take this post for example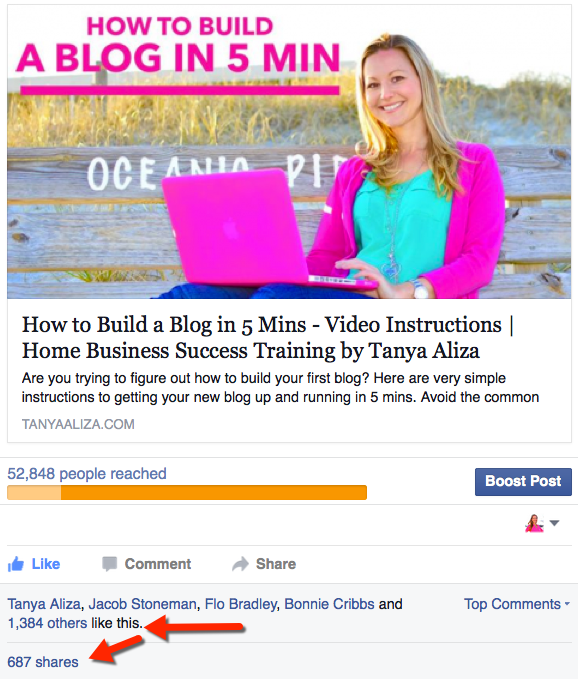 I learned that people love sharing and liking things that really help them and they share it if it'll make them look good!
Think about who your audience is and what you're trying to sell them.
How can you create a post or piece of content that will really help them? What is it that they really want to know?
It's about creating value that's easy for them to consume and get a result.
Instead of posting a link to your sales page and saying 'Buy my Crap' (okay I know you're probably not selling crap), post something informative that leads into your sales page as the Next-Step.
This is how you add value to the market place and get more people interested in buying or doing business with you. This is also how to get more likes on Facebook with that post and the more likes you get on the value that leads into the sales page, the more eyes you'll have on that sales page.
This is how the Facebook Marketing pros do it!
2nd Tip to More Likes on Facebook – Your CTA (Call to Action)
This might seem super obvious but I see people completely miss this all the time and if you take just 10 more seconds to do this, you'll definitely get more likes and shares on Facebook.
Ask and you shall receive. People need to be told what to do and if you simply add 'Please Like this post if you got value' guess what people will do? You got it!
A couple more CTA's that will help you get more engagement on Facebook:
Please Pass this along and Share this Post
Did this Help You? Share it with a friend
Please comment below
Did you get value? Tag a friend in the comments section to share
3rd Tip to More Likes on Facebook – Get with the Trends
When you log in to Facebook, you'll see a 'Trending' column on the right hand side.

This is where you can see what's trending on Social Media at the current moment.
If you can create a clever post around something that's trending (already getting a bunch of action) you'll be capturing an 'already engaged crowd'.
Think about how you can create a post that revolves around what's already trending and what your offer is.
I'm going to show you an example using what's trending today.
So today we have The University of Calgary (fun fact: this is where I was actually born): Police Arrest Student After 2 Guns Found Inside Ceiling on Campus
My Offer: I teach people how to run successful Home Businesses.
What my post on Facebook might look like: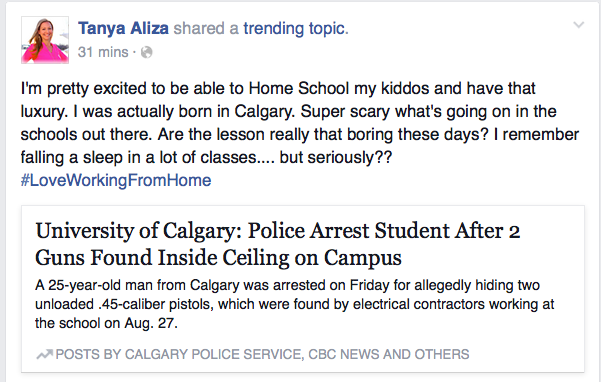 The reason why this will get so many likes, shares and engagement is because anyone that works from home will share it and anyone has kids that go to public schools might have this fear and want to know more about working from home to have this luxury.
So what did you think? Pretty simple yet effective tips on how to get more likes on Facebook?
Obviously there are more ways you can rock it on Facebook, but I promise if you just add these 3 tips to your posting plan you'll see a spike in Likes and engagement!
I'm launching a Brand New Facebook training soon and if you'd like to get on the waiting list for it, make sure you're already on the list.
To get on the list you can pick up my FREE Home Business Survival Guide. I'll teach you the 7 Skills you need to know to recruit effortlessly and to build a big team globally, while you wait for the new Facebook Marketing training.

Did this post help ya? Share it by clicking one of the share buttons to the right.
Do you have any Facebook Marketing Tips you'd like to share? Join the conversation below and share! I love hearing about what's working for you.