Want to learn how to grow your business on Instagram?
If it's a yes then you're in the right place.
If you're anything like I was in the beginning, I really thought Instagram was annoying and mainly just for kids…
But…As the years went on, I studied how it works and slowly dove right in.
AND now, it's one of my favorite platforms to visit and I've actually purchased quite a bit of stuff from people on Instagram.
I'm now a firm believer that everyone should pay attention to it if you have products or services that you sell
In this episode of Tanya Aliza TV, you're going to learn proven strategies to help you generate leads and sales…PLUS I interview Network Marketing Rockstar Marina Simone who's an Instagram expert and she's going to be sharing her best tips and secrets to generating leads and sales from Instagram.
How To Grow Your Business On Instagram – Cool Hashtag Strategy Included – With Marina Simone – Episode 212

With every Episode of Tanya Aliza TV, I like to empower you with a POWERFUL free resource that you can implement right away and create results with fast in your business.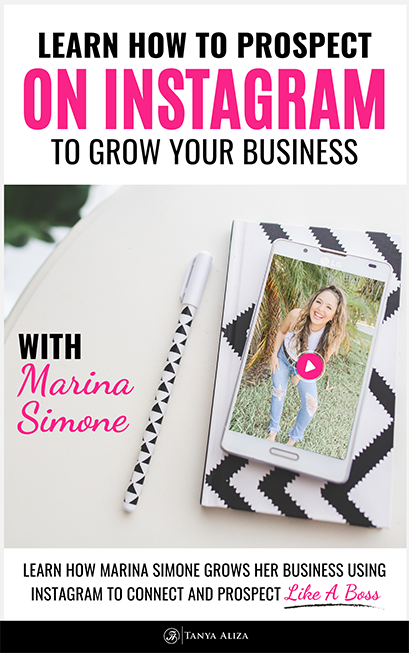 This week since we're talking about monetizing and growing your business on Instagram…Marina has created a mini-training where she shows you her 3.3.3. method on exactly how she prospects on Instagram.
Her free resource is called Learn How To Prospect On Instagram To Grow Your Business.
This mini training she put together will show you how to prospect on Instagram using the same methods she uses to get her leads and sales every single week for her network marketing business.
I love Instagram and all the leads and sales I get from it…
But, I'm not going to pretend to be the expert.
Instead, I'm going to bring you one of the best Instagram trainers I know.
Her name is Marina Simone and she not only trains on how to use Instagram for your business…she uses it every day herself to grow her network marketing business.
But what's really unique about Marina is that she focuses on helping people grow their income using Instagram, not necessarily their following.
This is huge because so many people train on growing a huge following but a following doesn't equal money in the bank.
I'd rather a small following and grow my income to 6-figures than to have 100,00 followers.
I'm sure you do too.
Now, I've asked her to come out on the show for 2 reasons:
1. I already study and follow her and what she teaches works
2. I wanted to pick her brain myself so that I could understand a bit more myself.
So without further ado, I want to introduce you to my very good friend and total lady boss, Mrs. Marina Simone the CEO and founder of the Moms and Heels Community.
How To Grow Your Business On Instagram – Meet Marina Simone
Marina Simone is not only a very good friend of mine, she is an absolute lady boss in business.
But that wasn't always the case.
When she got introduced to Network Marketing she was really excited to get it going so she could get out of the job she was in and spend more time with her daughter.
Like most people, she failed miserably for the first 2 years..
Determined to get out of the cubicle she hated working in and be able to spend more time with her daughter…Marina found a way.
Once she discovered the power of Social Media her business started to explode and she became a 6-figure income earner.
Now she's now on a mission to help other moms be able to grow their business from home so they too never have to miss those special milestones in their children lives.
How To Grow Your Business On Instagram – Hashtags
You may or may not be familiar with Hashtags…but they're really important when it comes to finding exactly what you're looking for on Instagram.
Just like there are specific words or phrases that people are typing into Google or Youtube when searching for a specific topic…people are using hashtags on Instagram to find the topic they're interested in.
Hashtags are the key to finding your perfect customers and teammates on Instagram.
And since most people have their profiles public it makes it much easier to follow someone than to friend request everyone that's a potential customer.
But you gotta dig deep and go beyond the typical and common hashtag that everyone's using.
How To Grow Your Business On Instagram – How to properly use Hashtags
Here's what Marina has noticed when it comes to network marketers using hashtags.
She's noticed that the biggest mistake they're making is using the same hashtags other network marketers are using.
For example, let's say you're selling a weight loss product and you do a post about weight loss and you use the hashtag #weightlossjourney.
Chances are that everyone else who's selling a weight loss product is also using that hashtag.
Instead, you need to dive deeper and think about the types of people that want weight loss.
So for example, Marina uses #Postpartum as her hashtag because she recently had a baby and she knows there are other women who've had babies that are looking for weight loss solutions with that hashtag.
It's a matter of thinking about which hashtags the type of person would search or use.
How To Grow Your Business On Instagram – In Closing
There's so much potential for growth on Instagram.
The key takeaway here is you don't need to have thousands of followers or be an influencer to make money on Instagram.
And to make this point hit home…Marina had less than 5,000 followers on Instagram when she started making 6-figures from using the platform.
She uses the power of starting conversations to create relationships to grow her business.
This is some pretty powerful stuff.
So yes, Instagram is definitely a platform you want to pay attention to and start using if you have a business, service or products that you market.
And to help you dive deeper make sure you download Marina's free resource called 'Learn How To Prospect On Instagram To Grow Your Business'
She'll show you how to connect and prospect on Instagram so you can generate leads and sales each and every week.
You can download it by clicking on the yellow button below 👇

Resources Mentioned & More That Will Help Rock Your Biz
Instaboost Launch Workshop – Learn More Here
Marina Simone is not only a very good friend of mine, she is an absolute lady boss in business and has one of the best Instagram training programs I've ever seen when it comes to using the platform to grow your Brand and Business. This is the ONLY training that you'll ever need to get when it comes to Instagram because she goes over absolutely everything you'll need to know.
Influence – Book by – Learn More Here 
Have you ever wondered how some people just have that 'Magic' over others? They can go up and talk to people easier, they can command attention and lead people into buying decisions easier…. how do they do it? Is it just a gift? Nope… it has everything to do with understanding how people operate and how to INFLUENCE them. This is one of my favorite books and if you're in a position where you collect decisions from people (sales) this is a MUST read!
Jab Jab Jab, Right Hook (book) – Learn More Here
This is one of my favorite books and I recommend it to anyone that wants to master the art of Social Media to get it and read it 5 times! It teaches you how to function on Social Media to get the most results.
The B-L.A.B. – Come Join Us Here
AKA Build Like A Boss, The B-LAB is Tanya Aliza's FREE Facebook Mastermind group full of awesome Networkers and Entrepreneurs that are all on a mission to grow their businesses Faster and easier with Online Strategies for prospecting, recruiting and sales. We do themed days of the week, we hold each other accountable and we lift each other up! Come introduce yourself and your business.
Did you get some value from this training on how to grow your business on Instagram?

I hope you did because each week I put my heart into making sure you get some amazing training to help you learn how to grow your business on Instagram so you can rock it in your business while creating a life you love.

Wanna Share This Because You Love Sharing Valuable Info?
Each Monday I post a new video training and free resource on my blog.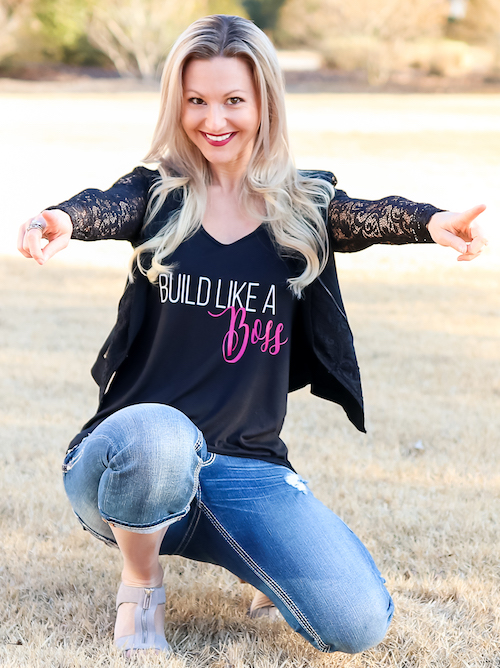 Each Tuesday I do a Live Q&A training on my Facebook Page so make sure we're connected www.facebook.com/tanyaaliza
Stand Out and Stay Connected… drop a comment below.
You are a Rock Star!
Hope you enjoyed this training on how to grow your business on Instagram 🙂