Have you ever wanted to know how to use Facebook messenger bot for your business?
I asked the same question before when I did Episode 143, which also talks about using Facebook messenger bot, and it was a huge hit!
In fact, so many people have been asking me for more information on how they can specifically implement this strategy into their business.
But some things have changed since then because social media is always changing.
So, I wanted to come up with an episode that talks about:
✓What these changes are that Facebook made
✓How you can use Facebook messenger bots for your business
✓Give you some really cool ideas on how to automate and grow your business
✓How to leverage your time
Facebook messenger bots are such a cool and typically easy tool to use to help you generate leads and sales.
I personally use Facebook messenger bot, but I also want to learn more about Facebook messenger bots and these changes.
Which is why in this episode of Tanya Aliza TV, I brought back Mark Harbert, a good friend, marketing genius, and one of the best Facebook messenger bot trainers out there to talk all about Facebook messenger bots.
How To Use a Facebook Messenger Bot To Explode Your Engagement & Get People Buying From You – Episode 214

With every Episode of Tanya Aliza TV, I like to empower you with a POWERFUL free resource that you can implement right away and create results with fast in your business.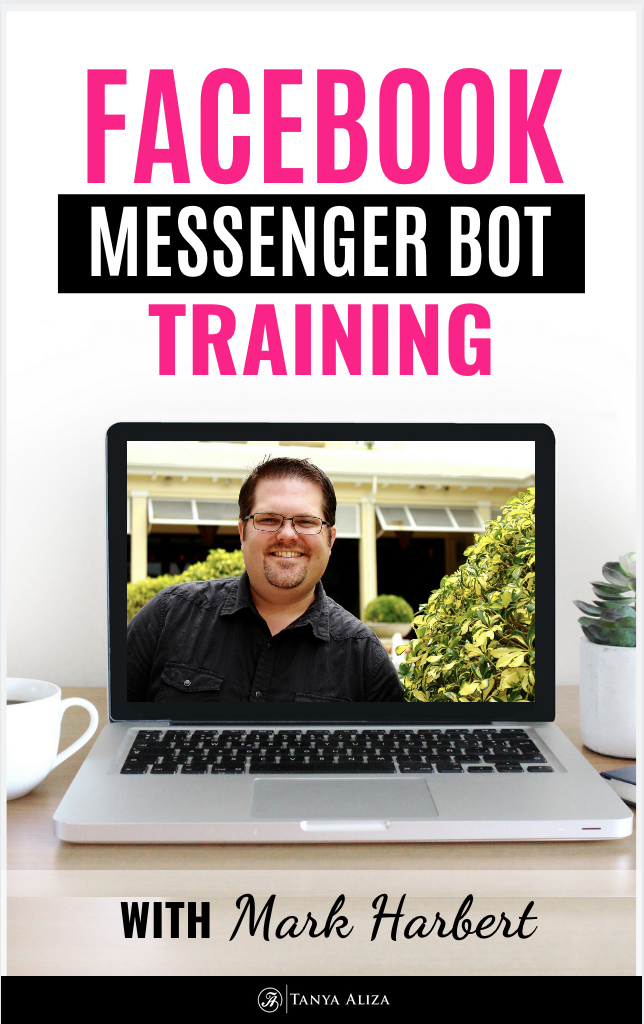 This week since we're talking about using Facebook messenger bots to generate leads for your business I'm going to invite you to register for Mark Harbert's Free Messenger Training that will teach you how to set up a Facebook Messenger bot to build relationships with qualified prospects in an automated way.
Mark Harbert is in the house!!!
My good buddy Mark has actually been on my show a couple of times and he is a marketing genius I look up to.
For those of you who don't know Mark yet, he got started in network marketing many years ago and had the same problem many marketers have: he didn't have enough people to talk to.
So he dove in head first in marketing online and learned all he could about leads generation.
Now, fast forward almost a decade later, Mark can do lead generation easily.
Mark actually recently did a campaign using Facebook messenger bot, where he spent $62 dollars on a messenger bot ad and made $ 1,700.00 from it. That's super incredible!
Why use a Facebook messenger bot?
When Facebook messenger bots first came out, Mark was actually adamantly against it, until he saw an ad about it which changed his mind.
When Mark finally tried it, the engagement he got was off the charts!
Now it's one of the main avenues he uses to communicate with his audience because it's an incredible way to engage his audiences.
Engagement through Facebook messenger bot is so great because it really sears you in the minds of audiences.
A Facebook messenger bot can help you get more engagement
In today's world, it's all about engagement.
In Mark's experience, he believes that you can build the audience but if you don't engage your audience, it's useless.
In the end, it's all about who engages with you.
Which is why Facebook messenger is an incredible tool. A lot of people are on Facebook messenger now. People don't check their emails as much anymore, but they are always on Facebook messenger.
Some people even check their Facebook messenger first before they check their text messages!
It's a great way to get in front of people and know that when you do, you're actually seen, and very quickly as well.
Who would you recommend a Facebook messenger bot to?
I know that most of my audience are network marketers and entrepreneurs, and I believe that Facebook messenger bot is a great tool for you to grow your business!
Mark works with a lot of network marketers as well and using Facebook messenger bot has been a game changer because it saves a lot of time in prospecting.
One of the best ways to use Facebook messenger is to pre-qualify.
From a business standpoint, pre-qualifying your prospects is important for you to get a ratio of who you will engage with.
A lot of time is used in pre-qualifying, and that is where Facebook messenger bot comes in.
This is the most powerful part of it. You can pre-qualify them before you really go in and talk to your prospect.
When you save time, you can do a lot more and you can move faster in your business.
How did you MAP out your Facebook messenger bot and what was your goal when you launched it?
Using Facebook messenger bot is kind of like reading that book Choose Your Own Adventure.
You can set up your bot to answer questions specific to your campaign where your bot engages the audience based on their answer before you personally talk to them.
As Mark always says, using Facebook messenger bot is about saving time. Instead of responding one by one to inquiries which tend to be very tedious, Facebook messenger bot can already tell you the level of interest of your audience.
This cuts the time you spend on pre-qualifying your audience.
As I always say, if you have something that you do over and over again, find a way to automate it.
Facebook messenger bot is one way to do this, without losing the personal touch.
What does your Facebook messenger bot content schedule look like and how do you grow your messenger bot?
Mark has a great 3-step framework that he has built his business around:
Build an audience
Engage the audience
Sell to your audience
There are many strategies out there about build, engage, and sell.
The beauty of Facebook messenger bots is you can use the build-engage-sell model in one strategy.
Mark has come up with a way to really build a "hyper-responsive" audience using Facebook messenger bots and how you can do it within 24 hours.
If you already know how to use Facebook messenger bots, there are some changes to using Facebook messenger bots.
For example, you can create a subscribers list which you can send an email broadcast.
This is a very powerful tool, because you can send a message to thousands of people in the list in just one click.
It used to be free, but now you have to do it through a sponsored message.
Don't worry, the cost to send out to a thousand is low, and you still get a high engagement rate.
Facebook messenger bot – In closing
Facebook messenger bots are a great tool to automate social media prospecting.
It will help you spend your time focusing on those who qualify for your service or product and turning your engagement into sales.
But to help you dive deeper make sure you register for Mark's Free Messenger Training that will teach you how to set up a Facebook Messenger bot to build relationships with qualified prospects in an automated way.
You can download it by clicking on the yellow button below 👇

Resources Mentioned & More That Will Help Rock Your Biz
📌Episode 143 – How To Use Facebook Messenger Bots To Build & Automate Your Business – Learn More Here 
Mark Harbert's On Demand Messenger Revolution Training – Learn More Here
If you've ever wanted to know how to use Facebook Messenger Bots to help you build your Brand and Business, this training is jam packed with strategy and ideas to help you keep your pipeline full of interested prospects. Imagine, never running out of customers and being able to build a list of people that you can re-market to and communicate with, on-demand, when you have specials and promos that come up. The possibilities are endless with this tool and strategy in your world.
Unlimited Fan Page Profits – Learn More 
If you don't have a Facebook Fan Page yet and you're looking at all these rock stars with Fan Page and you want one for yourself… Unlimited Fan Page Profits is a training that I put together that will walk you through the steps of building a Profitable Facebook Page and marketing plan to generate leads, build a big audience and make daily sales.
Jab Jab Jab, Right Hook (book) – Learn More Here
This is one of my favorite books and I recommend it to anyone that wants to master the art of Social Media to get it and read it 5 times! It teaches you how to function on Social Media to get the most results.
The B-L.A.B. – Come Join Us Here
AKA Build Like A Boss, The B-LAB is Tanya Aliza's FREE Facebook Mastermind group full of awesome Networkers and Entrepreneurs that are all on a mission to grow their businesses Faster and easier with Online Strategies for prospecting, recruiting and sales. We do themed days of the week, we hold each other accountable and we lift each other up! Come introduce yourself and your business.
Did you get some value from this training on Facebook messenger bot?

I hope you did because each week I put my heart into making sure you get some amazing training to help you learn how to grow your business with Facebook messenger bots so you can rock it in your business while creating a life you love.

Wanna Share This Because You Love Sharing Valuable Info?
Each Monday I post a new video training and free resource on my blog.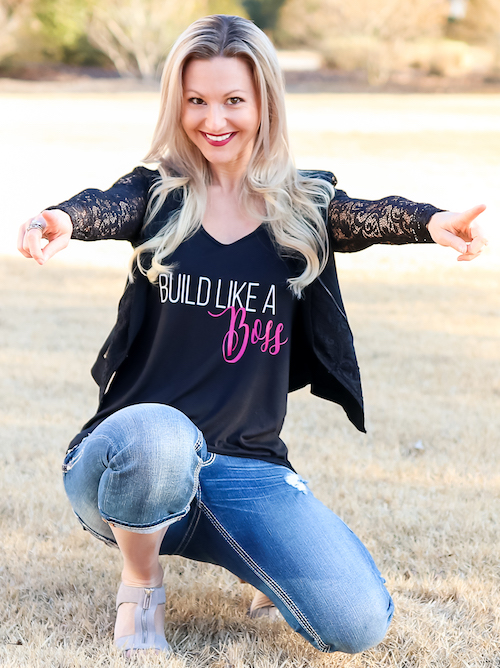 Each Tuesday I do a Live Q&A training on my Facebook Page so make sure we're connected www.facebook.com/tanyaaliza
Stand Out and Stay Connected… drop a comment below.
You are a Rock Star!
Hope you enjoyed this training on Facebook messenger bots 🙂