Have you ever wanted to know how to use Facebook messenger bots to build your business?
Don't know what a Facebook messenger bot is or how you can use it to grow your business?
If you need more leads and sales for your business then you'll want to remove all distractions, grab a pen and notebook and dive into this training because in this episode of Tanya Aliza TV…
I'm going to share with you:
✓What a Facebook messenger bot is
✓How you can use it to keep your world full of interested prospects that are perfect for your products, services and business
✓How you can use it to automate your prospecting process so you're not spending hours and hours on Facebook just trying to start conversations with people
How To Use Facebook Messenger Bots To Build & Automate Your Business – Episode 143

With every Episode of Tanya Aliza TV, I like to empower you with a POWERFUL free resource that you can implement right away and create results with fast in your business.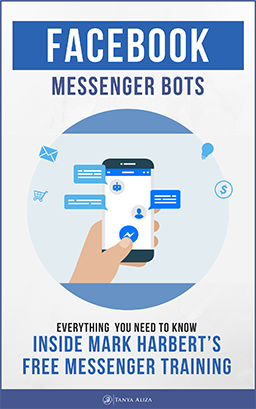 And today since were talking about using Facebook messenger bots to build your business I'm going to invite you to register for Mark Harbert's Free Messenger Training that will teach you how to set up a Facebook Messenger bot to build relationships with qualified prospects in an automated way.
Make sure you go download it right away because I'm not sure how long he's going to have it available for free.
You can download it by clicking on the yellow button above.
Meet Mark Harbert – Facebook Messenger Bot Expert & Trainer
If you don't know who Mark Harbert is then you're in for a real treat today.
Mark is a master at using the Facebook messenger bot to build relationships with people on Facebook and also to grow his list and build his business.
And he shows people how to use it in an automated fashion so they're not spending hours and hours on Facebook just trying to start conversations with prospects and instead make better use of their time.
I've personally seen amazing results with using Facebook messenger and I'm not even using it to its full potential…so of course I turn to Mark when I have Facebook Messenger bot questions because he's the expert on this.
Facebook Messenger Bot to help you build relationships while automating your business
I've had a few people ask me to share how I've been using Facebook messenger bots to grow my business.
And you know that if I'm doing something in my business that's working, that I like to share the goodness with you so you can crush it in your business as well.
But I like to give credit where credit is due….
So instead of me teaching you this… I called up my good friend Mark Harbert (who I learned some of this stuff from) and asked him if I could grill him on an interview for you guys…
Of course Mark said yes….cause he's awesome like that 😉
I asked Mark to share a real scenario on how a Network Marketer could use Facebook messenger to build their business so make sure you watch the entire interview.
Be ready to remove distractions & take notes so you can see what we're up to and how you can start to implement some of this stuff in your own business…
Facebook Messenger Bot – In Conclusion
Most people spend 90% of their time on Social Media prospecting and its spent just trying to start conversations.
Imagine you automate this process with a Facebook Messenger bot so only highly qualified prospects reply back and your not spending hours and hours with people who aren't even interested or need what you have.
That's what you'll learn in Marks training so make sure you click the yellow button below and dive into his free training…

Resources Mentioned & More That Will Help Rock Your Biz
Mark Harbert's On Demand Messenger Revolution Training – Learn More 
Facebook Live Checklist (Free) – Learn More 
This is my go-to checklist that I've been using before, during and after my FB Live broadcasts that have gotten me tens of thousands on eyeballs on my products and services!
It's no secret that doing FB Lives can bring you a lot of exposure and business, but sometimes it can be exhausting and intimidating to know if you're doing them right to get people to actually take the next step with you…
Jab Jab Jab, Right Hook (book) – Learn More Here 
This is one of my favorite books and I recommend it to anyone that wants to master the art of Social Media to get it and read it 5 times! It teaches you how to function on Social Media to get the most results.
 Connect With Mark On Facebook – Click Here
The B-L.A.B. – Come Join Us Here
AKA Build Like A Boss, The B-LAB is Tanya Aliza's FREE Facebook Mastermind group full of awesome Networkers and Entrepreneurs that are all on a mission to grow their businesses Faster and easier with Online Strategies for prospecting, recruiting and sales. We do themed days of the week, we hold each other accountable and we lift each other up! Come introduce yourself and your business.
Did you get some value from this Facebook messenger bot interview with Mark Harbert?

I hope you did because each week I put my heart into making sure you get some amazing strategies so you can rock it in your business while creating a life you love.

Wanna Share This Because You Love Sharing Valuable Info?
Each Monday I post a new video training and free resource on my blog.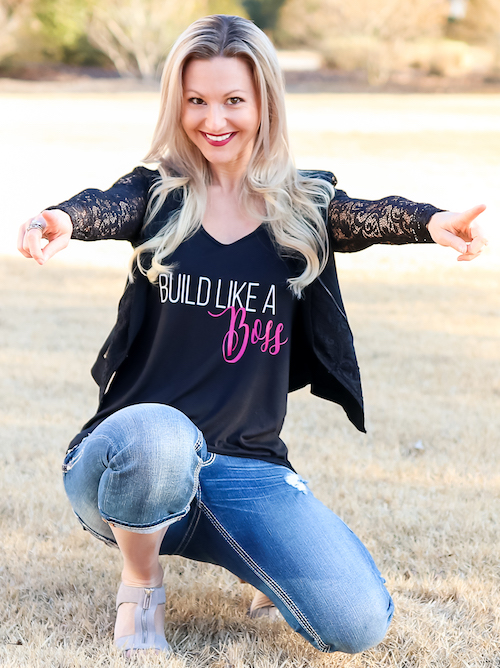 Each Tuesday I do a Live Q&A training on my Facebook Page so make sure we're connected www.facebook.com/tanyaaliza
Stand Out and Stay Connected… drop a comment below.
You are a Rock Star!
Question of The Week: Are you using Facebook messenger bots for your business?
Share in the comments below. I'd love to hear from you!