In this episode, Jessica Higdon shares her best social media recruiting tips that will help you grow a wildly successful business using social media.
"Tanya, is it possible to build a massive network marketing business solely using social media?"
This is one of those questions I get A LOT.
And it's a great question…
Especially if you've been struggling to recruit people from your warm market into your business OR you've simply run out of people to talk to.
In today's episode, I had the privilege and honor of interviewing my good friend and total Lady Boss Jessica Higdon.
Jessica has an incredible story that not a lot of people know about and I think it will really help anyone who is either struggling in their business or wants to improve their results with their social media strategy.
In today's episode of Tanya Aliza TV, Jessica shares these nuggets of wisdom:
✔ The #1 reason most people fail with their social media strategy
✔ How she built a 6-figure income business on social media with just 1 hour a day
✔ How to share valuable content with your audience in a way that will get them interested and wanting to connect and learn more from you
Her 6-figure social media recruiting tips will help you keep a steady flow of new prospects coming through the door.
But…
These aren't just any tips…these are 6 figure social media recruiting tips so make sure you take notes 😉
Jessica Higdon Shares How She Built a 6-Figure Business In Just 18 Months Using Social Media Recruiting – Episode 92

With every Episode of Tanya Aliza TV, I like to empower you with a POWERFUL FREE resource that you can download and
implement right away and create results with fast in your business.
This week, since we're talking about building a team using solely social media, I want to invite you to register for Jessica's info session where she will show you exactly how she went from being rejected and turned down for 5 months straight to building a true 6-figure residual income in just 18 months.
Click the yellow button above to get registered for her value-packed info session.
Social Media Recruiting – Meet Jessica Higdon
Oh, but wait…you probably already know who Jessica Higdon is.
Most people are already familiar with Jessica and her husband Ray Higdon because of their top-notch training and results people get from their coaching programs.
And if you don't know them, eventually you will.
They are highly sought out trainers inside the network marketing industry and I can honestly say that their training is one of the best out there.
It's definitely impacted my business in a very big way!
I've learned a lot from them and I highly recommend that anyone who wants to become a professional network marketer get plugged into their training.
Social Media Recruiting –After a gruesome 5 months prospecting her warm market and not a single person joining her team…She turned to Social Media
All network marketers know that having a flow of new prospects come through the door is the lifeblood of their business.
Which is why you need to be talking to people all the time 🕛
When Jessica started her network marketing business, she spent her first 5 months prospecting and got rejected by every single person she talked to.
Talk about feeling discouraged and wanting to quit!
(For more on this, check out my episode on How To Get Pumped Up Again When You Feel Like Giving Up In Your Business.)
She definitely felt that way…but didn't quit.
Instead… She turned to social media to find people to talk to and build her business.
And went on to build a true 6-figure residual income in just 18 months.
Your jaw just dropped, didn't it?
That's the true power of using social media to build your business.
Social Media Recruiting – Social media…if used properly can help you grow a massive team
So naturally, Jessica has gone on to train and help other network marketers create a massive team using the same exact social media strategies that worked so well for her.
Keep in mind she only had an hour a day to build her business while she was working at her J.O.B.
Today she's a busy mom and understands more than ever what having limited time to build a business looks like.
Her strategies are being used by other parents and busy professionals who don't have a lot of time to sit in front of their computers all day to build their business.
But the best part is that her strategies simply WORK.
They've been tried and tested, and they aren't just theory.
So, if you're ready to turn to social media to build a massive team or want to improve your strategy then be sure to register for Jessica's info session.
Click on the yellow button below to register and get ready to crush it in your network marketing business!

Resources Mentioned & More That Will Help Rock Your Biz
10k Social Media Recruiting Formula – Learn More
This is a training by my good friend Jessica Higdon. Jessica has created a $10,000/mo income in her network marketing company from prospecting and recruiting through Facebook. In this training, she reveals exactly what she's done to achieve this. It really is a great training for you and your team.
The Network Marketing Revolution (Book) – Learn More Here
This book was co-authored by my good friend and Lady Boss, Jessica Higdon. I not only love it cause I'm in it (wink wink), but because it show cases many success stories from everyday people that have created amazing results in Network Marketing. I have multiple copies of this book on hand to share with my prospects as an amazing recruiting tool. I suggest you order a few copies too!
The B-L.A.B. – Come Join Us
AKA Build Like A Boss, The B-LAB is Tanya Aliza's FREE Facebook Mastermind group full of awesome Networkers and Entrepreneurs that are all on a mission to grow their businesses Faster and easier with Online Strategies for prospecting, recruiting and sales. We do themed days of the week, we hold each other accountable and we lift each other up! Come introduce yourself and your business.
Did you get some value from these social media recruiting tips?

I hope you did because each week I put my heart into making sure you get some amazing social media recruiting tips and strategies to rock it in your business while creating a life you love.

Wanna Share This Because You Love Sharing Valuable Info?
Each Monday I post a new video training and free resource on my blog.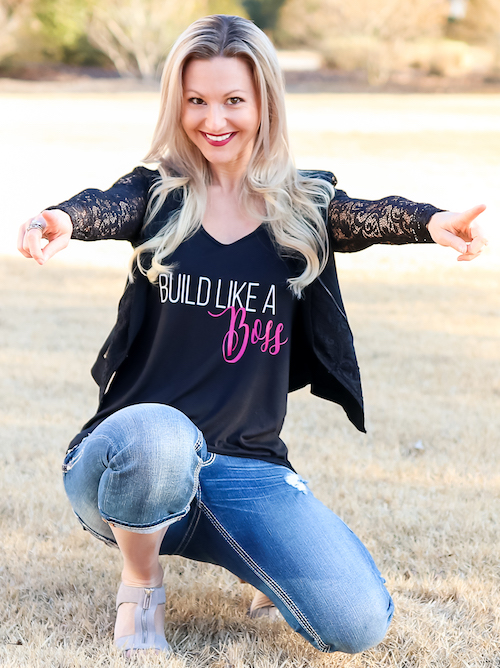 Each Tuesday I do a Live Q&A training on my Facebook Page so make sure we're connected www.facebook.com/tanyaaliza
Stand Out and Stay Connected… drop a comment below.
You are a Rock Star!
Question of the week: Did you enjoy these social media recruiting tips from Jessica Higdon?
Let's show Jessica some love and drop a comment below and let her know what you loved most about the interview!