In this Episode, I'm sharing my best Facebook Recruiting secrets using messenger so you can experience massive growth in your recruiting efforts.
I've been using the Facebook messenger voice recorder feature to connect with my prospects and…I just have to say…the results have been nothing short of AMAZING.
One of the reasons I think this strategy is working so well is because it adds that personal touch that lacks on Social Media.
And building relationships is what it's all about right?
However, as great as this tool is, you'll want to LEARN how to use it the RIGHT way so you don't end up turning people off.
In this Episode of Tanya Aliza TV, I'm going to give you my Messenger game plan to help you prospect and recruit new people into your business.
My Facebook Recruiting Secret – How I Used Facebook Messenger To Enroll 52 New Teammates Last Month – Episode 98

With every Episode of Tanya Aliza TV, I like to empower you with a POWERFUL FREE resource that you can download and implement right away and create results with fast in your business.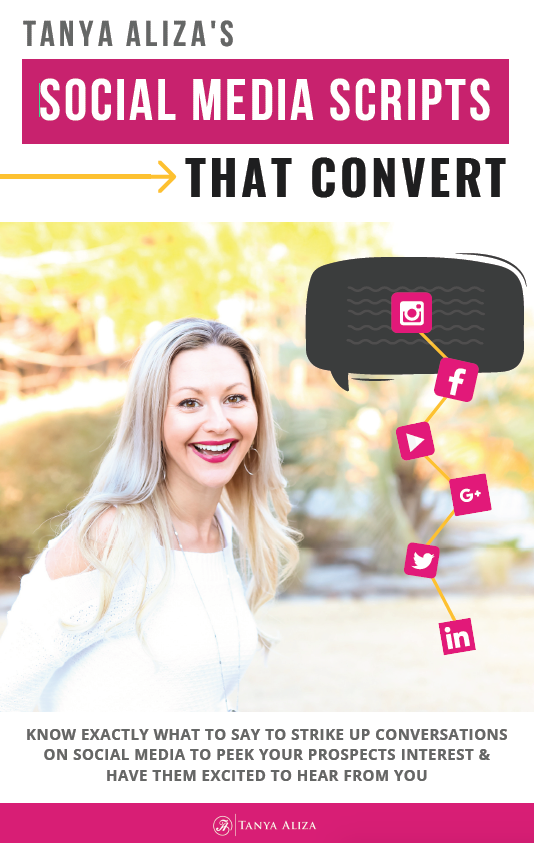 This week, since we're talking about prospecting on social media I'm giving you my Social Media Scripts That Convert to help you know exactly what to say to strike up a conversation on Social Media.
Facebook Recruiting – Why use Facebook voice messages?
There's a couple of reason's why you'd want to use the Facebook voice feature.
For one…it adds a personal touch and warm connection with your prospects and leaves them with a good impression.
Another reason is that it's EASY but really EFFECTIVE when your prospecting.
I've been using it with great results and I'm going to show you how to use it on both Mobile and Desktop.
Make sure you watch the video that goes along with this episode as I walk you through the exact steps to downloading and finding the voice recorder feature on Facebook.
Facebook Recruiting – Get started with the Facebook Messenger app
If you're on mobile, you'll want to use the Facebook Messenger app.
This way you can easily use the messenger voice feature when you're on the go or if you simply prefer to use your mobile device.
You can also use it on Desktop as you'll see me demonstrate in the video above so make sure you watch it so you can see exactly where the voice recorder tool is located.
Facebook Recruiting – My Messenger Game Plan
There are several phases you need to go through when your prospecting on social media and you'll want to get a good understanding of these and put them into practice.
If you don't follow a step by step process like the one I'm going to show you…
You'll be all over the place and you'll confuse your prospects and get zero results from your efforts.
Facebook Recruiting – Phase 1: Relationship building
The only goal in phase 1 is to get your prospects to start a conversation with you.
A quick message saying 'hey' and asking them how they're doing is all that happens at this phase.
You don't want to drag this phase on and on though. The goal is to just get a conversation started here.
Facebook Recruiting – Phase 2: See if they're open
The second phase is to see if they're open.
In this phase, you get straight to the point as to why you've reached out to them and ask them if they're open to a side project if it wouldn't interfere with what they're already doing.
Facebook Recruiting – Phase 3: A simple yes or no
This phase only happens if your prospect gets back to you and lets you know that they are indeed open to what you're doing or offering.
If they're not open, then that's okay you just wish them a wonderful day and stay connected.
If they say yes, then you move them to the next step and tell them how you're going to get that information over to them AND set a time to circle back around to answer their questions.
This is a REALLY important step.
Make sure you confirm a time and never send out information to your prospects without a date and time to get back with them to answer their questions.
It's important that you stay in control of the marketing process.
Facebook Recruiting – Phase 4: The final process
At this point, you'll confirm the time and date that you'll follow up with them and let them know how they'll get more details about your business, products or service and basically just let them know what to expect.
It's so simple and effective to walk your prospects through your marketing process with the Facebook voice feature.
What's most valuable about this process is that if my prospects end up joining me…they'll be able to go back to the conversation thread and have an exact blueprint that stays documented in the thread inside of Facebook messenger for them to go back to at any time and model and use with their own prospects.
This is a really powerful prospecting tool for you and your team and it's definitely been a game changer for myself and my team.
If you use this tool properly you'll see results but if you don't you'll get no results with it.
Here are 2 tips for using Facebook messenger Like A Boss 😎
🔶Tip 1: If you're dealing with someone who's super busy it's important that you keep your messages short and to the point.
Long-winded messages will turn them off and get you nowhere.
🔶Tip 2: Voice inflections are super important when you're using the Facebook voice feature.
You'll want to make sure you sound excited and bring your excitement level up a few notches more than you usually sound without sounding fake of course.
If you're not well versed in voice inflections, then I recommend you pick up a book by Zig Ziglar called 'The Power Of Voice Inflections.'
It's a really great book you'll want to check out to learn more on how your voice can influence other people…in a good way.
I'll leave a link to the book in the show notes below.
And to help you even more with these Facebook Recruiting voice messages I'll leave you with a really great resource that I created called 'Social Media Scripts That Convert" to help you know exactly what to say to strike up a conversation on Social Media.
Click on the yellow button below to download this resource…
Resources Mentioned & More That Will Help Rock Your Biz
Unlimited Fan Page Profits – Learn More
If you don't have a Facebook Fan Page yet and you're looking at all these rock stars with Fan Page and you want one for yourself… Unlimited Fan Page Profits is a training that I put together that will walk you through the steps of building a Profitable Facebook Page and marketing plan to generate leads, build a big audience and make daily sales.
10k Social Media Recruiting Formula – Learn More
This is a training by my good friend Jessica Higdon. Jessica has created a $10,000/mo income in her network marketing company from prospecting and recruiting through Facebook. In this training, she reveals exactly what she's done to achieve this.
It really is a great training for you and your team.
The Power of Voice Inflections – Zig Ziglar – Learn More
HOW you talk to people can be more important than WHAT you say. This is an incredible book and resource that will help you with managing your voice inflections when you're talking to people. Voice inflections are very important if you want people to pay attention and take action on what it is that you're saying. Any professional will want to get good at this Skill.
The B-L.A.B. – Come Join Us
AKA Build Like A Boss, The B-LAB is Tanya Aliza's FREE Facebook Mastermind group full of awesome Networkers and Entrepreneurs that are all on a mission to grow their businesses Faster and easier with Online Strategies for prospecting, recruiting and sales. We do themed days of the week, we hold each other accountable and we lift each other up! Come introduce yourself and your business.
Did you get some value from these Facebook recruiting tips?

I hope you did because each week I put my heart into making sure you get some amazing Facebook recruiting tips and strategies to rock it in your business while creating a life you love.

Wanna Share This Because You Love Sharing Valuable Info?
Each Monday I post a new video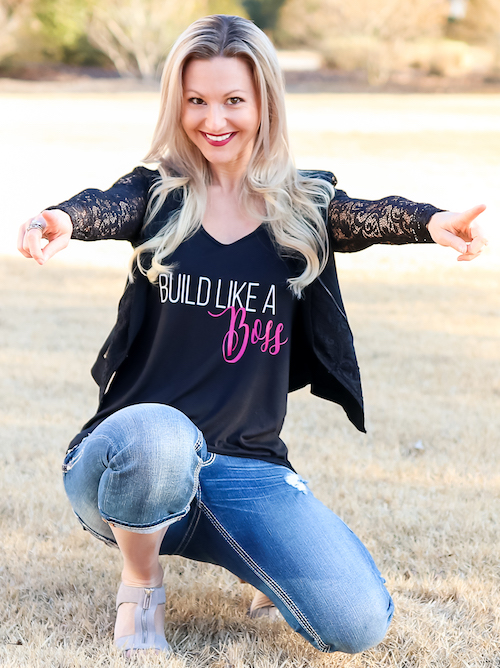 training and free resource on my blog.
Each Tuesday I do a Live Q&A training on my Facebook Page so make sure we're connected www.facebook.com/tanyaaliza
Stand Out and Stay Connected… drop a comment below.
You are a Rock Star!
Question of the week: Are you already using Facebook messenger voice audio feature with your prospects?
If you are, share in the comments below and let me know what you love the most about it.
Hope you enjoyed these Facebook recruiting sceret! 😉