I'm excited to share with you my top 5 social media tools that provides automation and leverage so I can live a great lifestyle, while still running a successful business.
If you're going to win at the game of social media, you have to be consistent & present on social.
It's one of those things where you ALWAYS have to be top of mind with your audience.
But who really wants to spend 24 hours a day, 7 days a week in front of their phone or their laptop?
No one.
The good news is you don't have to be present 24 hours a day, seven days a week.
There are a lot of great social media tools that you can use that will help you look present most of the time, without you having to be.
In this episode of Tanya Aliza TV, I'm going to share with you 5 of my favorite Social Media Tools that I use in my business  that help me save time, and helps me keep a good relationship with my family.
The Top 5 Social Media Tools I Use To Save Me Time And Get More Engagement – Episode 224

With every Episode of Tanya Aliza TV, I like to empower you with a POWERFUL free resource that you can implement right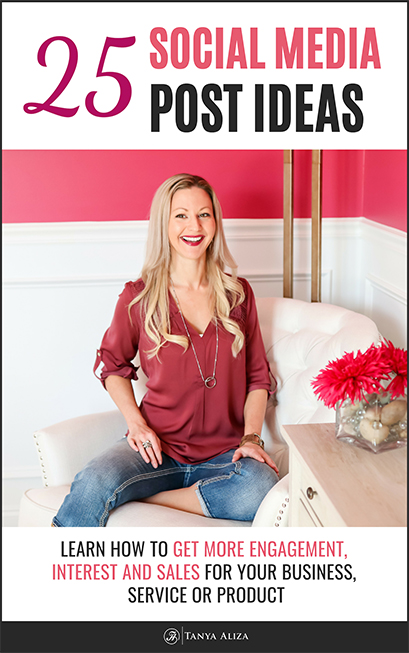 away and create results with fast in your business.
This week, since we're talking about my favorite social media tools to help leverage and automate your time in your business, I put together My Top 25 Social Media Post Ideas that you can start using right away to get more eyeballs and engagement on your social media posts.
Before we dive right into the tools I use that automate my social media posts I want to share my weekly social media plan with you.
Because tools without a plan won't get you as far then having a good plan in place.
Sop we typically spend about a half an hour every Sunday night to plan our content for the week.
And then we schedule the posts with the tools that help us to automate all of it.
Another great reason for using these tools is that it gives us great data and analytics to let us know what kind of content our audience is loving most so that we can create more of that content.
That's not only great insight, but it's also a time saver when it comes to planning our posts.
Social Media Tools – #1 Meet Edgar
People ask me all the time, what tools do you use to automate and schedule your social media posts for Facebook and LinkedIn specifically?
We use Meet Edgar.
Meet Edgar is the tool that I use to automate my Facebook posts, my LinkedIn posts, Twitter posts and my Facebook group posts as well, and it works awesome.
We love it because it's a built in scheduler, and it's the tool that we use to help repurpose and recirculate old content that did really well with our audience.
I'll leave a link to all these tools in the resources section below so it's all in one place for you to grab once you're done with this training.
Social Media Tools – #2 Later
The second tool that we use is later.com.
The reason why we use Later and also Meet Edgar right now at the time that I'm releasing this episode Meet Edgar doesn't have a feature to post to Instagram…yet.
So we found that Later works really well.
It's specifically created for Instagram and you can use it to automate your posts and stories.
If you want to automate your Instagram posts and plan those maybe once a week and set it and forget it, which is what we do, you'll want to check out Later.com
This is a tool that's easy to use and we've been really happy using it.
Social Media Tools – #3 Post Planner
The third tool that we use, and we don't use it as much anymore but is worth mentioning, is Post Planner Pro.
Post Planner Pro is very similar to Meet Edgar but the difference is that Post Planner Pro is less money per month to use.
These are all paid tools, but Later and Post Planner have a free plan that you can get started with.
If you're on a tight budget in your business, you can always upgrade to the paid version of Later and Post Planner when you fit the expense into your budget.
Give it a try because it's a great tool for automating your social media posts.
Social Media Tools – #4 Manychat
My fourth social media tool that we love using is ManyChat.
It doesn't automate posts but it automates our communication with our Facebook business page.
How we use it is to automate the conversation to a certain point so that we know how to best direct the person that's reaching out to us.
We've also used it to automate our onboarding with our courses and with my network marketing company.
And it's just a really cool automation tool for conversation to get prospects to a certain point before we actually manually take over.
It's a big time saver.
Social Media Tools – #4 Plann
And the fifth social media tool that I recommend is an app called Plann.
I'm learning more about it and I haven't specifically dove into it intensely, but I'm loving it so far.
Plann is an app I have on my iPhone but I'm pretty sure that it's available on Android as well.
It's very similar to Later.com.
I don't know if you would need both of them and I'm not too sure which one I'm liking better right now, but I'm just now diving into Plann so I really wanted to mention it because I love the layout.
I also love the user interface and I think that it's really easy to use.
I'll leave the link to it in the resources section below so you can check it out and see if you like it.
Social Media Tools – In Closing
So there you have it, my favorite social media tools that help me automate my posts so I can actually have a life and not spend 24 hours a day on my phone.
I like to keep it really simple when it comes to tools and social media, because keeping it simple keeps it affective.
And that's all that we really need to focus on.
So pick one or two of those tools to check out, and hopefully they'll help you in your business and through your social media efforts.
Not sure what to post on social media or run out of ideas on what to post? No worries, I got you covered.
You can download My Top 25 Social Media Post Ideas that you can start using right away to get more eyeballs and engagement on your social media posts.
You can download it by clicking on the yellow button below 👇

Resources Mentioned & More That Will Help Rock Your Biz
The Ultimate Branding Blueprint – Learn More Here
This is my signature course when it comes to building an Influential Brand Online that attracts leads and sales for your business.
The Messenger Revolution – Learn More Here 
If you've ever wanted to know how to use Facebook Messenger Bots to help you build your Brand and Business, this training is jam packed with strategy and ideas to help you keep your pipeline full of interested prospects. Imagine, never running out of customers and being able to build a list of people that you can re-market to and communicate with, on-demand, when you have specials and promos that come up. The possibilities are endless with this tool and strategy in your world.
Meet Edgar – Learn More Here 
Meet Edgar is the tool that I personally use to preschedule my social media posts so that I don't have to spend hours everyweek remembering what and when to post. It makes me look very professional because it helps me to look like I'm present and very consistent. It also recycles and re-posts my most popular content, giving it masssive exposure and helping me to give my audience exactly what they want. I plan my Social Media content once a week, and then Meet Edgar goes to work for me the rest of the week! I have a coupon code that will save you $10/mo if you decide you want to check it out here!
Later.com – Learn More Here 
This tool will help you visually plan, schedule and analyze posts for Instagram, Facebook, Pinterest & Twitter. I personally like using for Instagram because of the ability to upload and automate all your posts ahead of time and get a visual of how they will look.
Post Planner Pro – Learn More Here 
This is an affordable tool that will help you schedule your Facebook posts ahead of time. Another cool feature this tool offers is the ability to help you find content that your audience will love. This will save you a ton of time!
ManyChat Messenger Bot – Learn More Here
If you've ever wondered how people are automating their Facebook messenger messages… this is ManyChat. I personally use Manychat to build messenger lists of people so that I can mass communicate with them and automate information drip campaigns to them right inside their Facebook messenger. I highly recommend checking them out for your business. Any smart business owner is using this technology.
The B-L.A.B. – Come Join Us Here 
AKA Build Like A Boss, The B-LAB is Tanya Aliza's FREE Facebook Mastermind group full of awesome Networkers and Entrepreneurs that are all on a mission to grow their businesses Faster and easier with Online Strategies for prospecting, recruiting and sales. We do themed days of the week, we hold each other accountable and we lift each other up! Come introduce yourself and your business.
Did you get some value from these social media tools?

I hope you did because each week I put my heart into making sure you get some amazing social media tools so you can rock it in your business while creating a life you love.

Wanna Share This Because You Love Sharing Valuable Info?
Each Monday I post a new video training and free resource on my blog.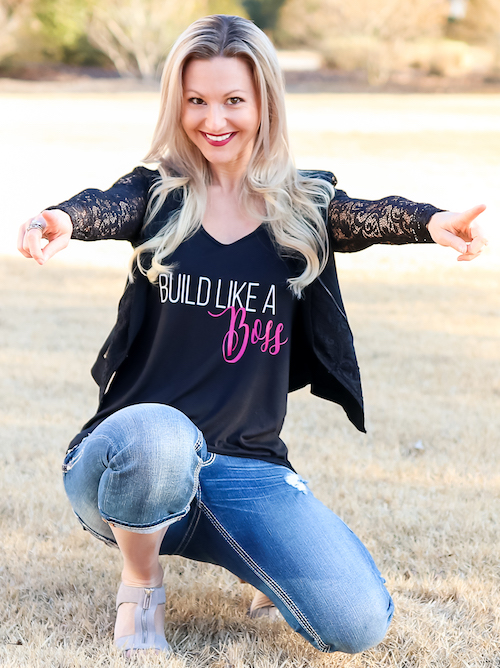 Each Tuesday I do a Live Q&A training on my Facebook Page so make sure we're connected www.facebook.com/tanyaaliza
Stand Out and Stay Connected… drop a comment below.
You are a Rock Star!
Question of the week: Do you use any social media tools that help you with automation and leverage in your business?
If you do, let us know in the comments below. I'd love to hear from you!
I hope you enjoyed learning about my favorite social media tools 🙂