Here are my top 5 favorite Network Marketing Blogs that I like to frequent and learn my golden nuggets from.
I was inspired to put this week's training together for you because I get so many people ask me,
"Tanya, how have you gotten so good inside of Network Marketing? How do you have all this great training material that you offer through videos and your blog? And where can I get these same resources you use as well?"
Here's my secret…
The Top 5 Network Marketing Blogs I Get My Nuggets From – Episode 21

Hi! My name is Tanya and I am Addicted to Training!
Yes, it's true. I am totally a training junkie and I love learning and absorbing knowledge from all over the place, including many network marketing blogs.
I do this so that I can be a better person for my team, for my audience, and for You!
If we're connected, that means you value training just like me!
So where do I find great Network Marketing training and valuable resources?
I love learning from some Top Network Marketers in the industry and by learning more, I can implement, teach and train more.
Blogs are fabulous resources to learn from and most leaders in Network Marketing now have blogs that they share their knowledge through.
Word of Caution: Make sure you're always learning from people that have generated the result that they are teaching on.
Here are 5 of my favorite Network Marketing blogs that I visit, I like to learn from, and I teach my team and implement what I learn into my business.
#1 Ray Higdon's Network Marketing Blog
Ray is one of my favorite entrepreneurs and Network Marketing trainers. He is an absolute beast in our industry and such an incredible trainer. I've had the opportunity to work with Ray on a couple of projects and he is a great friend to Cesar and I.
I love Ray's training style because he breaks it down in an easy to duplicate fashion. It's not overly complicated and I'm confident to send my team over to his Blog to get trained. – www.RayHigdon.com
#2 Sarah Robbins Network Marketing Blog
Sarah is a fantastic Network Marketer, she is at the top of her company, and she offers generic free training on her blog. I always learn a ton when I'm visiting any of her training videos.
One thing I really love about Sarah is she's very down to earth and authentic. – www.SarahRobbins.com
#3 Todd Falcone's Network Marketing Training Blog
I love Todd's stuff – he's really authentic, down to earth, and he also challenges you.
I've worked with Todd on a couple of projects and he's just a really great trainer. He does training generically for the Network Marketing industry and he has a blog community that I'm always confident to send people over to get some valuable training when it comes to closing and recruiting. – www.ToddFalcone.com
#4 John & Nadya Melton's Network Marketing & Social Media Training Blog
Nadya & John Melton are an amazing husband and wife team who know they're stuff when it comes to building a big team on social media.
They are good friends of mine and I just adore them. John & Nadya will teach you how to attract more prospects, acquire more customers, recruit more people in less time and create your home business empire with Social Media. – www.MyLifestyleAcademy.com
#5 The Network Marketing Pro Blog
Eric Worre is a legend in our industry. I couldn't do this list justice if I did not include him in it.
You may know of him, his blog and training, and his daily videos, but if you're new to the industry and just getting started, I highly recommend Eric Worre's Network Marketing training. He's great at motivating and inspiring you and I love his training style because he interviews successful Network Marketers and generically asks them what has been the contributing factor to a lot of their success. You can learn a lot from Eric's blog. – www.NetworkMarketingPro.com
When I was on my journey to becoming a Network Marketing leader and 7 figure earner, looked around at lifestyles that I wanted to model and I found a common thread to all the leaders that were using the Internet to build their business's…. they all had a BLOG!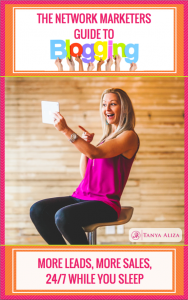 A Blog provides a way for you to generate leads and prospects, make sales, allow people to build a relationship with you from around the world and a blog automatically helps you to increase your authority and credibility so people take you and your business seriously!
You may want to look at starting a Blog if you feel it is right for you in your business and that's why I put this week's resources together for you.
With every episode, I like to give you a free resource that you can download and implement inside of your business and start seeing results with.
This week, I put together a Free Resource called The Network Marketers Guide to Blogging – More Leads, More Sales, 24/7 While You Sleep!
This Free Guide is the perfect resources to help you figure out if a Blog is right for you and your business, why you might want to start a Blog and the right steps to take to make sure that you do it right to increase your bottom line.

Some Awesome Resources To Help You Even More This Week
The Ultimate Branding Blueprint – Learn More
This is my signature training when it comes to building an Influential Brand & Blog Online that attracts leads and sales for your business.
If you'd rather have me walk you through all the steps so you don't waste time or money trying to figure it out yourself, check out this training. You will love it.
Business Blog Mastery – Learn More
If you already have a blog set up, but it's not generating you the results you want, this is going to be very helpful for you. It's my Blog training vault that has over 70 sessions of amazing blog training that focuses solely on RESULTS > Leads and Sales for your business.
The 3-Minute Expert – Learn More
I really love this training presented by my buddy Ray Higdon. It's all about how to become an authority in your business through your blog and doing really simple and fun 3 minute videos that generate you leads and sales for your business. Ray has obviously mastered this art with his multi-million dollar brand, blog and videos so he's one trainer that you might want to check out! I've worked with Ray very closely and his training is fabulous!
A Brand Called You (Book) – Learn More
This is one of my favorite books on learning about the importance of Branding yourself so you can create a life and business that you love…with leverage! I saw the author speak on stage at an event I was at in Florida and it was the best Keynote speech I have ever heard. His book is equally powerful and amazing and I'm happy to share it with you.
I hope you got a ton of value from this week's training video and free resource. If you did, please share it with someone so they can hear this message as well.

Did you like this list of Network Marketing Blogs? Do you have any that you like that you'd like to share? Drop a comment below and join the conversation.