In this episode, I'm sharing my 5 best prospecting tools & places to help you get your products and services in front of your best customers and teammates.
If you want to grow your business you need to get in front of the right prospects that could potentially turn into your best teammates and customers.
But… I'm sure you already knew that.
What you might not know is what tools and places are currently the best to use to get your business or products in front of them.
I'n this Episode of Tanya Aliza TV, I'm going to share with you:
✓5 prospecting tools to help you get more exposure for your products and services
✓5 Places to get you in front of the right prospects that could potentially turn into some of your best customers
✓A really cool way that you can start the conversation with them out on social media
✓ An authentic way that you can get the conversation started with these prospects so that you can move them from hello to welcome as a new teammate or customer
5 Prospecting Tools You Can Use To Get In Front Of The Best Potential Customers & Teammates

– Episode 199
With every Episode of Tanya Aliza TV, I like to empower you with a POWERFUL free resource that you can implement right away and create results with fast in your business.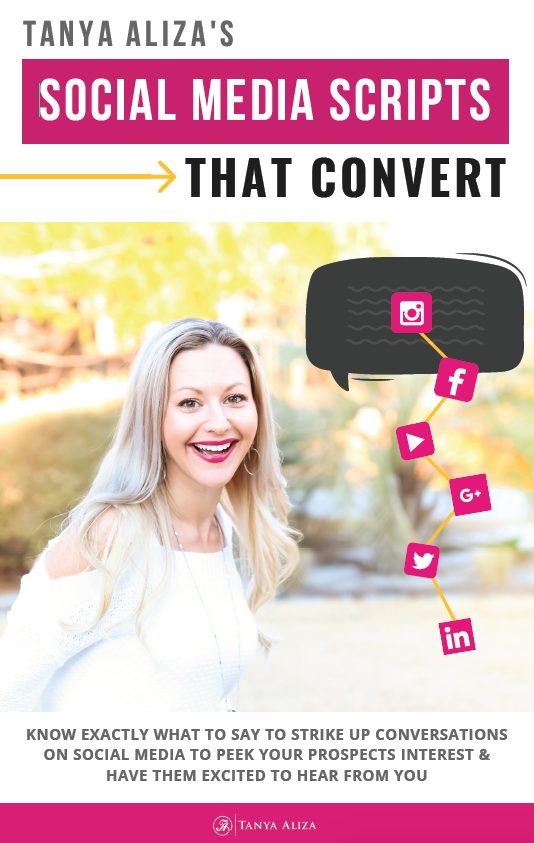 Since we're talking about prospecting tools that will get you in front of potential customers I'd like to give you My Social Media Scripts That Convert.
Because let's face it…when you get in front of the right people, you're going to need to know how to have a good conversation with them.
That way you can lead them through the path on learning more about your products or services and then having them take part in what it is that you're doing.
These scripts will help you get people interested in what you're currently doing.
You can download them by clicking on the yellow button above ☝️
Over the years, I've made it my mission to know what tools and places work the best for getting my business and products in front of highly qualified prospects.
And staying up to date with what works best is very important if you want your business to continue to grow year after year.
And in this training, I'm going to share with you my 5 most favorite prospecting tools or places that are working really well right now at getting in front of the RIGHT prospects.
So let's dive right in…
Prospecting Tool #1 – Instagram Hashtags
First tool that you got to learn how to use, at least in this day and age is Instagram hashtags.
Okay, so what the heck are these Instagram hashtags for and how can they work for you?
I know for me it took me a while to figure out what this pound sign is or does.
The hashtag basically helps you search topics of interest and the really cool thing is you can follow these hashtags.
Some of the things that I recommend that you get familiar with searching is your local community.
You could go to search in Instagram and search the hashtags for wherever you live and everything that is being tagged in your city will come up.
Now here's what you want to do with those hashtag search results… find the ones that are relevant to your niche.
For example, if you're selling health and wellness products, search to see if there's anybody posting in your local community already that has to do with health and wellness topics.
Then you can go over to their page and their community and start building a relationship with them.
Use the scripts that I have ready for you to download and start a conversation with them.
Because if they already have a brand or an influence in the industry that you're already a part of, they could have a lot of eyeballs that are interested in the industry or topic of what it is that you already are selling.
That's how I would search and use Instagram hashtags.
You can also go beyond your local area and reach the world and look for all the health and wellness influencers.
You could even search the hashtag health and wellness influencer and see what comes up and start a conversation with them.
Prospecting Tool #2 – YouTube
This is a great tool that I use to do videos each week to get me tons of views and eyeballs on my brand and business.
I also use it to search influencers, kind of like on Instagram.
There's two ways that you can really use YouTube.
Number one you can start doing videos to get exposure and eyeballs to your business, service or products.
For this I recommend a great course by my good friend Sean Cannel on how to get ranked on YouTube so people find you fast with the topics that you're talking about.
I will leave a link to his course in the resources and show notes section below so you can go check out if you want to start doing video and get results fast.
Now… let's say you don't want to start doing video.
Maybe you just want to find influencers that are in your niche that already have an audience and you want to have a business conversation with them.
If the conversation goes well and they see how your product could serve their audience…they would come on board and add an additional revenue stream to their brand.
This would of course increase your product sales and grow your business faster too.
As you can see YouTube is an absolute gold mine as far as a prospecting tool goes for your business.
Prospecting Tool #3 – Instagram Stories
Instagram stories are just killing it for my business.
But we got to know how to do them right.
I'm not going to talk too much about Instagram stories here because I did an episode on how to use Instagram stories to promote your products and services.
Just know it is a fabulous tool and if you'd like to learn how I'm using it or how to use it to get get customers coming into your world, then I'll link to that episode in the show notes below so you can learn how I'm using Instagram stories.
Prospecting Tool #4 – Quora.com
I've talked about this a little bit before, but it's a forum where people are asking questions they want answers to.
Here's an example of how it works…
We'll stick on the weight loss example since we're already talking about it.
Let's say you have a weight loss product and people are asking questions about how to lose weight on Quora and maybe you can jump in and add some value.
This would be a great opportunity to start conversation using my Social Media Scripts That Convert resource so you start and finish these conversations the right way.
Because if you start to sound salesy it will kill your chances to get anywhere with the people you're talking to.
You want to go in and lead with value always to get the conversation really going.
Quora is a really good place to lead with value and find highly qualified prospects.
You can setup up a free account and you can search all the categories that people are asking questions in and you can go in there and answer their questions if you know that it could be a good lead in to your product, service or business.
Prospecting Tool #5 – Facebook Lives
Okay, I've been talking about this forever, right?
Ever since Facebook lives became a thing, I have been raving about them.
Doing Facebook lives is almost like having your mini infomercial for free…it doesn't get any better than that.
Think about it…Facebook has billions and billions of people on there and you can capitalize that by doing Facebook lives.
Facebook wants you to do Facebook lives…they're favouring the people that are doing them.
When you do a Facebook live, they're giving you a bunch of exposure for free that normally you wouldn't get anywhere else on Facebook.
I know, I know, I hear you…
Getting on camera can be a little bit scary, especially if it's live.
But it's literally one of the best free platforms and tools that you can use for prospecting because you can build your brand, get your message out, and have a call to action that leads beautifully into your product, service, or business.
To help you ease the scariness of doing lives I'll leave a link to my Facebook live checklist.
It's free and it will help you figure out what you need to do before, during, and after a Facebook live to get the most engagement, eyeballs and exposure.
Especially on the replay after you're done going live.
Prospecting Tools – The Bottom Line
You should never, ever, again have the question…where do I find people for my business or where do I find people for my products?
Because they're all over the place and I've just shared 5 places you can use to get exposure for your business.
You just need to get in front of them and learn how to start an effective conversation with them.
If you're wondering whether you need to master all 5 of these prospecting tools the answer is …no!
I don't even recommend that.
I would suggest mastering one platform first and being very consistent with it.
Consistency is the key to success.
Now make sure you download all the resources I have made available to you first so you're empowered and ready to take on those conversations.
My Social Media Scripts That Convert being one of them. It's free to download and these scripts will help you start effective conversations with people to get them interested in what you're currently doing.
You can download it by clicking on the yellow button below👇
Check out the resources in the show notes below for even more amazing resources that go with this episode.
Resources Mentioned & More That Will Help Rock Your Biz
Video Ranking Academy by Sean Cannell – Learn More
If you are already doing videos and posting them on YouTube and you want to learn how to optimize these videos so that you get more views and Rankings, this is one of the best trainings I've been through that can help you do this. I've been able to rank my videos on the first page of YouTube in 1 day with this training.
Episode 24 – How To Find Customers & Prospects Online That Are Already Interested In Your Business – Learn  More
Episode 184 -How To Use Instagram Stories To Promote Your Products & Services – Learn More 
Facebook Live Checklist – Download Here 
It's no secret that doing FB Lives can bring you a lot of exposure and business, but sometimes it can be exhausting and intimidating to know if you're doing them right to get people to actually take the next step with you…
This is my go-to checklist that I've been using before, during and after my FB Live broadcasts that have gotten me tens of thousands on eyeballs on my products and services!
The B-L.A.B. – Come Join Us Here
AKA Build Like A Boss, The B-LAB is Tanya Aliza's FREE Facebook Mastermind group full of awesome Networkers and Entrepreneurs that are all on a mission to grow their businesses Faster and easier with Online Strategies for prospecting, recruiting and sales. We do themed days of the week, we hold each other accountable and we lift each other up! Come introduce yourself and your business.
Did you get some value from these prospecting tools?

I hope you did because each week I put my heart into making sure you get some amazing prospecting tools and training so you can rock it in your business while creating a life you love.

Wanna Share This Because You Love Sharing Valuable Info?
Each Monday I post a new video training and free resource on my blog.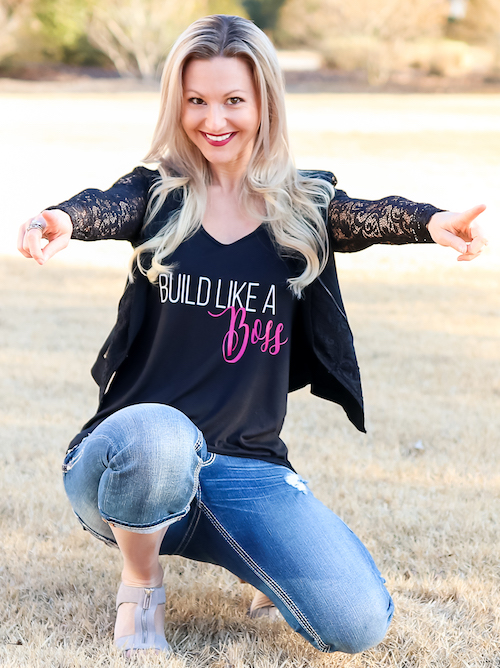 Each Tuesday I do a Live Q&A training on my Facebook Page so make sure we're connected www.facebook.com/tanyaaliza
Stand Out and Stay Connected… drop a comment below.
You are a Rock Star!
Question of The Week: Do you have a favorite prospecting tool or place that you like to use in your business? If so, share below I'd love to hear about it!
Hope you enjoyed my 5 prospecting tools 😉