Oh, this Facebook algorithm… feels like every time you figure it out a new change is made!
Grhhh!!…Alright…let's just take a deep breath… it's going to be okay.
If you're posting stuff on Facebook and you want more people to engage and see your posts, you need to master Facebook's ever-evolving algorithm.
In this episode of Tanya Aliza TV, I'm going to share with you how the Facebook Algorithm works and 7 Facebook algorithm hacks you can use so you get your posts seen by more people than ever before.
7 Facebook Algorithm Hacks To Get More People To See & Engage With Your Posts – Episode 160

With every Episode of Tanya Aliza TV, I like to empower you with a POWERFUL free resource that you can implement right away and create results with fast in your business.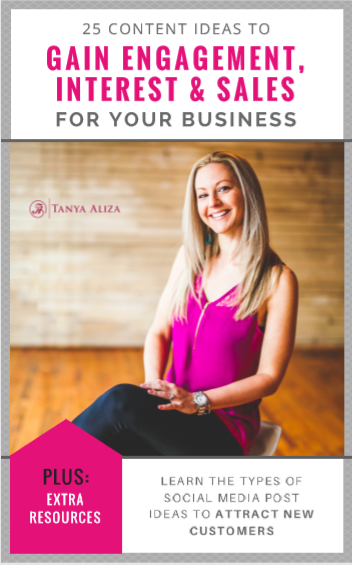 This week since we're learning all about Facebook's algorithm to get more people seeing our posts….you're probably wondering well what do I post on Social Media?
I've got you covered….I put to together a collection of My 25 Social Media Post Ideas so you know WHAT to post so you can get the most eyeballs and engagement from your posting efforts.
So make sure you download it by clicking on the yellow button above.
Working the Facebook algorithm…might seem like a mystery but it's not as hard as most people think.
If you keep this 1 thing in mind as it constantly evolves and changes you'll still be able to continue reaping the benefits of growing your business on Facebook.
Facebook's algorithm was created for the user's experience.
So basically what that means is that no matter what changes Facebook makes…if you work the algorithm the way that Facebook designed it to be worked then Facebook will reward you for it.
And because the algorithm changes to create a better experience for the end user… I'm going to share with you 7 Facebook hacks that you can use to get your posts seen by more people than ever before.
So, if you're currently getting nothing but crickets this training will really help you out.
Okay so let's dive in…
Facebook Algorithm Hack #1 – Have a weekly/Monthly schedule for posting
If you want your posts to be seen on Facebook you need to have a plan so you can be consistent.
Randomly posting on Facebook isn't going to help you get the reach you want.
There's a lot of great Social Media scheduling tools that you can use to automate this process and I'll link to my favorite ones in the show notes below so you can check them out.
But keep in mind that consistency is key with getting your posts seen and
shown on Facebook.
Facebook Algorithm Hack #2 – Comment and like on other people's posts
Before you go posting on social media or doing Facebook lives… go and comment and like on other people's posts
If you're out on Facebook engaging and interacting…Facebook's algorithm is going to notice that and then when you announce that you're going Live or you post soemthing it will show that post to more people because you are actively using the platform.
Facebook Algorithm Hack #3 – Don't link outside of Facebook in the post
If you want more people to see your posts… don't use links that take people outside of Facebook.
If you need to post a link, use this hack instead…put the link in the comments section for people to click on and tell people to check out the link in the comments section.
Facebook Algorithm Hack #4- Optimize your Facebook profile
You'll want to have a complete and professional Facebook profile.
Yes, this matters….
Whether you're using your profile or your business page…make sure it's complete and there's nothing left blank so that people know exactly what you do and view you as a professional.
Facebook Algorithm Hack #5 – Post quality content
If you're not getting the engagement you want on your posts, there's 2
possible reasons for this.
#1 you might not be posting quality content
or
#2 you're not telling people what to do when you post.
You might have noticed that when I do my Facebook lives I tell people to tell me where they are viewing from, give me a like, drop some emojis and share my posts or lives.
This helps tremendously because when Facebook sees that people are engaging with your Likes or posts they show it to more people.
Facebook Algorithm Hack #6 – Do Facebook watch parties
Watch parties are new and HOT right now and if you're using this new feature face book's gonna reward you for it.
Facebook watch parties are a great way to get your content out there and get people engaged and talking about your stuff.
I have a full episode that I did on how to do Facebook watch parties to get you the most engagement and results and I'll link to that in the show notes section below.
Facebook Algorithm Hack #7 – Do Facebook lives
I preach this…all the time.
Why?
Because doing Facebook lives is one of the best ways that you can build up your audience and warm up the Facebook algorithm in your favor.
So make sure you're doing 1 Facebook Live per week as part of your Facebook algorithm hack so you can generate leads and sales and grow your audience FAST.
Facebook Algorithm Hack – In Closing
So to sum it all up you want to remember that Facebook is a give, give, give, then take relationship.
And the key takeaway here is consistency.
If you're consistent with all these Facebook algorithm hacks you will be rewarded and you'll start to reap the rewards of working with the algorithm instead of against it.
And to help you out with this remember that I've got My 25 Social Media Post Ideas ready for you so you know exactly what to post on Social Media and make the most out of you posting efforts.
You can download it by clicking on the yellow button below 😉

Resources Mentioned & More That Will Help Rock Your Biz
How To Use Facebook Watch Parties To Grow Your Business in a BIG Way – Learn More Here
Post Planner – Automation Tool for Posting – Learn More 
Meet Edgar – Automation Tool for Posting – Learn More
Jab Jab Jab, Right Hook (book) – Learn More Here
This is one of my favorite books and I recommend it to anyone that wants to master the art of Social Media to get it and read it 5 times! It teaches you how to function on Social Media to get the most results.
Facebook Live Checklist – Learn More Here
This is my go-to checklist that I've been using before, during and after my FB Live broadcasts that have gotten me tens of thousands on eyeballs on my products and services!
It's no secret that doing FB Lives can bring you a lot of exposure and business, but sometimes it can be exhausting and intimidating to know if you're doing them right to get people to actually take the next step with you…
FB Ads Revealed – Learn More
Want to learn how to generate leads and sales using Facebook Ads? In this Facebook Ads Mini Class, you'll learn how to run Simple Facebook Ad Campaigns for your business without losing MONEY or dozens of HOURS in the process…even if you've never run Facebook Ads Before.
Unlimited Fan Page Profits – Learn More 
If you don't have a Facebook Fan Page yet and you're looking at all these rock stars with Fan Page and you want one for yourself… Unlimited Fan Page Profits is a training that I put together that will walk you through the steps of building a Profitable Facebook Page and marketing plan to generate leads, build a big audience and make daily sales.
The B-L.A.B. – Come Join Us Here
AKA Build Like A Boss, The B-LAB is Tanya Aliza's FREE Facebook Mastermind group full of awesome Networkers and Entrepreneurs that are all on a mission to grow their businesses Faster and easier with Online Strategies for prospecting, recruiting and sales. We do themed days of the week, we hold each other accountable and we lift each other up! Come introduce yourself and your business.
Did you get some value from these Facebook algorithm hacks?

I hope you did because each week I put my heart into making sure you get some amazing Facebook algorithm hacks so you can rock it in your business while creating a life you love.

Wanna Share This Because You Love Sharing Valuable Info?
Each Monday I post a new video training and free resource on my blog.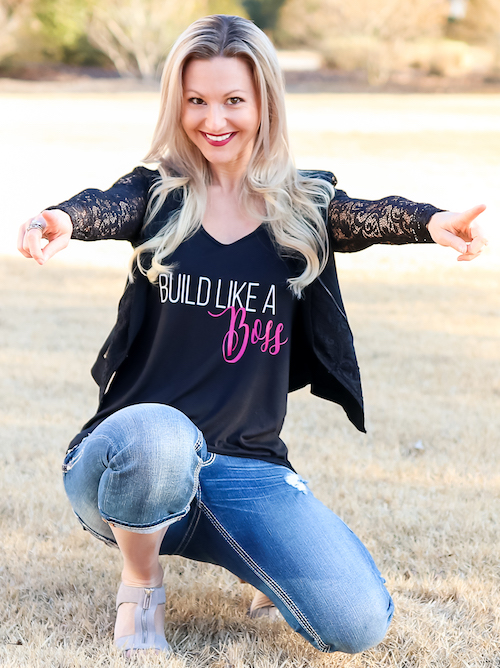 Each Tuesday I do a Live Q&A training on my Facebook Page so make sure we're connected www.facebook.com/tanyaaliza
Stand Out and Stay Connected… drop a comment below.
You are a Rock Star!
Question of The Week: Have you found any cool ways to hack the Facebook algorithm in your favor? Share with us in the comments section below what you've learned and implement.
I'd love to know!
Hope you enjoyed these Facebook algorithm hacks 🙂