Are you wanting to become an influencer?
If you build a following online through Instagram, YouTube, Facebook or any other Social Platform right now… you can make a lot of money if you're an influencer and you do it right.
Or maybe you already sell a product or service and you want to sell more of it.
Being an influencer can help you do just that!
So in this Episode of Tanya Aliza TV, I'm going to share with you how to become an Influencer… but more importantly, how to monetize your Influence so that you can have the biggest impact.
How To Become An Influencer That Makes A Full Time Income Online – Episode 201

With every Episode of Tanya Aliza TV, I like to empower you with a POWERFUL free resource that you can implement right away and create results with fast in your business.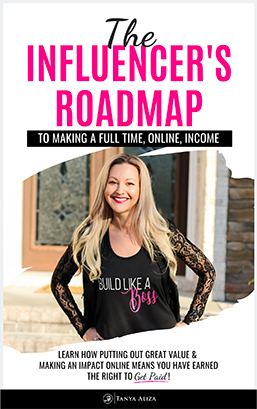 Since we're talking about becoming an influencer I'd like to give you my Influencer's Roadmap To A Full-Time Income Online. It's going to help you not only become an influencer but also monetize it as well.
You can download it by clicking on the yellow button above ☝️
I see two things that are happening in the influencer world.
Number one, I see a lot of people out there on social media that have big, massive followings on Instagram or the other social platforms, but they're not making any money.
The second thing I see is there's amazing influencers out there with great content and audiences that love their stuff but they're not making consistent residual income like they should.
If you're an influencer or you want to become an influencer you gotta make sure you do it right.
And that's exactly what I'm going to help you with in this training episode.
Alright so let's get right into it…
Key questions you need to answer first if you want to become an influencer
Number one, I want you to run through these questions and answer them first.
✓Why do you want to become an influencer?
✓Do you have a product or service that you're already selling?
✓Do you want to get a specific message out there to provoke change?
✓Do you want to create a product and sell it?
Take your time to answer these questions as it will help you gain clarity and direction.
Become an influencer to serve people
The next thing that you got to ask yourself is…
Who do you want to serve or who do you want to help?
Because being an influencer, as contrary to what you might think, has nothing to do with you.
It has everything to do with the people that you are showing up to serve and help consistently online.
So to answer that question just think about who you want to surround yourself with.
Once you understand who you want to surround yourself with and help, you have to think about what's important to them and what they need help with.
You have to join the conversation that's already going on in their head and how can you entertain, serve, and help them.
✓What do they need?
✓What do they want?
✓How can you help them?
Choose the platform where you'll become an influencer
Now the next thing that you have to do is you have to decide where you're going to show up consistently.
Please know that to be an influencer you don't have to be everywhere all the time.
You don't have to be on all of the social media platforms.
But you do have to pick one platform and you have to own it.
So just decide if it'll be YouTube, Instagram, Facebook, Snapchat or TikTok.
And once you decide on the platform you'll want to make sure you show up consistently.
To become an influencer you'll need a content creation plan
The next thing that you'll want to do is to build a list of content that you're going to share each week.
I also suggest at least one post a day where you are showing up consistently.
And that post is to educate, entertain, and help the tribe that you are helping.
So think about the things that you can post that can serve them on a daily basis and schedule them to go out.
Pro Tip: Whatever platform it is that you're showing up consistently on, do video.
It is the single most fastest way right now to build your brand and become an influencer.
Become an influencer with a real business that makes real money
Once you've figured out who you're helping and serving and you start delivering valuable content to them…you've got to make some money.
So here's what I do and I recommend you do the same.
I created a list on a document on my computer and it's called my affiliate list.
It's a list of all of the products and services that I can promote to my audience that I know my audience will find value in and I'll get an affiliate commission on.
This can be Amazon products, network marketing products or affiliate products.
Or maybe you own your own products.
You can recommend your own products or services.
If you aren't an affiliate of anyone's products and you want to find products to be an affiliate of you can go to ClickBank.com or JVZoo just to name a few.
Just make sure it's products that your audience would find value in.
So make a list of all of the things that you can recommend in your posts and videos that will compensate you financially for sharing them.
How to promote products or services when you become an influencer
When you do your posts or videos you'll eat to make relevant recommendations from this list that go with that post topic or the video content.
You guys notice that I do this every single week here on Tanya Aliza TV.
And once you have a post or video out on social media or YouTube…it will working for you 24 hours a day, seven days a week.
So get those recommendations together and out there because the more that you have out there, the more opportunities you have to create this full-time residual income.
When to promote products or services when you become an influencer
So how often should you be promoting products or services that make you some money?
I like to follow the 80/20 rule.
80% of the time I'm sharing just value, and then 20% of the time it's value plus a recommended resource that actually contributes to income for my brand.
So when your posting or doing videos keep in mind that you'll spend more time proving value than promoting something.
Become an influencer – The Bottom Line
I want you to get the most out of all your hard work and effort with your people AND your mission.
To do this you want to have a plan in place.
I see a lot of people with amazing content and huge followings but they're making little to no money.
You can be an influencer with a full-time income if you follow these steps I've laid out for you.
And remember that I put together my Influencer's Roadmap To A Full-Time Income Online to help you take this to the NEXT LEVEL.
Make sure to download it by clicking on the yellow button below👇

Check out the resources in the show notes below for even more amazing resources that go with this episode.
Resources Mentioned & More That Will Help Rock Your Biz
The Ultimate Branding Blueprint – Learn More Here
This is my signature course when it comes to building an Influential Brand Online that attracts leads and sales for your business. If you're serious about becoming an influencer and you want people see you as an authority in your niche then this course will help you.
Influence (Book) – Learn More
Have you ever wondered how some people just have that 'Magic' over others? They can go up and talk to people easier, they can command attention and lead people into buying decisions easier…. how do they do it? Is it just a gift? Nope… it has everything to do with understanding how people operate and how to INFLUENCE them. This is one of my favorite books and if you're in a position where you collect decisions from people (sales) this is a MUST read!
The B-L.A.B. – Come Join Us Here 
AKA Build Like A Boss, The B-LAB is Tanya Aliza's FREE Facebook Mastermind group full of awesome Networkers and Entrepreneurs that are all on a mission to grow their businesses Faster and easier with Online Strategies for prospecting, recruiting and sales. We do themed days of the week, we hold each other accountable and we lift each other up! Come introduce yourself and your business.
Did you get some value from these tips to help you become an influencer?

I hope you did because each week I put my heart into making sure you get some amazing tools and training to help you become an influencer so you can rock it in your business while creating a life you love.

Wanna Share This Because You Love Sharing Valuable Info?
Each Monday I post a new video training and free resource on my blog.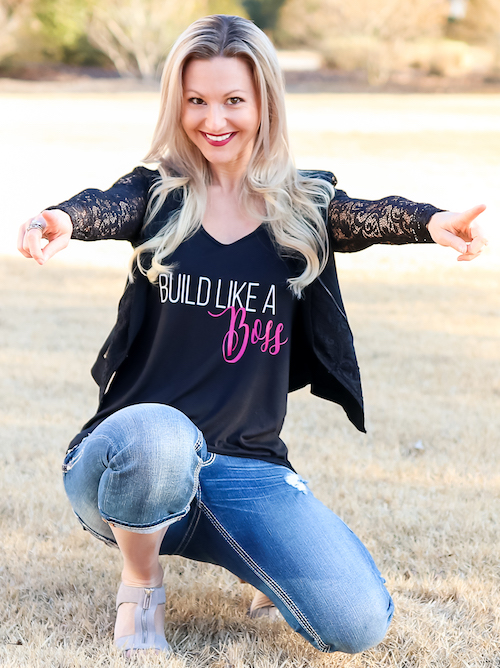 Each Tuesday I do a Live Q&A training on my Facebook Page so make sure we're connected www.facebook.com/tanyaaliza
Stand Out and Stay Connected… drop a comment below.
You are a Rock Star!
Question of The Week: What are 2 reasons you're looking to be or are an online Influencer? I'm curious to understand where you are on this journey. Also, let me know how I can help. I'd love to hear from you!
Hope you enjoyed my tips on how to become an influencer 😉