In this episode, I share my best Facebook marketing tips that will help you generate a ton of leads using a simple Facebook photo album strategy.
Does your current Facebook engagement strategy need a little more juice?
What if I told you that your Facebook photo albums can help you generate interest, engagement and leads into your business?
You know, the same photo albums that you have all your wonky family photos in:-)
If you're using social media to build your business, Facebook photo albums can help you create more interest and traction in whatever it is that you are selling or sharing.
Over the years of building my business primarily on Social Media, I've found that using Facebook photo albums is a very effective and simple way to get sales and leads for your business.
And don't be fooled by how simple this strategy is, sometimes it's the simple things that can be the most powerful.
In this episode of Tanya Aliza TV, I'll be showing you how to make your Facebook photo albums work for you day and night.
Facebook Marketing Tips – How To Use Your Facebook Photo Album To Generate A Flood Of Leads For Your Business – Episode 47

With every Episode of Tanya Aliza TV, I like to empower you with a POWERFUL FREE resource that you can download and implement right away.
This week, I put together a Free Resource for you called My 5 Facebook Post Ideas template that will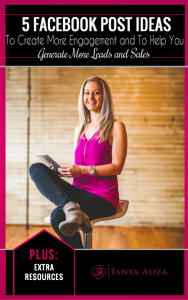 help you generate more interest and engagement with your social media posts. You can use these templates no matter what company, product or service your promoting.
The majority of content that gets shared on Facebook gets little to no traction.
For this reason, it's vital that entrepreneurs do whatever they can to actually get their content noticed and read.
I use a really simple strategy with my Facebook albums that gets me leads and sales for my business.
This strategy is simple and I'm all about simple so let's dive right into some of my sizzling hot tips for making Facebook photo albums work for you and your business.
FACEBOOK MARKETING TIPS – SELL LIFESTYLE ON FACEBOOK
I'm going to say something that might ruffle some feathers.
If you're in network marketing, you are NOT selling your product or service.
Say what!?
I know, it took me a while to wrap my brain around that concept too.
What you and I are selling is Lifestyle.
Lifestyle is the benefit(s) of your business, service or product.
When your sharing on social media you'll want to help your audience connect with how it would feel to be living the lifestyle of the benefits of your products, business or service.
Facebook photo albums are a fast and effective way of achieving this.
FACEBOOK MARKETING TIPS – STORYTELLING BEATS SELLING
You may have already heard the importance of storytelling in your marketing, especially when you're on a social platform like Facebook.
With all the influx of content that's getting shared on social media, how do you avoid getting buried under all of it?
Stories are a great way to stand out and create interest. People would rather read stories than boring, dry facts and figures about your business, service or products.
Instead of sharing facts about your products or business, share what was going on in your life that led you to start your business or what was going on in your life when you decided to start using your company's products.
Share stories, anecdotes, and testimonials from your customers or business partners to build trust with your audience.
Infomercials are a great example of the power of testimonials.
People don't buy because infomercials are so great and entertaining, they buy because of the heavy amount of social proof that's used in infomercials.
In a nutshell, Facebook photo albums are one of the best ways to share both stories and lifestyle.
FACEBOOK MARKETING TIPS – CREATE FACEBOOK PHOTO ALBUMS THAT CAUSE INTEREST AND ENGAGEMENT
So how do you create your very own evergreen, story rich, lifestyle photo albums?
Here are some simple steps to follow to get your Facebook photo albums working for you day and night.
But first, let's make sure we're all on the same page (hehe, get it?). A Facebook business page is where we should be using this strategy. It's not the same as your Facebook profile.
If you don't have a Facebook page then go create one, it's super simple to do.
However, I'm all about taking action. If you want to use this strategy on a Facebook profile, you can, but I recommend that at some point you create a Facebook page for your business.
Step 1 -Click on your photos tab
You'll find it at the top if you're on your profile. If you're on your Facebook page, you'll locate it to the left-hand side.
Step 2 – Click on create a photo album
When you click on photos, you'll see a couple different options. You have your feed images, images on your wall, photos of you and photos you've been tagged in and then you'll also see your photo albums.
Step 3. Upload an image
Facebook will prompt you to upload an image. Have an image ready to start your photo album with.
Step 4. Add a title and description
Once you've uploaded an image you can go ahead and title your album and add a description.
And that's all there is to it.
FACEBOOK MARKETING TIPS – PHOTO ALBUM IDEAS
Don't know what types of photo albums to create?
If you're in network marketing, here are some album ideas you might want to use:
• Adventures and Vacations – think lifestyle, fun, adventure, travel
• My Awesome Team – showcase your fun team culture that others will want to be a part of
• My Freedom Journey – share your milestones and celebrate your success
• Escape the Rat Race – cause who doesn't want to learn how to escape the 9-5
• Speaking Engagements – if you're a coach or you train at events you can showcase them here
• Beauty is in the eye of the beholder – great for before and after pictures that speak of the benefits of your products)
Once you have a couple of albums created you'll want to use my favorite tools that will help make this whole process easier.
I love creating simple yet eye-grabbing images like the one below.
I use Canva and Wordswag to create my images. Both of these tools are free and easy to use.
You can learn more about them in the resources section at the bottom of this post.
FACEBOOK MARKETING TIPS – MAXIMIZE YOUR EFFORTS ON SOCIAL MEDIA
So, once you have some images created and you upload them to your photo album, it's time to get some fans engaged. Here are some strategies that will help you get the most out of your efforts.
1. Post once a week to keep things fresh and people engaged
Staying consistent is the key here. I suggest adding images at least once a week to keep your fans engaged
2. Ask questions in your posts
Asking questions is a great way to start a conversation and get people engaged. I've included some examples and scripts for you in this week's free resource.
3.Engage with likes and comments
This is super important. Make sure you don't ignore your fans. If you do, they will most likely stop commenting or liking your photos and posts.
It's time for you to take some massive action and start implementing these strategies.
Get the most out of these Facebook marketing tips by downloading some examples and scripts I put together for you that will help you create curiosity and interest from your Facebook posts.
You can click on the yellow button below to grab the free resource.

Some Awesome Resources That Will Help You Even More
We all know Facebook marketing is HOT! Take your existing Facebook marketing efforts to the next level…
Unlimited Fan Page Profits – Learn More
If you don't have a Facebook Fan Page yet and you're looking at all these rock stars with Fan Pages and you want one for yourself… Unlimited Fan Page Profits is a training that I put together that will walk you through the steps of building a Profitable Facebook Business Page and marketing plan to generate leads, build a big audience and make daily sales.
FB Live Checklist (Free) – Learn More
This is my go-to checklist that I've been using before, during and after my FB Live broadcasts that have gotten me tens of thousands on eyeballs on my products and services!
It's no secret that doing FB Lives can bring you a lot of exposure and business, but sometimes it can be exhausting and intimidating to know if you're doing them right to get people to actually take the next step with you
Jab Jab Jab, Right Hook (book) – Learn More
This is one of my favorite books and I recommend it to anyone that wants to master the art of Social Media to get it and read it 5 times! It teaches you how to function on Social Media to get the most results.
Canva –Learn More
Easily create beautiful designs and documents. Canva's drag-and-drop feature and professional layouts will help you create stunning images for your facebook photo albums.
Wordswag App – Learn More
Wordswag is an app that you can download and create beautiful custom text layouts to your photos. It's like having your very own graphic designer.
Did you get some value?

I hope you did because each week I put my heart into making sure you get amazing tips and strategies to rock it in your business work while creating a life you love.

Wanna Share This Because You Love Sharing Valuable Info?
Each Monday I post a new video training and free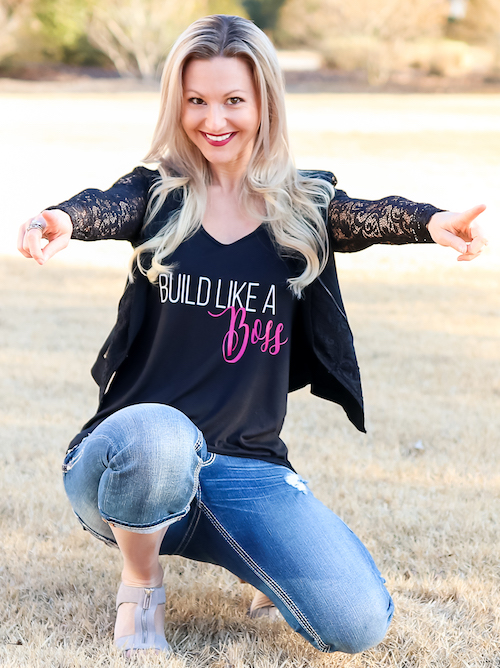 resource on my blog
Each Tuesday I do a Live Q&A training on my Facebook Page so make sure we're connected on Facebook www.facebook.com/tanyaaliza
Stand Out and Stay Connected… drop a comment below.
You are a Rock Star!