In this episode, I'm sharing the difference between a Facebook Page vs Profile and which one you should use if you want to grow a successful business that has automation and leverage built into it.
What's the difference between a Facebook Page and a Facebook Profile? And which should I use to promote my business, products or services?
That's a question I hear a lot from entrepreneurs and network marketers who want to use Facebook as a way to expand their reach so they can make more sales and grow their teams.
I've been using Facebook successfully since 2010 to build my business and I'm so grateful to have this platform because it's helped me achieve a 6-figure income in a very short amount of time.
One of the reasons I've been able to do this is because I only conduct my business through my Facebook page.
Why use a Facebook page for business instead of your personal profile?
Besides violating Facebook's Terms of Services, small businesses without a Facebook Page face serious disadvantages.
If you want to learn what those are and how to use Facebook to market your business properly then this episode of Tanya Aliza TV is for you!
Facebook Page vs Profile – Why You Need To Have A Business Page To Grow Your Business On Facebook- Episode 71

With every Episode of Tanya Aliza TV, I like to empower you with a POWERFUL free resource that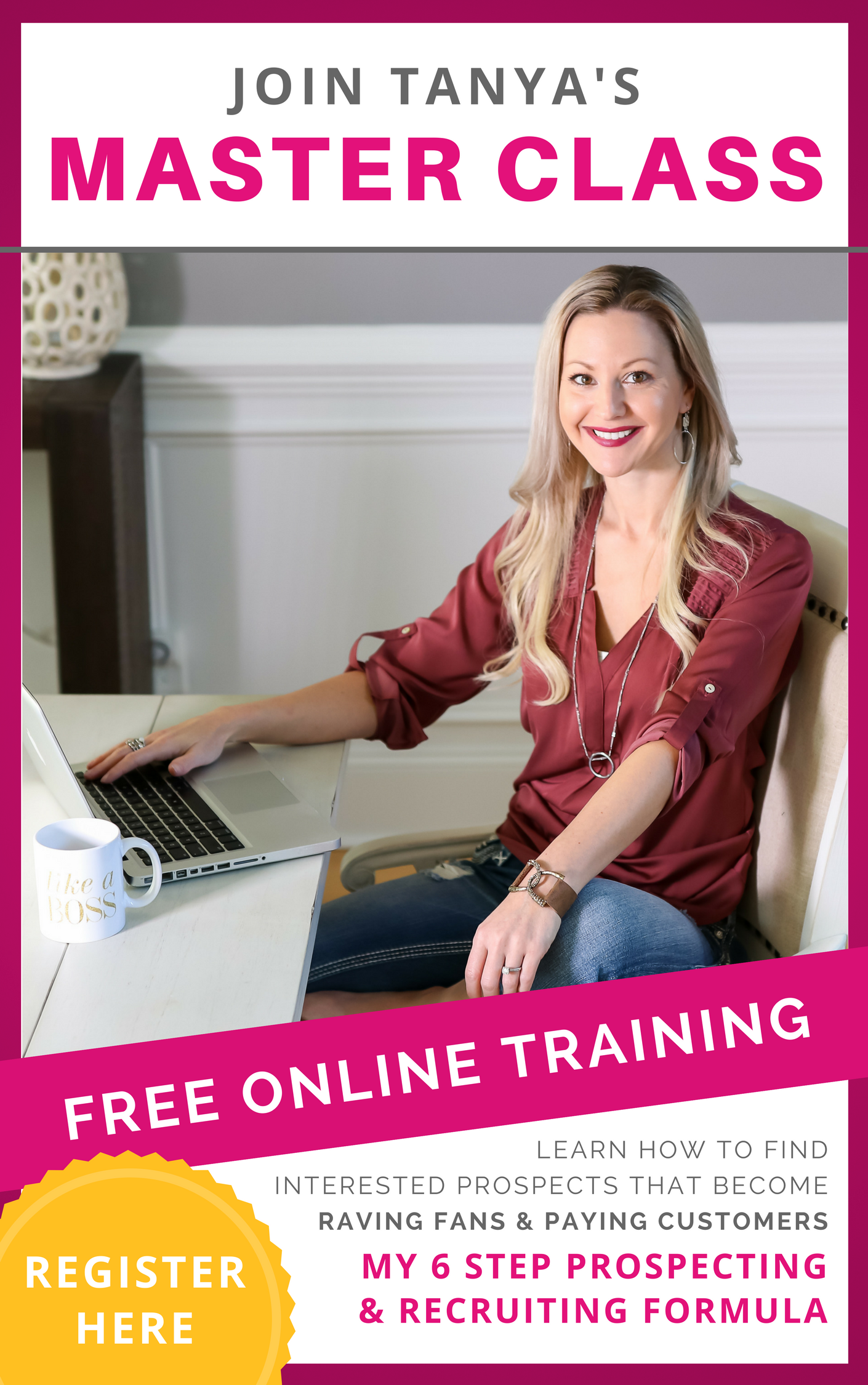 you can implement right away and create results with fast in your business.
This week I'm doing something really special. I'm hosting a free training that's all about using Facebook properly to generate lots of leads and income for your business.
If you have 26 minutes a day and you want to automate your business so you can have more leverage, then you'll definitely want to attend My 6 Step Prospecting & Recruiting Formula training that I'm doing this week.
You can get registered by clicking on the yellow button above. I hope to see you there 😉
One of the biggest sources of confusion for most entrepreneurs is knowing the difference between a Facebook Page vs Profile and which they should use to grow their business.
But it's important to understand the differences between the two in order to effectively grow your business on Facebook and stay compliant with Facebook's rules and regulations.
Hopefully, the answer to this question will be clear after I discuss the following:
✔ the differences between Facebook Page vs Profile
✔ the Pros and Cons of using each for business
✔how other Facebook users can report your Profile — if it's being used primarily for business
✔why it's so important you use Facebook properly if you want to crush it in your business
So let's dive in!
Facebook Page vs Profile – What's the Difference?
When you sign up for Facebook you get a Profile. A Facebook Profile is a personal account. It's for nonbusiness use and represents you as an individual.
This is where you can add friends and family members, communicate on a personal level, and share photos, videos, and post your personal life updates.
A Facebook Profile isn't a smart option for entrepreneurs wanting to promote products or engage customers.
Using a Profile to promote your business or products is actually a violation of Facebook's Terms of Service and can result in deletion of the account.
There's a lot of network marketing companies that are teaching their people to promote their business or products on their personal profiles and unfortunately people are blindly following this type of training and falling out of compliance with Facebook's terms and conditions.
Facebook Page vs Profile – How users can report your Profile
Step 1. They go to your profile
Step 2. They click on the three dots on the right side of your cover photo:
Step 3. They click "Report/Block":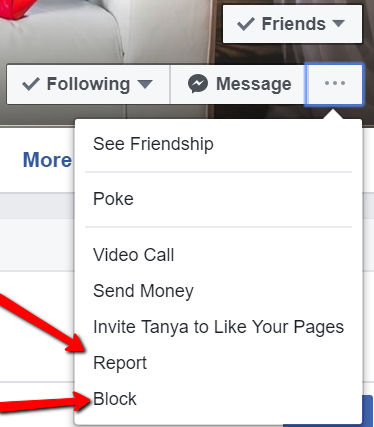 It's that easy.
My advice?
Don't jeopardize your business on the only social network that has 2.01 billion monthly active users.
Instead, learn how to use Facebook properly and to your advantage by registering for my Live Masterclass Training I'm doing this week and learn how to generate leads and sales on auto pilot for your business.
Facebook Page vs Profile – Why you should use a Facebook Page for Business
A Facebook page, on the other hand, is the perfect place to conduct business on Facebook.
A Facebook page is a business account that represents a company or organization.
It looks similar to a Facebook Profile, but it offers unique tools to manage and track engagement on your page.
While you can only have one Facebook Profile tied to your name, you can have an unlimited number of Pages associated with your account.
Facebook Page vs Profile – Pros and Cons to using a Facebook Page
There's a million pros to building your business via a Facebook page and there's just one con. The con is that it takes a bit longer to get traction and engagement through a Facebook page.
Why?
Because Facebook likes business owners to pay to play.
They want you to boost posts, run ads and basically spend money.
However, here's what I have found…
Wherever you put your focus is where you'll get your results.
If you consistently post three times a day, every day, for the next 60 days, you will start to gain the traction and engagement that you normally get through your personal profile.
It can take some time to build up the engagement but it will definitely happen if you're consistent.
And if your Facebook engagement strategy needs a little juice, then you'll definitely want to learn some simple strategies that will put that in motion for you.
Facebook Page vs Profile – Advantages and Features of using a Facebook Page
Facebook pages are great for building a following online because you're not limited by friend requests or to only a 5,000-friend limit.
Instead, individuals only have to click the Like button to start receiving your updates in their News Feeds.
But here's a list of the benefits of using a page for your business:
• …You can freely sell your products or services
• …You'll look way more professional
• …You can run ads to your business
• …You can build custom audiences
• …You can attach a social media sales funnel to your page (you can't do this on a profile)
Not sure what a social media sales funnel is or why you need one?
No worries, I'm sharing exactly how a social media sales funnel allows me to have people buy from me or join me in my network marketing business on auto pilot.
Register for my Free Online Masterclass My 6 Step Prospecting & Recruiting Formula that's coming up this week so you can learn how to do the same for your business.
Click on the yellow button below to register😉

Resources That Will Help You Even More
FB Live Checklist (Free) – Learn More 
This is my go-to checklist that I've been using before, during and after my FB Live broadcasts that have gotten me tens of thousands on eyeballs on my products and services!
It's no secret that doing FB Lives can bring you a lot of exposure and business, but sometimes it can be exhausting and intimidating to know if you're doing them right to get people to actually take the next step with you
Jab Jab Jab, Right Hook (book) – Learn More
This is one of my favorite books and I recommend it to anyone that wants to master the art of Social Media to get it and read it 5 times! It teaches you how to function on Social Media to get the most results.
Did you get some value from these Facebook Page vs Profile tips?

I hope you did because each week I put my heart into making sure you get some amazing network marketing tips and strategies to rock it in your business while creating a life you love.

Wanna Share This Because You Love Sharing Valuable Info?
Each Monday I post a new video training and free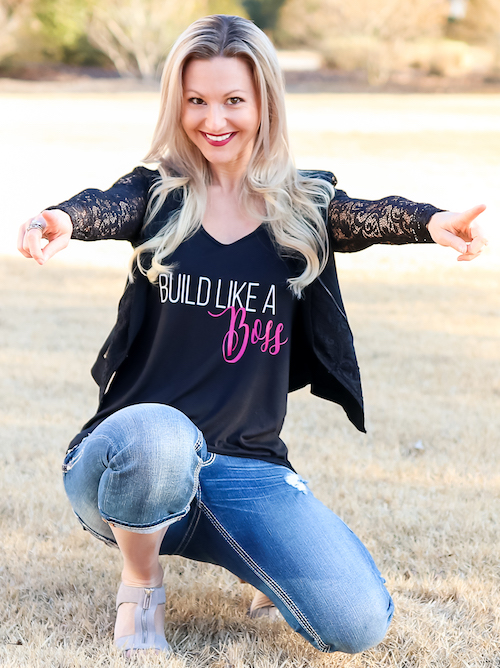 resource on my blog.
Each Tuesday I do a Live Q&A training on my Facebook Page so make sure we're connected www.facebook.com/tanyaaliza
Stand Out and Stay Connected… drop a comment below.
You are a Rock Star!
Question of the week: Do you have a Facebook business page that you conduct your business through?
If you are, type a YES in the comments section below. If you're not, type a NO in the comments section below.
If you are using a Facebook page for your business, tell me what you love the most about it. Let's start a conversation in the comments section below. Can't wait to hear from you!