I recently discovered a really great way to create opportunities in my life and I want to share it with you so that the doors of opportunity start opening up all around you.
Business opportunities, personal opportunities, family opportunities – you name it!
I learned it from a book written by Tim Ferris called Tools of Titans.
In this book, Tim interviewed lady boss Gabrielle Reece where she shared a very valuable lesson: the concept of "Go First".
So in this episode of TanyaAliza TV, I will show you how I have applied Gabrielle's concept of going first and how it has opened up my life to more opportunities and how it can do the same for you too!
Here's How I Learned To Create Opportunities In My Life And You Can Too – Episode 230

With every Episode of Tanya Aliza TV, I like to empower you with a POWERFUL free resource that you can implement right away and create results fast in your business.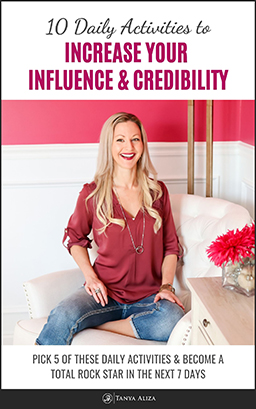 This week, since we're talking about opening up and creating opportunities in your life, I've put together a FREEBIE called My 10 Daily Activities To Help You Increase Your Influence And Credibility.
It's going to help you look like a complete Rock Star with your people so they pay attention to you and open up more opportunities in your business and life.
The 1 concept that led me to create opportunities in my life
Have you heard of the book by Tim Ferris called 'Tools of Titans' The Tactics, Routines and Habits of Billionaires, Icons and World Class Performers?
I recently picked it up on Audible and I've been listening to it on my morning walks with Loya.
I love learning from real life success stories.
Tim was interviewing Gabrielle Reece an American professional volleyball player, sports announcer, fashion model and actress.
Gabrielle shared something so valuable that it stuck with me and I've been implementing it.
She shared a concept that she called 'Go First.'
It's the idea that while everyone else is waiting for someone else to make the first move (followers) it's more important to be the leader and 'Go First.'
Basically be the one that leads and start first.
Here are some examples to help you create opportunities with the 'go first' concept
✅  Say you're in line in a grocery store, be the first one to say hi or start a conversation. So many people are waiting for someone to start the conversation, and there are just so many opportunities that exist in that possible conversation.
✅  If you're in class or getting coaching in a group setting, always raise your hand to go first especially when you know the answer to something. Those who go first get more opportunities.
Those are just some examples but you'll be surprised at how many opportunities will open up to you when you take that initiative to 'Go First.'
There's so much opportunity on the other side of the conversation if you go first.
Personal examples of how I learned to create opportunities
I'll give you an example of the 'go first' concept with my own personal experience applying it to my life.
I recently moved to North Carolina where I didn't know anybody, and one of the first things I knew I need to do was to get out there and meet new people.
So I went to meetup.com and I joined a women's golf group because well, I love golf.
The organizer of this group I joined posted an event and I noticed that no one had RSVP'ed so I immediately decided to be the first to RSVP.
I didn't wait for other people to start RSVP'ing…nope I decided to break the ice and go first.
Later that day after the golfing event, the organizer thanked me for getting the ball rolling.
And what's really cool is that I was the first one she reached out to to share the details about the next golfing event.
And it all started because I went first.
Creating opportunities when making tough decisions
Another example of this that I can share with you is that I had to make a tough decision 3 years ago when I decided to move to a new network company.
At first, I was waiting for our leadership in my old networking company to make a move, but then I stopped waiting.
I made a decision to go first.
And it was the best decision I ever made, and it served me exceptionally well.
The same can be said when I decided to take my network marketing business to social media.
Back then when I started doing this, no one else was doing it.
In fact, we were forbidden to do it.
So as you can imagine I was the black sheep of the team when I decided to do it even though no one else was.
But I am grateful I made that decision to go first and pioneered this, because today, I am one of the top social media network marketing trainers.
Creating opportunities – In Closing
Moral of the story? Go first!
Don't be afraid. Take calculated risks and take action.
Be a decisive leader.
And if you want to take this even further and learn how to become the kind of person that goes first and people look up to then make sure you download My 10 Daily Activities To Help You Increase Your Influence And Credibility.
It's going to help you look like a complete Rock Star with your people so they pay attention to you and open up more opportunities in your business and life.
You can download it by clicking on the yellow button below 👇

Resources Mentioned & More That Will Help Rock Your Biz
Tools of Titan by Tim Ferris (book) – Learn More Here
The tactics, Routines and Habits of billionaires, icons and world class performers. Whenever I can learn from other successful people, I'm all ears. In this book, Tim interviews and maps out the notes he's taken for himself to live an extremely high performance life, based on all the top tips he's received from some of the world's best. I highly recommend this book/audiobook.
The Ultimate Branding Blueprint – Learn More Here
This is my signature course when it comes to building an Influential Brand Online that attracts leads and sales for your business.
Influence (Book) – Learn More Here
Have you ever wondered how some people just have that 'Magic' over others? They can go up and talk to people easier, they can command attention and lead people into buying decisions easier…. how do they do it? Is it just a gift? Nope… it has everything to do with understanding how people operate and how to INFLUENCE them. This is one of my favorite books and if you're in a position where you collect decisions from people (sales) this is a MUST read!
The B-L.A.B. – Come Join Us Here
AKA Build Like A Boss, The B-LAB is Tanya Aliza's FREE Facebook Mastermind group full of awesome Networkers and Entrepreneurs that are all on a mission to grow their businesses Faster and easier with Online Strategies for prospecting, recruiting and sales. We do themed days of the week, we hold each other accountable and we lift each other up! Come introduce yourself and your business.
Connie Imhoff – Champagne Moment of the week – https://www.facebook.com/connie.imhoff/
Did you get some value from this training on creating opportunities?

I hope you did because each week I put my heart into making sure you get some amazing training so you can always be creating opportunities in your business while creating a life you love.

Wanna Share This Because You Love Sharing Valuable Info?
Each Monday I post a new video training and free resource on my blog.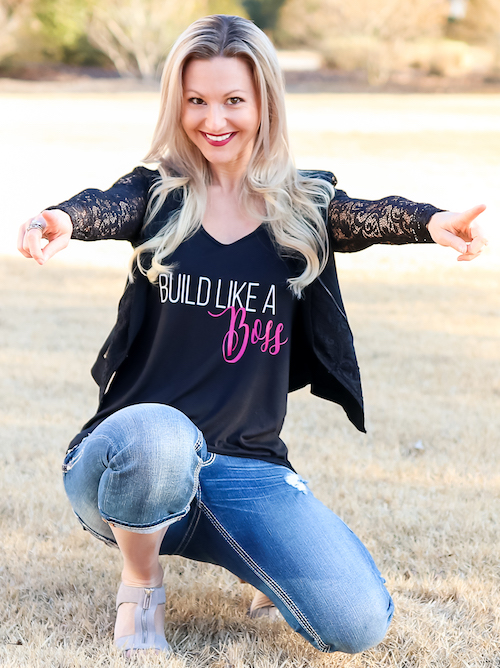 Each Tuesday I do a Live Q&A training on my Facebook Page so make sure we're connected www.facebook.com/tanyaaliza
Stand Out and Stay Connected… drop a comment below.
You are a Rock Star!
Hope you enjoyed this training on creating opportunities in your life 🙂