Tired of feeling like you have to convince people that your product or business is awesome?
I'm going to show you one of my favorite spots to find prospects online that already have an interest in your product, service or opportunity, so that you can save time and get better results faster!
Having a funnel FULL of qualified prospects to talk to about your Product, Service, or Opportunity is really important if you want to stay in business.
How To Find Customers & Prospects Online That Are Already Interested In Your Business – Episode 24

I've been in the Network Marketing industry since 2009 and I've used a lot of different Social Media strategies to bring in new leads and prospects online inside my business.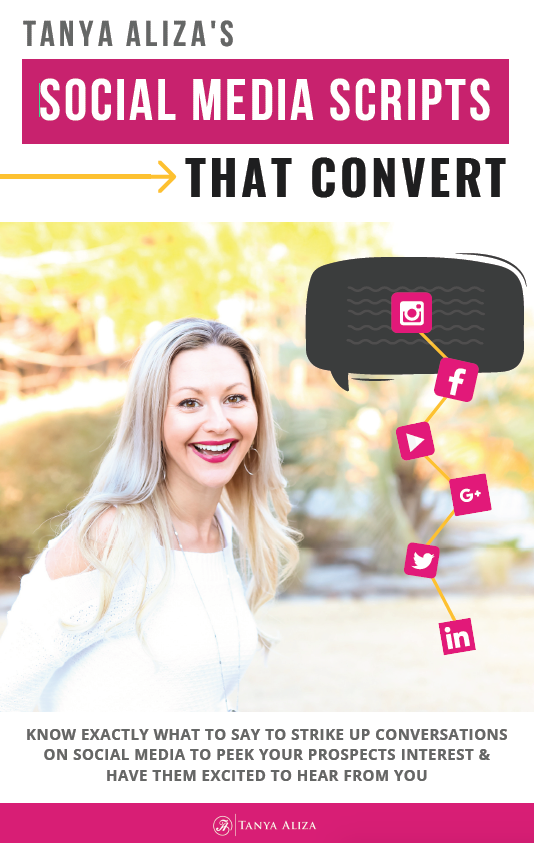 Before I share one of my all time favorite hot-spots that I frequent to find qualified prospects online for my product and business, there are 2 things that you need to do first.
Do These 2 Exercises To Find Prospects Online With This Hot Spot
1. Describe the BENEFITS of your product, service, or opportunity.
This is important to understand when finding prospects online – For example, the benefits of your product, service, or opportunity could be that you help save people money, help save people time, help people lose weight, have more energy, or maybe you help boost people's confidence.
Action Step: Take a few minutes and write down the top 5 benefits your product, service, or opportunity provides to people.
2. Know what to SAY when you find your ideal prospects online
To help you with this, I've put together a free resource that you can download and implement inside of your business and start seeing results with.
This Free Resource is called my Social Media Scripts That Convert and it's the perfect tool to help you when it comes to knowing exactly what to say to start the conversation with your prospects online. It's an easy to follow 3-Step Formula that you'll absolutely love.

As a top recruiter in our company, I've built about 88% of my business on Social Media and finding prospects online and I personally use these scripts inside my own business.
My Favorite Hot Spot To Find High Quality Prospects Online – Quora.com
This is a Social Media site that I love to use and I really haven't seen many people training on it or using it for the purpose of finding high quality prospects online for business.
Quora is similar to Yahoo Answers, but I've found it is a lot better because it's easier to communicate back and forth, provide value and to share what you have to offer.
You can very easily use this platform to connect with people, build your brand, and increase your credibility with people by simply answering questions they might have (already related around your offer), being a person of value, and then making recommendations or suggestions into trying your products, services, or opportunity and building that relationship.
How To Use Quora Effectively To Find Prospects Online
**Make sure to watch the video above in this post for a complete walk-through of how I use Quora**
Search Quora for the Keyword BENEFIT that your product, service, or opportunity provides
Example: Vacation More
Skim through the topic results and find relevant questions that people are asking around this keyword.
Connect with the people asking these questions by using my Social Media Scripts That Convert.
Please respect this platform.
When you're searching your keyword benefits, remember your goal is to make connections and offer value. To prevent being spammy, use my Social Media Scripts That Convert download to know exactly what to say to start the conversation in the most professional way.
Remember: My 'Be Cool' Strategy – Be a real person, have conversations with people in a way that you would want people to start and communicate with you. Help people and provide value to them.
Word of Caution
Do not copy and paste or share your company replicated website links or information. Quora is not the place to spam your links.
If you see that someone is asking a question, build the relationship and help them with an answer.
For example, if someone is asking about how to start a home business, reach out to them and say something like:
"Hey, I saw you had a question on Quora. I'm a member of Quora too. You asked a question about how to start a home business. Are there some specific goals you're looking to accomplish? I might be able to share a couple resources with you, but I just want to make sure I'm referring you in the right direction. I know you might get bombarded with links to business ideas, but I didn't want share anything before making sure it was right with you. Let me know. Chat soon!"
Ready to find prospects online using Quora?
Follow these steps and don't forget to grab My Free Guide – Social Media Tips That Convert to help you to start the conversations online and know exactly what to say to take someone from "Hello" to "Thank You For Your Business"
Some Awesome Resources To Help You Even More
The Ultimate Branding Blueprint – Learn More
Want to amplify your Quora and other Social Media Prospecting and Recruiting efforts?
This is my signature training that teaches you how to set up an Online Brand that positions you as a leader that people naturally want to join and buy from. Add a jet pack to your Social Media Recruiting efforts and generate leads and sales on autopilot 24/7 even while you're sleeping.
Unlimited Fan Page Profits – Learn More
So many people have asked me how to build a business through Facebook, how to build a profitable Facebook Fan Page and where to find prospects on Facebook without spending hours a day in front of the computer. I've put together this powerful training that shows you how to set your business up properly on Facebook. Facebook has over a billion users… you'll want to learn how to maximize your business effort on the world's largest Social Media Platform.
What Matters Most – Learn More
One of my favorite sales closing trainers is Todd Falcone and I love this training because he shows you EXACTLY how to connect with your prospect, quickly break the ice and establish real rapport and trust. He teaches proven, yet simple follow-up techniques that will save you time, frustration and heartache. He also shows you how to overcome any objection or question you get with ease…and learn to close like a pro. This training will help you close those prospects you're connecting with on Quora.
Did you find value in this week's training and resource? If you did, please drop a nice comment below and connect with me more. Each Monday I release a new blog training and free resource for you and your business to help you ROCK your RESULTS.