In this episode, I share my best entrepreneur tips on how to get excited and pumped up again when you feel like giving up in your business.
Have you ever felt like throwing in the towel and quitting your business?
Do you feel like it's just too much and you're not seeing the results you need to keep you moving forward?
Maybe you've been putting in crazy long hours doing everything you've learned, but your bank account isn't showing the fruits of your labor.
Or maybe your family is wondering if your business will ever produce results because you're putting in a lot of time and effort and there isn't much to show for it.
You've given up on doing a lot of things you used to enjoy because you know that if you just keep hustling and striving, that one day your business will be producing exactly the way you want it to.
But it's not working.
And some days it's just too much. Maybe you've even wondered if this entrepreneurial thing just isn't for you.
If that sounds like you – you are not alone. Every entrepreneur has felt like quitting at some point.
In this episode, I'm going to share with you the real reason most people quit in their business and how to prevent from losing your motivation when you feel like giving up.
How to Get Pumped Up Again When You Feel Like Giving Up In Your Business – Episode 48

With every Episode of Tanya Aliza TV, I like to empower you with a POWERFUL FREE resource that you can download and implement right away.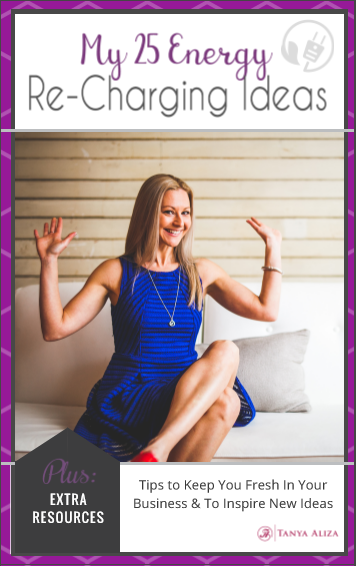 This week, I put together a Free Resource for you called My 25 Energy Recharging Ideas to keep you fresh in your business and also to inspire creativity and new ideas for your business.
I've been using these tips and strategies myself to help me and they will help you when you feel like giving up and saying "adios" to your dreams.
I've had days in my business where I've just wanted to quit…actually, I've wanted to quit multiple times in just one day. I want you to know this is normal.
It happens to all of us. The struggle is a normal part of owning a business.
The key is not letting your thoughts get in the way of where you want to go. The key is staying so focused that nothing can sway you — including the possibility of failure.
So, whether you're just getting started in business or you've been around for a while, these tips if applied, will help you get back in the game when you feel like giving up.
Let's dive right in…
HOW TO GET PUMPED UP AGAIN WHEN YOU FEEL LIKE GIVING UP IN YOUR BUSINESS – GET COMMITTED TO YOUR DREAMS
A mentor of mine once said, "If you don't feel like quitting at least two times a week, you are not working hard enough."
Nevertheless, thinking and acting on your thoughts when you feel like giving up are two different things.
If you actually quit your business – you were never committed in the first place.
And that's usually the underlying reason that most people quit. They were never committed.
The path to success is full of people who are interested in achieving something, but it takes more than interest, or even passion, it takes commitment to be successful.
HOW TO GET PUMPED UP AGAIN WHEN YOU FEEL LIKE GIVING UP IN YOUR BUSINESS – PUT YOURSELF IN A SUPPORTIVE ENVIRONMENT
When you are your own boss, that means you are essentially alone. You can only rely on yourself for motivation, praise, and encouragement.
You don't have anyone praising you for your efforts or telling you what a good job you're doing.
And that can get pretty hard for most people.
We all crave praise. It's an essential human need. Not one single person I know does not crave praise.
That's why as an entrepreneur you need to surround yourself with other entrepreneurs and people that praise and support you.
Here are some tips to help you get the praise and support you need.
Join an Entrepreneurial group
Recently I created a Facebook community group where like-minded Entrepreneurs can come together to share ideas, learn from one another and also praise each other for our work and accomplishments.
Definitely come over and join us and be surrounded by other motivated smart entrepreneurs that will help you stay accountable to what you say you want.
http://www.buildlikeabossgroup.com
Ask family and friends to be a source of support and praise
Let family and friends know that their support and praise will help you towards reaching your business goals. If you aren't surrounded by people who want to see you succeed, you'll have a much harder time achieving your goals and dreams.
If you aren't surrounded by supportive people, then maybe it's time to clean house;-)
HOW TO GET PUMPED UP AGAIN WHEN YOU FEEL LIKE GIVING UP IN YOUR BUSINESS – ACTION CURES IT ALL
When nothing in your business is going the way you want it to, you will literally feel like going on a Netflix and pizza binge, and just forget that your business even exists.
However, the worst thing you can do is not move.
So, what do you do when you feel like giving up?
GET INTO ACTION.
That's the cure to the "I want to quit" ailment.
Seriously, staying in action will eventually get you out of your funk.
If you're in a funk here's my quitting prevention prescription:
• Go make a sale
• Recruit a new teammate
• Get to a training or training event
• Listen to a podcast
• Exercise
• Meditate
• Do Yoga
• Download my 25 Energy Recharging Ideas
The longer you stay inactive the harder it will be to get back in action.
Your life and your dreams are too important for you to quit. Get committed to your dreams and make a decision that no matter how you feel or how many thoughts about quitting you have when you feel like giving up, you will never ever quit on yourself or your dreams.
My gift to you this week is My 25 Energy Recharging Ideas to keep you fresh and excited about your business. Download it by clicking on the big yellow button below.

Some Awesome Resources That Will Help You
Evey Entrepreneur needs motivation and support every now and then. Surround yourself with like-minded people and supportive communities…
Build Like A Boss – Learn More 
My personal Facebook group that you can come and join. I motivate, teach and inspire you in here so you can crush it in your business.
Episode 27 on TanyaAliza.com – Learn More
How to Relaunch Your Business plus a Free Guide to help you with a 30-60 Day Business Plan
The Miracle Morning For Network Marketers (book) – Learn More
This is one of my favorite series of books. I happen to be featured in this book because of my crazy liking for my miracle morning routine and how it's totally helped me and my business. If you're trying to get a more solid routine down that you can follow to create more success in your business… this is a great book to read.
Attraction Marketing Bootcamp – Learn More
This is a free 10 day Online recruiting bootcamp where you'll learn how to use the internet to generate leads and have prospects calling you about your product, service or opportunity. I really like this resource if you're looking to do some more business online.
Did you get some value?

I hope you did because each week I put my heart into making sure you get amazing tips and strategies to rock it in your business work while creating a life you love.

Wanna Share This Because You Love Sharing Valuable Info?

Each Monday I post a new video training and free
resource on my blog.
Each Tuesday I do a Live Q&A training on my Facebook Page so make sure we're connected on Facebook www.facebook.com/tanyaaliza
Stand Out and Stay Connected… drop a comment below.
You are a Rock Star!