You may be suffering from imposter syndrome if you're feeling like you have to act or be someone that's not really YOU in order to have success in your business.
Maybe you try to go out there and prospect and be a people person…but you're an introvert and you don't even like talking to people you don't know.
And it's making you feel a bit icky or weird?
In this episode of Tanya Aliza TV, I'm going to share with you a little bit of my journey so you can see how awful I was in the beginning of building my business….
This will not only give you hope if you're feeling like a fraud but also show you why it's important to not compare your chapter 2 with other peoples chapter 20.
Imposter Syndrome – How To Build Your Brand Even When You Don't Feel Like An Expert – Episode 164

With every Episode of Tanya Aliza TV, I like to empower you with a POWERFUL free resource that you can implement right away and create results with fast in your business.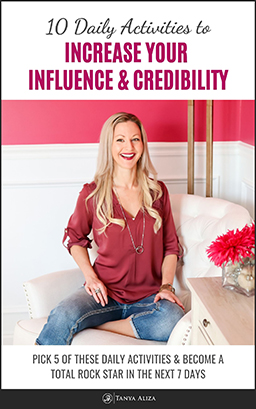 This week since we're talking about how to overcome feeling like an imposter in your business I'm giving you My 10 Daily Activities To Help You Increase Your Influence And Credibility.
This will help you to overcome imposter syndrome much faster so you can start to see results in your business and gain more confidence in yourself.
If you're feeling like a fake or an imposter when you put yourself out there to grow your business…be patient because you are not alone.
We've all been there and today I want to share with you a little piece of my journey from feeling like an imposter to becoming a confident and successful entrepreneur so that it gives you hope and shows you part of the journey that all successful entrepreneurs go through.
My case of Imposter Syndrome
Back in 2009 when I started in Network Marketing I had a full-time job and was working 12-hour day shifts.
I could have easily used that as an excuse to give up on my business.
But instead…I found a way to leverage my time and still get results.
I knew I had to bring people into my world and build relationships wth them to build my business…
…so I went online to see how I could do that while not being physically present…at least not for the things that could be automated or didn't need my physical presence.
Because let's face it…I had very little time left to build my business.
So I went online and saw a lot of other marketers using video as a really great resource to leverage their time while still building a relationship with their audience.
Keep in mind, this was back in 2010 when Social Media wasn't what it is today and very few people were doing video.
But I saw it as a way to solve my problem of not having enough time to build my business.
Imposter Syndrome – But I feel like a fake!
So I started doing videos because I saw others having success with it and leveraging their time as well which I desperately needed to do.
But it felt so uncomfortable sitting in front of a camera and basically talking to a camera lens.
You feel me?
As a matter of fact, I would cringe when I would see my videos…it was awful!
If you're reading this blog post instead of watching the video above… make sure you watch it when you can because I actually include a clip of my very first video so you could have a good chuckle and also to give you some hope.
So maybe you are at that point that I was in back in 2010 when I started doing my very first videos?
I completely understand how you feel.
You'll notice when you watch my very first video that it makes no sense at all and has no purpose….. but look at where those awful moments have taken me.
Had I not kept going I wouldn't be here right now living a life of freedom that I absolutely love.
Imposter Syndrome – My chapter 20 vs your chapter 2
Typically when I tell people they need to start doing videos to grow their business…they think its easy for me to say because they're seeing my chapter 20.
What they're not seeing is my very first video and how awful it was so they think it's easy for me to tell them to go out and do video.
So make sure you go and watch that very first video and tell me how much of a natural I was…lol
Just remember that  TIME, EXPERIENCE and MASSIVE ACTION are the variables that will make one person's success different from another person's success.
I really hope that watching that video gives you hope and helps you understand that you can do the things in your business that you are scared to do or think you could never do.
Imposter Syndrome – A good dose of Imposter Syndrome
Okay… so why put yourself through the torture of feeling like a fake and start doing videos to build your brand online?
For me… I wanted to create authority and influence in our space so that people would take me seriously and take me up on my business or product offers.
And I believe videos and building your brand online is one of the best ways to do that.
So if you want to build your influence and credibility while creating leverage… video is one of the best ways to do that.
Yes, at first, you'll feel really awkward.
But keep at it…it's normal to feel imposter syndrome in the beginning.
It happens to everyone and it actually means you're quite a healthy individual.
Just don't let it paralyze you or stop you from moving forward in your business.
Imposter Syndrome – The quick fix to Imposter Syndrome
Want the quick fix to overcoming imposter syndrome fast?
Implement. Take action.
You could spend all day learning but if you're not implementing you won't ever get results and build the confidence you need in yourself to do the things that currently feel uncomfortable.
So make sure that you're learning and immediately implementing what you learn.
Don't overthink things…just show up and take action.
You'll start to accumulate experience which will help you get better at doing videos over time.
And if you want to get better at doing videos and make sure you check out the resources section below because I'll leave you with some of my favorite resources that I've used to help me get better at doing videos and branding myself.
Imposter Syndrome – In Conclusion
So, if you're feeling like you have imposter syndrome right now and you don't feel authentic…find a way to deliver value in a way that aligns with your life and you feel really good about.
You won't feel very confident in the beginning but that's okay.
If you trust the process and continue to take action you will eventually get there.
Keep it simple and build a consistent schedule for your actions.
And here's something I can't recommend enough:
Focus on the actions… not the results in the beginning.
The people who focus on results in the very beginning tend to quit faster than those who focus on actions only.
You GOT this. I believe in you.
And remember to download My 10 Daily Activities To Help You Increase Your Influence And Credibility.
It will help you overcome imposter syndrome much faster so you can start to see results in your business and gain more confidence in yourself.
You can download it by clicking on the yellow button below.

Resources Mentioned & More That Will Help Rock Your Biz
Influence (Book) – Learn More 
Have you ever wondered how some people just have that 'Magic' over others? They can go up and talk to people easier, they can command attention and lead people into buying decisions easier…. how do they do it? Is it just a gift? Nope… it has everything to do with understanding how people operate and how to INFLUENCE them. This is one of my favorite books and if you're in a position where you collect decisions from people (sales) this is a MUST read!
Video Ranking Academy by Sean Cannell – Learn More
If you are already doing videos and posting them on YouTube and you want to learn how to optimize these videos so that you get more views and Rankings, this is one of the best trainings I've been through that can help you do this. I've been able to rank my videos on the first page of YouTube in 1 day with this training
Facebook Live Checklist – Learn More
This is my go-to checklist that I've been using before, during and after my FB Live broadcasts that have gotten me tens of thousands on eyeballs on my products and services!
It's no secret that doing FB Lives can bring you a lot of exposure and business, but sometimes it can be exhausting and intimidating to know if you're doing them right to get people to actually take the next step with you…
Get Over Your Damn Self – Book by Romi Neustadt – Learn More Here
The No B.S. Blueprint to building a life changing business. This is one of the best books I've read when it comes to learning how to talk to prospects and transition the conversations, naturally, into business. I bought the audiobook, listened to it twice, then bought the paperback because I wanted to highlight the scripts she gives… they are THAT good. This is a book that I highly recommend everyone in Network Marketing to get. For the guys… this is a really feminine read, but still highly worth it.
The Ultimate Branding Blueprint – Learn More Here
This is my signature course when it comes to building an Influential Brand Online that attracts leads and sales for your business.
The B-L.A.B. – Come Join Us Here
AKA Build Like A Boss, The B-LAB is Tanya Aliza's FREE Facebook Mastermind group full of awesome Networkers and Entrepreneurs that are all on a mission to grow their businesses Faster and easier with Online Strategies for prospecting, recruiting and sales. We do themed days of the week, we hold each other accountable and we lift each other up! Come introduce yourself and your business.
Did you get some value from this training on how to get over imposter syndrome?

I hope you did because each week I put my heart into making sure you get some amazing tips on how to get over imposter syndrome so you can rock it in your business while creating a life you love.

Wanna Share This Because You Love Sharing Valuable Info?
Each Monday I post a new video training and free resource on my blog.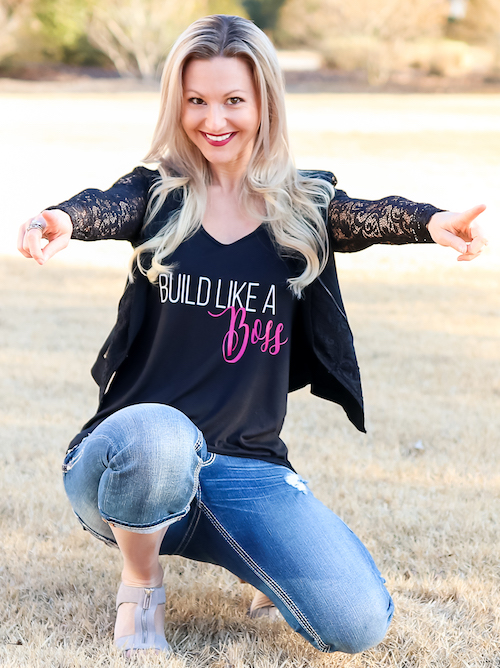 Each Tuesday I do a Live Q&A training on my Facebook Page so make sure we're connected www.facebook.com/tanyaaliza
Stand Out and Stay Connected… drop a comment below.
You are a Rock Star!
Question of The Week: What's one thing you're struggling with right now?
Share in the comments section below, I'd love to hear your comments and turn them into helpful episodes for you.
Hope you enjoyed this training on how to overcome imposter syndrome 🙂