Have you ever wondered how to reach out to Influencers and start a business conversation with them and have them interested in your product, service or business?
Because let's be real here… if you can recruit an influencer to start using and talking about your product… you could massively explode your business FAST!
Just think, OPRAH! Okay… maybe Oprah is too BIG to get to look at what you have…. BUT what about someone that has 100's of thousands of followers on Instagram?
Do you think that could stir up some FAST business for you?
It definitely can…
But… you have to know exactly how to reach out to an Influencer and start a business conversation with them if you want them to give you the time of day.
So In this Episode of Tanya Aliza TV, I'm going to share with you exactly how to reach out to these Influencers and get them interested in looking at what you're promoting.
How To Reach Out To Influencers & Get Them Interested In Your Products Or Business – Episode 162

With every Episode of Tanya Aliza TV, I like to empower you with a POWERFUL free resource that you can implement right away and create results with fast in your business.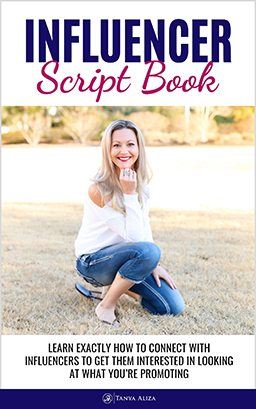 This week since we're talking about how to approach Influencers…I put together My Influencers Recruiting Script Book so you can stand out and get them to pay attention to you.
It's absolutely free and you download it by clicking on the yellow button above.
Why learn how to reach out to an influencer?
Well for one…people are already taking recommendations and buying from Influencers.
Even some Influencers with a small but engaged following can become an incredible revenue stream for your business.
But knowing what to say to get them interested is key… and as you'll see in just a second I'm going to show you what you need to know before you reach out to an influencer so you stand out and they listen to you.
But before I show you how to reach out to an Influencer let's debunk some false beliefs.
How to reach out to Influencers – False belief #1
1️⃣You have to be successful before any Influencers will pay attention to you
Wrong!
This couldn't be further from the truth.
Whether you're brand new or super successful already in your business, it does not matter to the influencer.
Why?
A couple of reasons…
First off…it's not about you or what you've done.
An influencer will only have 2 things on their mind when you approach them:
1-What's in it for me?
2-How will this serve my audience?
And if you can help them see those two things they will pay attention to you.
How to reach out to Influencers –  False belief #2
2️⃣ Influencers make too much money to pay attention to you
Not true at all.
Nowadays, it's easier than ever to become Youtube or Instagram famous and not make any real money at all.
As a matter of fact, so many people go on to create huge followings and because they don't understand how to monetize the platform they end up really frustrated that they aren't making any real money.
But they want to!
And this is where you come in and help them with this.
If you can help them see that you can help solve this problem for them, you'll be their hero.
A couple of things to consider before you learn how to reach out to influencers
🔹They are busy
Influencers are busy people so the faster you get to the point the better.
🔹They might have a ton of people reaching out to them
This is where My Influencers Recruiting Script Book will help you.
You'll want to stand out from everyone else so they pay attention to you.
🔹Make it all about what's in it for them AND their followers
Always keep the focus of the conversation about them and their followers and how your business, products or services can help them.
🔹Do a deep dive into the Influencers business
Before you reach out to an Influencer, you'll want to do some research and learn more about them and their business.
Check out their social media posts, their website, their audience, what they care about and how they're already monetizing their business.
You never want to show up inside of an influencers Inbox without truly understand their business and what they're doing.
This is going to really help you stand out from the crowd of people just hitting them up with promotional stuff that only serves themselves.
🔹Find a common interest
Finding a common interest that you share with the Influencer will help you have a reason to start the conversation with them.
Now let's dive into a sample script I use that will help you learn how to reach out to Influencers.
First, I like to start off with a compliment and then segway into the money question fast so I get to the point as fast as possible.
So I'll say, 'Hey John, I'm loving your amazing xyz channel (insert whatever platform or medium they're using). The reason I'm connecting is that I see that your audience might find a lot of value in my products and services that we promote and this could also add a really HOT stream of income for you and your business.
But most importantly, I really want to make you look like a rockstar with your people and help you serve them even more.
Would you be open to setting up a quick 10-minute conversation to discuss what that could possibly look like for you and your audience?
And to help you out with this, even more, remember to download My Influencers Recruiting Script Book so you know exactly what to say so you can stand out and get them to pay attention.
You can download it by clicking on the yellow button below 😉

How to reach out to Influencers – In Closing
Recruiting an Influencer to promote your business, service or products is a no brainer.
However, some people have false beliefs about Influencers that they need to get clear on.
False beliefs like,  'They won't pay attention to me unless I'm already successful.' or  'They must be earning tons of money if they have a large following.'
These are all false and understanding this will help you feel more comfortable when approaching them.
You want to keep in mind that Influencers are:
Busy people so get straight to the point with them
Have tons of people already reaching out to them so make sure you stand out
When you approach an influencer make it all about them & their audience
And before you approach them make sure you:
Research their business and audience so you know what the heck they are all about
Find a common interest so you are relatable to them as well
Compliment them as soon as you reach out to them
Resources Mentioned & More That Will Help Rock Your Biz
Product Sampling – A Smart Sales Strategy Or Complete Waste Of Time? – Episode 116 – Learn More Here
Ultimate Branding Blueprint – Learn More Here
This is my signature course when it comes to building an Influential Brand Online that attracts leads and sales for your business
Beyond Objections – Learn More
In this powerful 77 min Audio training and downloadable Cheat Sheet you will be equipped to handle any objection or question that your prospect gives you after you share your business with them.
Download the audio to your smartphone, tablet or computer and take it with you on the go, at the gym or in the car and become a professional in closing the sale without being salesy or weird.
It's all about finding out what the REAL questions and objections are and leading them into the direction of a sale or new teammate.
The B-L.A.B. – Come Join Us Here
AKA Build Like A Boss, The B-LAB is Tanya Aliza's FREE Facebook Mastermind group full of awesome Networkers and Entrepreneurs that are all on a mission to grow their businesses Faster and easier with Online Strategies for prospecting, recruiting and sales. We do themed days of the week, we hold each other accountable and we lift each other up! Come introduce yourself and your business.
Did you get some value from this training on how to reach out to influencers?

I hope you did because each week I put my heart into making sure you get some amazing tips on how to reach out to influencers & more so you can rock it in your business while creating a life you love.

Wanna Share This Because You Love Sharing Valuable Info?
Each Monday I post a new video training and free resource on my blog.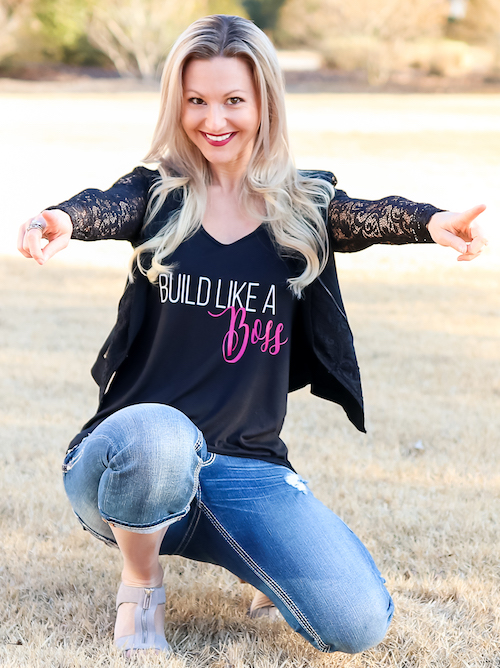 Each Tuesday I do a Live Q&A training on my Facebook Page so make sure we're connected www.facebook.com/tanyaaliza
Stand Out and Stay Connected… drop a comment below.
You are a Rock Star!
Question of The Week: Who's one of your favorite Influencers that you follow online?
Let's have a chat in the comments section below.
Hope you enjoyed this training on learning how to reach out to influencers 🙂