Are you thinking of marketing on Tik Tok?
We've got TikTok, Clubhouse and now Instagram Reels… how do we navigate where we should be spending our time and how to use these platforms to actually grow our business?
That's the big question on everyone's mind and this is exactly what I am talking about today.
In this episode of Tanya Aliza TV, I'm going to show you a smart and profitable way to build your business on all these platforms and which ones I recommend you get and stay on.
Marketing on TikTok, Instagram Reels, Clubhouse (Where to spend TIME?) – Episode 249
With every episode of Tanya Aliza TV, I like to empower you with a POWERFUL free resource that you can implement right away and create results fast in your business.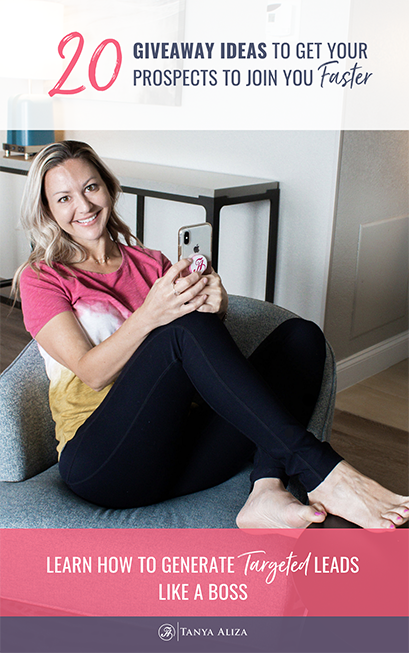 This week, since we are talking about getting the most out of our social media efforts, I'm giving you My 20 Freebie Giveaway Ideas. You can use these to  help you generate leads that are high-quality and want to buy from you.
You can download it right away by clicking on the yellow button above 👆
Marketing on Tik Tok – Metric or profits?
I have a thought provoking question for you.
Are you looking for vanity metrics like views, likes, and comments?
Or are you actually looking for real business results like leads, sales and profits?
I'm going to assume that you're looking for real business results not just vanity metrics.
Or, if you're anything like me…you want both!
Marketing on Tik Tok – are you doing the right income producing activities?
I want you to have consistent and profitable results, just like I have in my business.
But to do that, you need to be doing consistent profitable activities that are going to drive profits.
These are activities that are known to drive sales.
And when you're on social media, this is purpose-driven content, no matter what platform you're using.
Ok, so now let's dive in and talk about what to do with all these platforms and how to use them to grow your business.
I'll start with saying that I'm very protective of my time. I like my time.
There's not enough time in the day to do everything that we want to do and I don't want to be spending 24 hours a day, seven days a week, working on my business.
The reason why I'm doing my business is so that I can have a life.
So the activities that I choose in my business have to be the right activities that drive sales.
And you want to have a way to bring those people into your world so that you can follow up with them when it comes to your product service or business.
Now, I want you to ask yourself,  of all these platforms that are out there, do I have a way to bring the attention from these platforms that I don't own and control into a world that I do own and control?
I'll elaborate on that.
So for example, I know that Tik Tok is a highly engaged place right now and people are getting tons of views and going viral very easily on Tik Tok.
If you're a Tik Tok person and that's your jam, that's totally cool.
You have the opportunity to get a lot of views and go viral if you produce some really great Tik Tok worthy content.
When you're on Tik Tok, do you have a way to capture your people's information?
Are you leading them into a freebie so that they can go, "Yes, I want to be in this person's world," and they're not just a view and then gone to the next video?
Because if you're getting the views but you're not capturing their info then you're losing out on getting them on your email list and you'll have no way to grow an income for your business from the time and effort you're putting into these platforms.
Marketing on Tik Tok – Get popular and make profits
Being popular on these platforms is great, but is your bank account reflecting this popularity?
I want you to be able to capitalize on all of those things.
And the way to do this is by making sure that whichever platform you're on, make sure that you have some sort of freebie that you can offer to people where they have to give you their name and email and so that you can follow up with them.
That way it also segments people into those that are just watching videos to those who are interested in what you're offering.
The people that are watching your reels or listening to you on Clubhouse and want to dive deeper with you, you have to give them an opportunity to do so, which is a call to action to get on your email list.
Now here's the thing. People don't get on an email list for no reason.
They get on your email list when you provide them with something of value.
I've been leading with freebies in my business for the last 10 years and it's helped me build a 7-figure income.
If you've been following me for a while you know I give out freebies so that we don't miss the opportunity to engage and have a relationship and see if I can serve people with my products and services.
You should be doing the same thing.
And listen, we're all business owners here.
The main goal is to build our bottom line while serving our audience.
Lately, I've been extraordinarily passionate about teaching people how to build their email lists off of social media because we never know where a social media channel is going to be in a year or two from now.
And if you only build up all of your content and all of your following on those social media channels, and something happens, the you've wasted all your time and energy and you lose your audience that you had on that platform.
Marketing on Tik Tok – Which platform is best to build consistent income?
So now the question is, we have all these new platforms, do I need to be on all of them?
And the answer is no.
You don't need to jump on every new platform that comes along.
There will always be a new platform every few years.
Personally, I haven't jumped into the world of TikTok or Clubhouse.
I have found my lane and I'm staying in my lane, which I recommend that you do the same thing.
I don't feel that I have to be absolutely everywhere and you shouldn't either.
I just have to be in a couple of places and I have to be in those places in a really well fashioned manner and be very consistent.
So pick the platform that you resonate the most with and that you know your audience is hanging out on and build there.
Stay there until you get results. Don't go jumping around from platform to platform. Master one and get momentum first before you start building on a second one.
In Closing
Okay so there you have my formula for using social media to build my business without spending all day on it.
Make sure that you pick 1 or 2 social media platforms to start with and stay on those and offer value in the form of a freebie and collect people's email address so you can stay connected to them and monetize your time and efforts.
And if you need ideas on what to create your freebie around then make sure you download My 20 Freebie Giveaway Ideas. These will  help you generate leads that are high-quality and want to buy from you.
Resources Mentioned & More That Will Help Rock Your Biz
📌 Episode 244 – Social Media Marketing For Beginners (My 5 Step Daily Plan… Only 90 mins/day!) – Learn More Here
In this episode, I'm going to show you exactly what you need to do and when you need to do it in order to grow your business on social media in 90 minutes or less a day.
🎥  Tanya's Video Equipment, Favorite Books And More – Learn More Here
🥂 Champagne Moment Highlight Member – Sailynn Doyle – Learn More About Sailynn Here
Every week I get messages like these from some amazing humans that implement what I teach in my courses or free training. This week we're putting Lisa in the spotlight. Thank you Lisa for your hard work and dedication and I'm happy for your success and grateful you sent me this wonderful message.
🌟 The B-L.A.B. – Come Join Us Here
AKA Build Like A Boss, The B-LAB is Tanya Aliza's FREE Facebook Mastermind group full of awesome Networkers and Entrepreneurs that are all on a mission to grow their businesses Faster and easier with Online Strategies for prospecting, recruiting and sales. We do themed days of the week, we hold each other accountable and we lift each other up! Come introduce yourself and your business.
Did you get some value from these marketing tips to help you grow your social media following?

I hope you did because each week I put my heart into making sure you get some good marketing tips on how to grow your social media following so you can rock it in your business while creating a life you love.

Wanna Share This Because You Love Sharing Valuable Info?
Each Monday I post a new video training and free resource on my blog.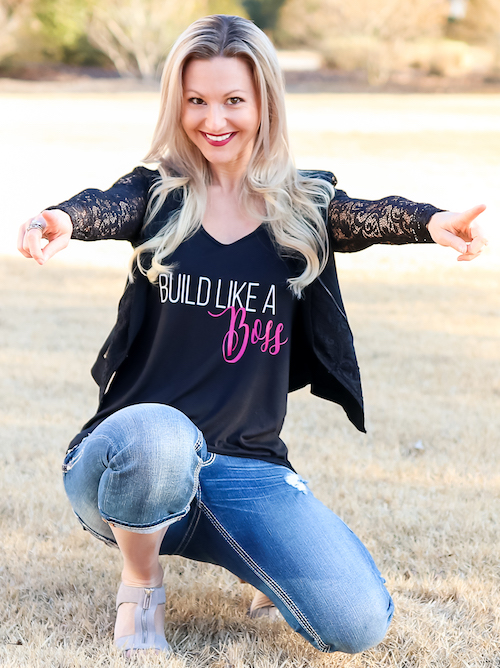 Each Tuesday I do a Live Q&A training on my Facebook Page so make sure we're connected www.facebook.com/tanyaaliza
Stand Out and Stay Connected… drop a comment below.
You are a Rock Star!