My 3 message social media prospecting scripts are a game changer when it comes to having conversations that turn into business on social media.
I see so many people mess up their conversations with potential customers or teammates on social media that I had to do this episode.
If you struggle with getting your conversations from, "Hello, how are you doing?" To, "Welcome, new customer or new teammate." then this episode is for you!
In this episode of Tanya Aliza TV, I'm going to show you how to have proper social media conversations with prospects so you can convert these conversations into business.
My 3 Message Social Media Prospecting Scripts To Gain More Teammates & Customers – Episode 215
With every Episode of Tanya Aliza TV, I like to empower you with a POWERFUL free resource that you can implement right away and create results with fast in your business.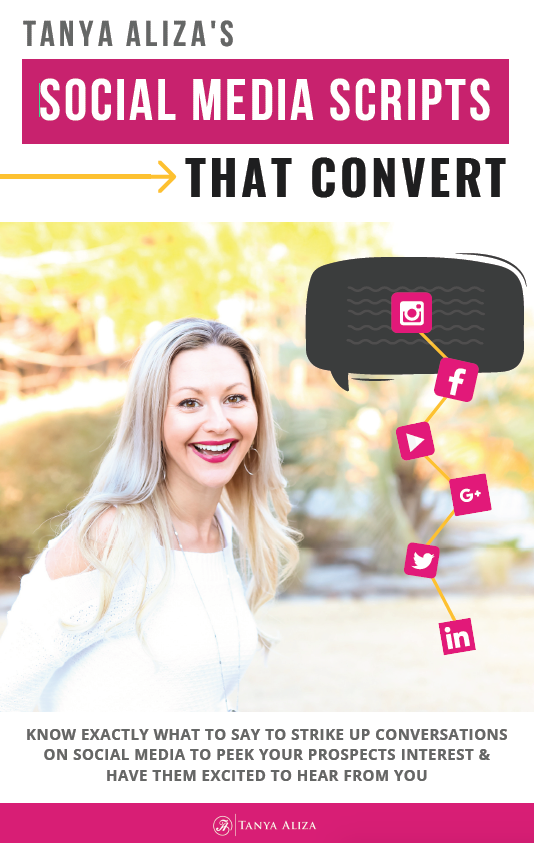 This week since we're talking about social media conversations, I'm giving you My Social Media Scripts That Convert so you can easily know exactly what to say to strike up conversations on social media to peek your prospects interest and have them excited to hear more from you!
To begin, let's talk about laying the platform for success on your social media.
Social Media Prospecting – #1 Understand The Platform
You have to understand the platform that you are presenting yourself on.
So if you're on Facebook or on Instagram, people don't normally go to those platforms to buy stuff.
They aren't looking to go shopping there typically, right?
They're going there to get entertained or see what their friends are up to.
If you look too spammy or too salesy, they're not going to want to have a conversation with you.
And that might be why people are ignoring the conversations that you're starting with them.
Social Media Prospecting – #2 Do A Profile Audit on Yourself
Now let's lay the foundation before we get into it.
I want to make sure that you're set up to win when it comes to your profile and your page.
Do an audit and take a look at your page and your profile, and see if it looks overly promotional.
It should not look overly promotional.
Are you adding value? Are you posting cool stuff that maybe other people would want to share?
Now the goal on social media is to move your prospects through a journey with you, and that journey I like to Cold → Warm → Hot:
Cold is when they don't know who you are yet, and those are the people you want to get in front of with your products and services.
Warm is when they know who you are, they've seen maybe a bit of your stuff before.
Hot is when they become a buyer or a team member.
The goal is to move them as fast as possible through that journey with you.
Now, if you're thinking about, "Well, how do I do that and what do I post on social media?"
I actually talked all about what to post on social media to get the best results in your business in Episode 42, which I'll link to it in the show notes for you below.
If you're not sure what to post on social media, go check that episode out and understand how to cultivate better conversations through your posts.
Social Media Prospecting – #3 Don't Post or Share Links
Don't post and don't share unsolicited links.
You have to have conversations that are framed in a way that you're helping people.
In fact that's what you should be doing. You're helping people.
Share information with them only when they have agreed to have you share that with them.
Social Media Prospecting – #4 Be a Person of Value
Again, go check out your profile.
Is it promoting you? Is it promoting lifestyle? Is it promoting the industry that you're in?
Not your company name, not your product names.
Does it look overly promotional?
It's very important to be a person of value and fun who people want to engage and converse with on social media.
Now that we've laid the foundation, let's get into the juice.
The 3 Message Social Media Prospecting Formula to Convert Conversations into Business
I have this really popular 3-message script which we use in our Facebook conversations but also really works well in any conversation, whether text or face to face.
In my Social Media Scripts That Convert, you'll see this happen in more detail, but here is here is the basis of it:
Social Media Message # 1 – Start the conversation
You have to understand that the goal of the first message is to start the conversation, and nothing more.
Not to share your information yet, it's just to engage and start the conversation.
Social Media Message # 2 – See if they are open
The goal of the second message is to see if they're open to learning more about what you have, and that is it.
You're just saying, "Hey, are you opening to learning more about X, Y, Z?"
Remember, again, we're not sharing links yet, not soliciting anything, and we're not trying to sell anything just yet.
We're just asking them if they are open to learning more.
Social Media Message # 3 – Set the appointment
The goal of the third message is to set the appointment and get the confirmation of appointment.
When somebody says, "Yes, I'm interested", what most people do is they'll go, "Oh my gosh, awesome," and they'll send all of their information.
If you do this, you'll completely give up all posture and control in that conversation.
It might be going well in the beginning and then you're wondering why they didn't buy or why they disappeared, and it's because you didn't set up the appointment properly.
So, before you give them information, confirm the time they are available to go through the information.
This has been a game changer in my business and I hope it will be a game changer in yours too.
Set a time, and don't pounce on people right away.
When you set an appointment based on their schedule, that's when you share your information with them.
Then, you can tentatively schedule a follow-up time when hopefully they've digested the information and you can take the next step.
Social Media Prospecting Conversations – In Closing
So the goal of the episode is to really help you dial in your social media conversations.
It's taking people from hello to getting to the point, seeing if they are open, and setting an appointment with them for them to check out your information.
And to help you dive deeper I put together My Social Media Scripts That Convert worksheet and script book for you. It's going to help you easily know exactly what to say to strike up conversations on social media to peek your prospects interest and have them excited to hear more from you!
You can download it by clicking on the yellow button below 👇
Resources Mentioned & More That Will Help Rock Your Biz
Jab Jab Jab, Right Hook (book) – Learn More Here
This is one of my favorite books and I recommend it to anyone that wants to master the art of Social Media to get it and read it 5 times! It teaches you how to function on Social Media to get the most results.
25 Social Media Posts Ideas – Learn More Here
Ever struggle with what to post on Social Media? Never run out of content ideas to post for your social media strategy with my 25 social media post ideas that will help you gain engagement, interest and sales in your business.
Episode 42 How To Post On Social Media To Make More Sales – Learn More Here
The B-L.A.B. – Come Join Us Here
AKA Build Like A Boss, The B-LAB is Tanya Aliza's FREE Facebook Mastermind group full of awesome Networkers and Entrepreneurs that are all on a mission to grow their businesses Faster and easier with Online Strategies for prospecting, recruiting and sales. We do themed days of the week, we hold each other accountable and we lift each other up! Come introduce yourself and your business.
Did you get some value from this training on how to effectively go about your Social Media Prospecting?

I hope you did because each week I put my heart into making sure you get some amazing training to help you get better with your Social Media Prospecting so you can rock it in your business while creating a life you love.

Wanna Share This Because You Love Sharing Valuable Info?
Each Monday I post a new video training and free resource on my blog.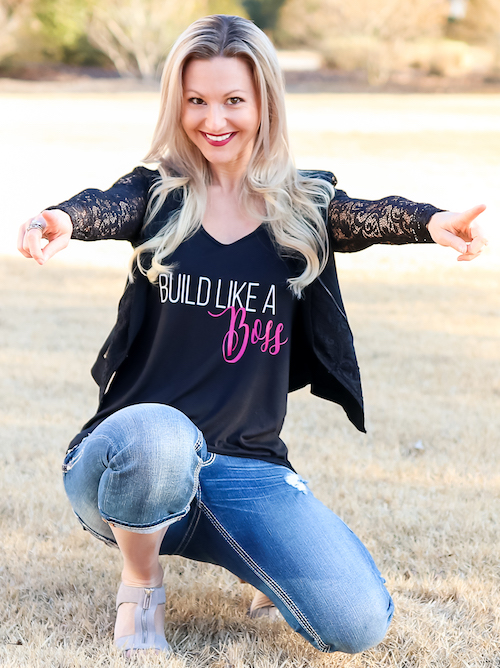 Each Tuesday I do a Live Q&A training on my Facebook Page so make sure we're connected www.facebook.com/tanyaaliza
Stand Out and Stay Connected… drop a comment below.
You are a Rock Star!
Question of The Week: What's one thing that you learned from today's episode that's helped you?
Hope you enjoyed this training on converting your social media prospecting conversations into sales!