If you want to experience network marketing success fast, you'll want to learn how to become really good at acquiring customers or teammates.
With that in mind, wouldn't it be cool if you could turn 1 customer into 5 or more immediately after you acquire that 1 customer?
That would mean you would be easily multiplying your customers and volume… which means you're helping MORE people with your products and services and more Moolah in your bank account!
In this Episode of Tanya Aliza TV, I'm going to share with you a strategy I recently discovered that will help you do just this… without much extra effort at all!
Network Marketing Success – How To Turn 1 Customer Into 5 Or More Using Social Media – Episode 155
With every Episode of Tanya Aliza TV, I like to empower you with a POWERFUL free resource that you can implement right away and create results with fast in your business.
This week since we're talking about how to leverage your customers and create posts for their network on social media I'm going to give you some examples I've created for you so you can get the best results.
I'm going to give you 8 Curiosity Customer Posts That Drive Sales. You can take these examples and use them to get really great results from these social media posts.
You can download it by clicking on the yellow button above.
I recently discovered this new strategy and thought it was genius and I know for sure will help you increase your network marketing success.
Just imagine… every new customer you bring into your business brings you about 5 or 10 more.
How much work does it take to bring in 1 customer? It could be a good amount of work. But imagine if you could do the work one time, yet get 5 times the results.
Well… this strategy will completely help you LEVERAGE your time and efforts.
And I'm all about that work smart not hard life so let's dive right in…
I'm going to give you an example of how this strategy works if you're in the health and wellness industry.
However, this strategy can work no matter what products or services you sell… and I want you to get creative with this!
Network Marketing Success  – Your customer is excited so let's sprinkle that excitement everywhere
Obviously, when you first acquire a customer, they're excited about their purchase…. So let's take all of that excitement and share it with their network.
And the easier you make it for them to do that the better this strategy will work.
So what you want to do is to create a few social media posts that you can help them share with their network.
You're basically doing the work for them and making this as easy as possible for them.
One thing that's really important to note is that this strategy has to be done right after your customer places their order.
This is when they're most excited and they'll be happy to share their excitement with their people.
Network Marketing Success – Make it a win-win for both you and your customers
So what you want to do after they place their order, is to ask them if they can do you a favor and share their excitement about their recent order on their Facebook or social media profile.
And that in turn, you're going to do everything for them… including:
✔︎Giving them the Social Media posts to post
✔︎Commenting back and answering questions
✔︎And you're going to sign up all of their new referral customers under them so they can get free product!
All they have to do is sit back and relax  😉
It's a Win Win Win!
This is a great way to help your customer get free product and get even more excited about placing more orders with you.
Network Marketing Success – What the entire process looks like
Ok so what do you give your customer to post and how does this process look like?
Here's just 1 example from the free resource I'm giving you with this blog episode:
If you're in health & wellness you can use a before and after picture of a weight loss example.
And the text could say something like this…
"I saw this before and after result and I just couldn't resist trying out this new product to help me trim up before bikini season. I might not look like Pamela Anderson before beach season hits (not ready to get a boob job just yet lol), but I'm determined to hit the beach with confidence! Anyone interested in going on a 90-day weight loss challenge with me? P.S. We're not going to starve ourselves… just hold each other accountable and have some fun :-)"
Network Marketing Success – In closing
A couple of things you want to keep in mind when creating these posts for your customers to use.
1️⃣ You want to keep it real. Write as you would to a close friend. This isn't supposed to sound like an infomercial so make sure you're using a conversational tone in your writing.
2️⃣ Inject some humor where you can. You'll notice this example post say's "(not ready to get a boob job just yet lol)" try to inject some humor because people will always want to be part of something fun and exciting.
3️⃣ Keep it light. Notice the last part say's "(P.S. We're not going to starve ourselves… just hold each other accountable and have some fun :-)" 
You don't want to scare people away so don't use language that makes people think they suddenly need to make drastic changes.
People are already busy and stressed and will be more likely to respond to a post that invites them on a journey to get a result without any stress or serious commitment attached to it.
So just think of a couple of curiosity posts that you can write for your customers to post on their wall and have fun with it!
And to help you with some ideas I'm giving you 8 Curiosity Customer Posts That Drive Sales. It will help you see some examples that work great and help you get your creative juices flowing so you can create some great posts for your customers to share.
Make sure you download it by clicking on the yellow button below 😉
Resources Mentioned & More That Will Help Rock Your Biz
Mark Harbert's On Demand Messenger Revolution Training – Learn More
This is a training by my good friend Mark Harbert. Mark is a master at using the Facebook messenger bot to build relationships with people on Facebook and also to grow his list and build his business.
He shows people how to use it in an automated fashion so they're not spending hours and hours on Facebook just trying to start conversations with prospects and instead make better use of their time.
The Ultimate Branding Blueprint – Learn More Here
This is my signature course when it comes to building an Influential Brand Online that attracts leads and sales for your business.
Jab Jab Jab, Right Hook (book) – Learn More Here 
This is one of my favorite books and I recommend it to anyone that wants to master the art of Social Media to get it and read it 5 times! It teaches you how to function on Social Media to get the most results.
Influence (Book) – Learn More
Have you ever wondered how some people just have that 'Magic' over others? They can go up and talk to people easier, they can command attention and lead people into buying decisions easier…. how do they do it?
Is it just a gift? Nope… it has everything to do with understanding how people operate and how to INFLUENCE them. This is one of my favorite books and if you're in a position where you collect decisions from people (sales) this is a MUST read!
The B-L.A.B. – Come Join Us Here
AKA Build Like A Boss, The B-LAB is Tanya Aliza's FREE Facebook Mastermind group full of awesome Networkers and Entrepreneurs that are all on a mission to grow their businesses Faster and easier with Online Strategies for prospecting, recruiting and sales. We do themed days of the week, we hold each other accountable and we lift each other up! Come introduce yourself and your business.
Did you get some value from these network marketing success tips?

I hope you did because each week I put my heart into making sure you get some amazing network marketing success tips so you can rock it in your business while creating a life you love.

Wanna Share This Because You Love Sharing Valuable Info?
Each Monday I post a new video training and free resource on my blog.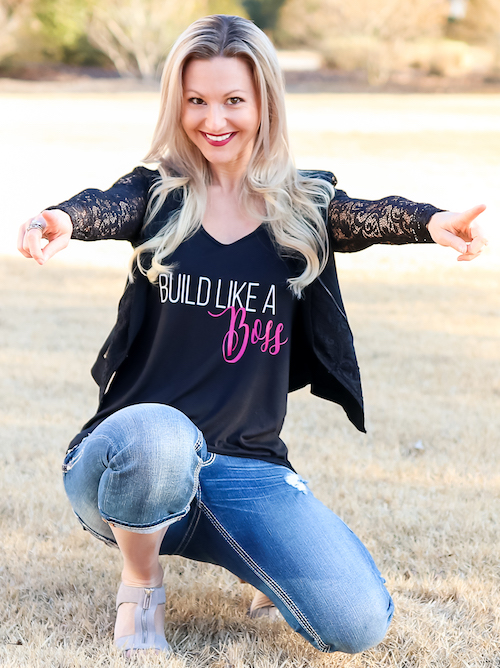 Each Tuesday I do a Live Q&A training on my Facebook Page so make sure we're connected www.facebook.com/tanyaaliza
Stand Out and Stay Connected… drop a comment below.
You are a Rock Star!
Question of The Week: Do you have any cool strategies that you're currently implementing in your business to drive and leverage customer sales?
I'd love to know. Drop it in the comments below!
Hope you enjoyed these network marketing success tips 😉