In this Episode, I'm going to show you some powerful strategies for overcoming challenges fast and coming out stronger and better because of them.
Challenges, frustrations, and problems…are normal and a part of life and business.
You should expect them and actually embrace them.
Embrace them?
Sounds crazy right?!
Indeed… but all great leaders are defined by their ability to overcome challenges that come their way.
And if you're here on my Blog then I'm pretty sure you want to develop leadership qualities or learn how to help your team become great leaders as well.
In this Episode of Tanya Aliza TV, I'm going to show you some strategies for OVERCOMING CHALLENGES and problems fast and come out on the other side STRONGER than ever.
Powerful Strategies For Overcoming Challenges Fast In Your Business & Life – Episode 108

With every Episode of Tanya Aliza TV, I like to empower you with a POWERFUL free resource that you can implement right away and create results with fast in your business.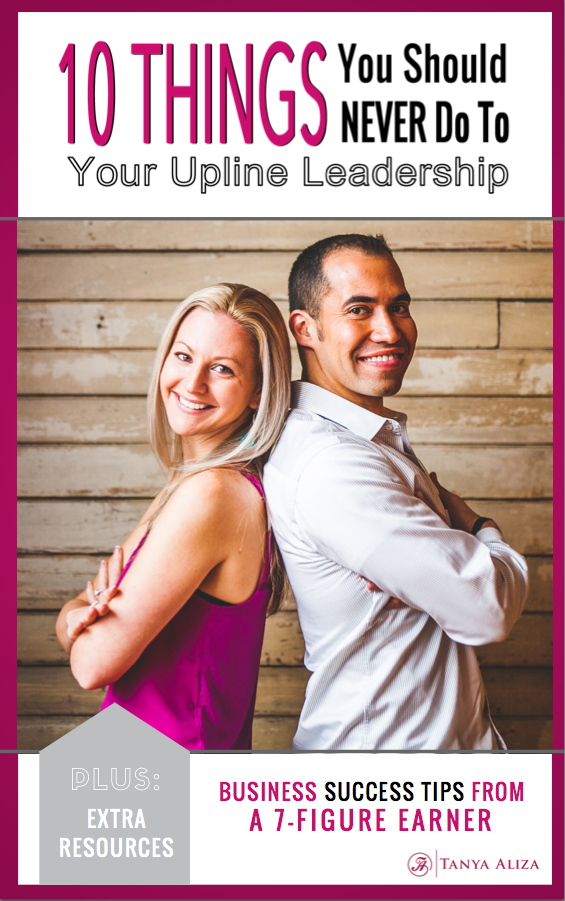 This week, I'm giving you The 10 Things That You Should Never Do to Your Upline, Leadership or Mentor.
These are all the tips that will help you model leadership right out of the gate and also help your team to become the group of powerful strong leaders that you want them to become.
At some point in life, we all go through struggle.
But we get to choose how we respond to it.
And your response to challenges will determine how successful you are in business & life.
My goal is that these strategies I'm going to share with you will give you a new perspective and ability to help you overcome anything that comes your way.
Overcoming Challenges – The difference between successful & unsuccessful people
What separates successful entrepreneurs from unsuccessful ones is not the challenges.
We all have challenges!
A critical trait that separates successful entrepreneurs is the ability to take obstacle after obstacle without any loss of determination and action to make things happen in their business.
But this trait isn't something leaders are born with…it's a skill that can be developed over time.
Overcoming Challenges – The Obstacle Is The Way
I recently read the book 'The Obstacle Is The Way' by Ryan Holiday and it was a fantastic read.
One of the things I love the about the book is that Ryan talks about looking at overcoming challenges and obstacles as the way of life.
And using every obstacle as an opportunity to get better, stronger & tougher.
And so as challenges come your way…instead of feeling anger towards them, have fascination towards them.
I know this is easier said than done!
But if you start to practice looking at uncomfortable situations as an opportunity for growth and apply no negative energy to them at all…you'll come out of these challenges not only wiser but stronger as well.
Overcoming Challenges – How to help your team become solution minded problem solvers
I'll give you an example of how to do this in your life and with your team and even your kids…yep, this works with kids as well 😉
There's a philosophy that I have with my team that works with me at TanyaAliza.com for any time a challenge or problem comes up.
So the LadyBosses that work with me obviously run into challenges or problems.
But sometimes they'll come to me with questions about the problem or they're not too sure how to do something and they'll want to run it by me.
I've trained them to know that if they bring me a problem or a challenge they also have to bring me 2 solutions or 2 options that they think can help solve the problem or challenge.
Can you guess what happens every time?
By the time they run the problem by me, they already have the solution.
This is a WIN WIN for everyone!
Overcoming Challenges – Duplicate this philosophy with your team
If they have a question or a problem they also have to bring two solutions that they think might help solve the problem.
What this does is it trains your team to be higher level thinkers and it brings out the leader and entrepreneur in them.
This is REALLY important to do because you don't want to be the one always solving problems in your team…that will drain you and burn you out.
So make sure you start putting this into practice with your team as soon as possible.
Overcoming Challenges – In Closing
Always be resourceful and ask the right kind of questions that will help you come up with solutions to your obstacles.
Instead of "Why is this happening to me?"
Ask "What lessons and opportunities will this challenge bring me?" "What action steps can I take to help me get past this challenge and come out stronger on the other end?"
This will make you a very powerful and stronger leader.
And to help you even more with this…download this week's free resource called "The 10 Things That You Should Never Do to Your Upline, Leadership or Mentor.
Download it by clicking on the yellow button below:

Resources Mentioned & More That Will Help Rock Your Biz
The Obstacle is The Way by Ryan Holiday – Learn More Here
This is one of my favorite books to re-framing your mind and giving you exercises to understand how to handle obstacles and challenges that present themselves.
Beyond Objections – Learn More
In this powerful 77 min Audio training and downloadable Cheat Sheet you will be equipped to handle any objection or question that your prospect gives you after you share your business with them. Download the audio to your smart phone, tablet or computer and take it with you on the go, at the gym or in the car and become a professional in closing the sale without being salesy or weird. It's all about finding out what the REAL questions and objections are and leading them into the direction of a sale or new teammate.
Book – Get Over Your Damn Self  by Romi Neustadt – Learn More Here
The No B.S. Blueprint to building a life changing business. This is one of the best books I've read when it comes to learning how to talk to prospects and transition the conversations, naturally, into business. I bought the audio book, listened to it twice, then bought the paperback because I wanted to highlight the scripts she gives… they are THAT good. This is a book that I highly recommend everyone in Network Marketing to get. For the guys… this is a really feminine read, but still highly worth it.
The B.L.A.B – Come Join Us Here
AKA Build Like A Boss, The B-LAB is Tanya Aliza's FREE Facebook Mastermind group full of awesome Networkers and Entrepreneurs that are all on a mission to grow their businesses Faster and easier with Online Strategies for prospecting, recruiting and sales. We do themed days of the week, we hold each other accountable and we lift each other up! Come introduce yourself and your business.
Did you get some value from these tips on overcoming challenges?

I hope you did because each week I put my heart into making sure you get some amazing tips and strategies on overcoming challenges and more to rock it in your business while creating a life you love.

Wanna Share This Because You Love Sharing Valuable Info?
Each Monday I post a new video training and free resource on my blog.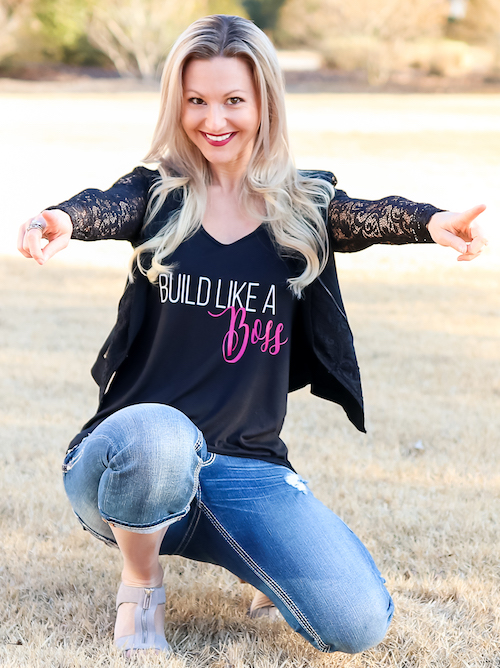 Each Tuesday I do a Live Q&A training on my Facebook Page so make sure we're connected www.facebook.com/tanyaaliza
Stand Out and Stay Connected… drop a comment below.
You are a Rock Star!
Question of the week: How do you view challenges? Do you have any strategies or techniques that you use that help you deal with challenges?
I'd love to know so please join the conversation below!