In this episode, I share my best prospecting tips so you know exactly what to say in your voicemail and social media messages to get your prospects to call you back.
Are you struggling to get your prospects to call you back after you leave them a voicemail or message on social media?
Whether your calling to book an appointment or follow up with them, If you're doing this wrong, you can turn off your prospects and get zero callbacks.
And that just sucks…
Especially when you're working hard every day to build your business and no one's reaching back out to you.
But if you know exactly what to say in your voicemail messages, you'll get a really high percentage of prospects calling you back.
In this episode, I share exactly what to say to maintain posture and get your prospects calling you back A.S.A.P
Prospecting Tips – Best Voicemail Scripts To Get Your Prospects To Call You Back – Episode 94

With every Episode of Tanya Aliza TV, I like to empower you with a POWERFUL FREE resource that you can download and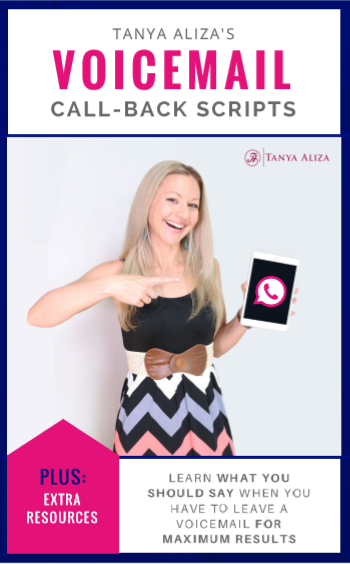 implement right away and create results with fast in your business.
This week, since we're talking about prospecting tips and leaving voicemails, I'm giving you My Voice Mail Call-Back Scripts For Maximum Results to help you in any scenario where you would have to leave a voicemail.
You can print out these scripts and keep them next to you to help you get the more callbacks from your prospects so you can share your business, service or products with them.
If you've been following me for a while now you know that I'm big on having systems in place and I build my entire business using the internet and social media.
But that wasn't always the case.
For the first two years of my business, I used to generate leads online and would call every single one of them.
Two years of calling prospects and leaving LOTS of voicemails gave me a pretty good idea of what works and what doesn't when leaving voicemails.
I pretty much became an expert at crafting voicemails that got prospects to call me back.
And I've put together some scripts for you inside this episode that you can download and use.
Bur first, I want to share some tips with you that will help you have the best results when using these voicemail scripts.
Prospecting Tips – Don't say too much
You want to keep it short and sweet.
People don't have time to listen to long voicemails anymore.
Talking too much in a voicemail can annoy your prospect and definitely won't get you any callbacks from them.
Prospecting Tips – Don't give away the farm
Don't give your prospect details on why you're calling them. Always leave curiosity.
Sometimes people start rambling on about why their calling and that just ruins any chances of getting a callback.
Curiosity will get your prospect wondering what you want to share with them, and they'll want to close that loop in their mind.
So remember, don't go into any details, always leave some curiosity.
Prospecting Tips – Establish a timeframe
In your voicemail let them know when you'd like them to call you back.
And A.S.A.P is what you want to say.
If you say, 'call me back' that leaves it open to whenever…and whenever doesn't always come around.
So, make you're your specific with wanting them to get back to you A.S.A.P
Prospecting Tips – You're a mover and shaker so act like one
Movers and shakers are busy people. They don't waste time and use it wisely.
Everyone loves to follow and be around people who are going somewhere and making stuff happen.
Acting busy also helps you to not sound desperate because you need them to call you back.
🔶Okay, so now that we have the foundational prospecting tips laid out, let's move into some scenarios and examples of some scripts you can use when you're leaving voicemails.
Prospecting Tips –Scenario 1
✅You're calling the people on your list to get them to look at your business, service or products.
Hey John, it's Tanya. Can you give me a call back as soon as possible today when you get this message?
Thanks, talk to you soon!
Simple right?
Simple is best and did you notice?
✔I didn't say too much
✔I left some curiosity
✔I established a time frame by using the word today
✔I was in a hurry because I'm a busy person
Prospecting Tips –Scenario 2
✅You scheduled an appointment with your prospect and they stood you up.
I handle this scenario in 3 phases.
Phase 1:
You leave your first voicemail:
Hey John, Tanya Aliza here, I'm calling you at our scheduled appointment time. I was expecting to chat with you and hope everything's okay. Hey listen, I'm free for the next 20 minutes as I had blocked this time out for us in my schedule. I really hope everything is okay but please call me back as soon as you get this message.
Talk to you soon!
This voicemail message works for 3 reasons:
💠 It assures the prospect that you have some empathy by telling them you hope everything is okay.
💠It lets them know that you blocked out some time in your schedule which is pretty important and that you were expecting them to be available when THEY said they would be.
💠You established a timeframe by saying call me back as soon as you get this message.
P.S. If you're getting stood up frequently by your prospects…you might want to check out Episode 17 so you can get more people to actually Show Up to your business presentation or meeting.
Prospecting Tips –Scenario 3
Phase 2:
✅If you don't get a call back leave this follow up voicemail message:
Hey John, what's going on, Tanya here again. I haven't heard back from you after I called you back for the time we had scheduled to meet…and  I sure hope everything is okay with you. Can you please call me back as soon as you get this message today…just want to make sure that everything is fine on your end.
Talk to you soon!
If they call you back, great, but if they don't then you move on to the next scenario.
Prospecting Tips –Scenario 4
Phase 3:
✅I leave my final message.
I leave this message the next day or 24 hours after the original scheduled appointment time:
Hey John, It's Tanya here, I left you a couple of voicemail messages yesterday regarding our scheduled appointment time that we had blocked off but I haven't heard from you yet. I truly hope that everything is alright, and nothing's happened to you.
Hey listen, I know you said you were interested in hearing about what I'm doing, and I don't know if right now might not be the right time for you but that's not a problem. I'm going to cross you off my list and if things change just let me know. Also, please send me a quick text message or call back and just let me know that all is okay with you. I'd really appreciate that.
Have a wonderful day!
Here's why this voicemail message works almost every time.
🔹People do not like being crossed off of anything without their permission.
🔹If they were truly serious about taking a look at what you've got, they will call you back because they don't want to get crossed off your list.
🔹And also, you have to empathize with people because things do come up and life gets crazy. So showing some empathy can go a long way.
Prospecting Tips – In Closing
Remember that during this whole process you want to maintain posture and professional urgency in these voicemail messages.
Put your own personality into these scripts as well…you don't want to sound like a robot.
Want even more scripts and scenarios?
I got you covered.
I created a free downloadable resource that you can download and use for almost every scenario that requires you to leave voicemail messages as you're doing your prospecting calls.
You can download My Voice Mail Call-Back Scripts For Maximum Results by clicking on the yellow button below!

Resources Mentioned & More That Will Help Rock Your Biz
Beyond Objections – Learn More
In this powerful 77 min Audio training and downloadable Cheat Sheet you will be equipped to handle any objection or question that your prospect gives you after you share your business with them. Download the audio to your smart phone, tablet or computer and take it with you on the go, at the gym or in the car and become a professional in closing the sale without being salesy or weird.
It's all about finding out what the REAL questions and objections are and leading them into the direction of a sale or new teammate.
Free Online Training Class – How I Enroll 2-5 New Teammates Per Week Using This Social Media Blueprint – Learn More Here
Come join me on this exciting training class that I'm hosting where I'm going to share with you my Social Media Prospecting Blueprint. This is a perfect way to leverage your time and build your business from anywhere in the World via your computer. I'll also share with you how to Attract Leaders and High Volume Producers to your business.
Influence (Book) – Learn More Here 
Have you ever wondered how some people just have that 'Magic' over others? They can go up and talk to people easier, they can command attention and lead people into buying decisions easier…. how do they do it? Is it just a gift? Nope… it has everything to do with understanding how people operate and how to INFLUENCE them. This is one of my favorite books and if you're in a position where you collect decisions from people (sales) this is a MUST read!
The B-L.A.B. – Come Join Us
AKA Build Like A Boss, The B-LAB is Tanya Aliza's FREE Facebook Mastermind group full of awesome Networkers and Entrepreneurs that are all on a mission to grow their businesses Faster and easier with Online Strategies for prospecting, recruiting and sales. We do themed days of the week, we hold each other accountable and we lift each other up! Come introduce yourself and your business.
Did you get some value from these Prospecting Tips?

I hope you did because each week I put my heart into making sure you get some amazing Prospecting Tips and strategies to rock it in your business while creating a life you love.

Wanna Share This Because You Love Sharing Valuable Info?
Each Monday I post a new video training and free resource on my blog.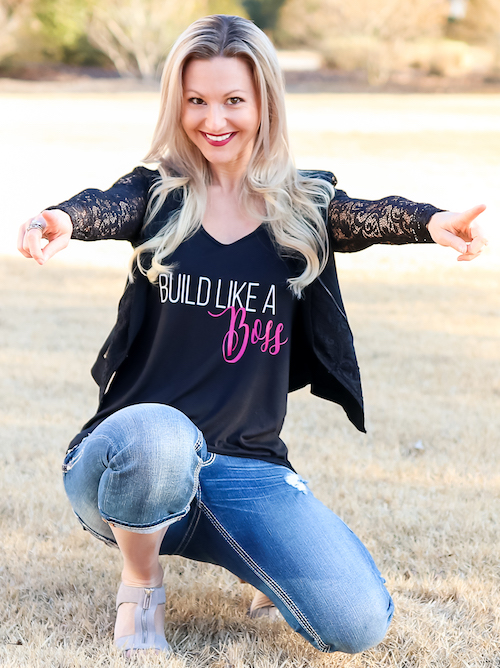 Each Tuesday I do a Live Q&A training on my Facebook Page so make sure we're connected www.facebook.com/tanyaaliza
Stand Out and Stay Connected… drop a comment below.
You are a Rock Star!
Question of the week:  Did these prospecting tips help you? Do you have any scripts that you use that are working for you and you'd like to share with me?
I'd love to know!
Drop a comment below and let's start a conversation.
Hope you enjoyed these Prospecting Tips! 😉