These prospecting tips will show you how building an email list can help you grow your a HUGE business without doing active prospecting.
What if I said you NEVER have to actively prospect people for your business ever again?
I know that's a bold statement, but I'm not saying you should never talk to people again.
There should definitely be a balance between active prospecting and passive prospecting which I'll go deeper into in this episode.
In this episode of Tanya Aliza TV, I'll be showing you how to use an email list to grow a multiple 7-figure business without doing any active prospecting.
Prospecting Tips – How To Grow An Email List That Brings You Unlimited Prospects Ready To Buy From You – Episode 229

With every Episode of Tanya Aliza TV, I like to empower you with a POWERFUL free resource that you can implement right
away and create results fast in your business.
This week, since we're talking about building our email list, I've put together a FREE training called My 6-Step Prospecting & Recruiting Formula where you can learn how to find interested prospects that become raving fans and paying customers!
Prospecting Tips – When to balance active and passive prospecting
So you're probably wondering what I mean by moving all your efforts into passive prospecting?
It basically means that you will be putting more effort into the people who are already interested in what it is that you offer, and in the process, you weed out the tire-kickers.
With an email list, you can market and promote things by having automatic sign-ups without having to personally engage with anybody.
BUT until that happens, you still have to be actively prospecting people.
You have to have a good balance of both until one takes over the other.
This is why it is important to build an asset in your business of perfect prospects using your email list.
Prospecting Tips – How to grow your email list
A few weeks ago, I did an episode about selling without being salesy where I talked about how to grow your email list by giving a freebie, and I'm going to link to it in the show notes below.
In that episode, I talked about how giving a freebie away helps you collect your prospects information which you can use to grow your email list.
Make sure you watch that episode because it's going to tie perfectly with this one an dhelp you grow your email list fast.
Prospecting Tips – What to do with your growing email list
Now, what do you do with your growing email list?
When you finally have a growing email list, know that some of them are gonna buy right away, but some of them aren't.
So what do you do with the people that don't buy right away?
How do you nurture them and how do you continue promoting your products and services to get them warmed up?
Here's what I recommend you do with those who don't purchase right away.
1- Create a campaign.
This is basically a series of 2-5 emails that go out once a day on auto-pilot. You set this up once, and it goes out automatically to those who subscribed to your email list. These emails are designed for them to know more about you because people buy from people they know and trust. In each email, you can put a subtle Call To Action for them to reach out to you and learn more, or a link to go buy your product or service.
2- Notify your email list when you go live. 
Another way to get them warmed up to you or to get them to keep buying things is when you go live on social media. You can email your list to notify them that you're going live.
You can build a relationship with them by doing this, and when they can see more of your recommendations, it will give them more opportunities to buy from you.
3- Invite them to look at new promotions.
Another great thing about using your email list is you can invite them to look at promotions and incentives that your company puts on!
If your company is rolling out new products or incentives, you can inform your email subscribers immediately! You have an upper hand just by sending one email.
4- Invite them to work with you. If you're in network marketing, this is an incredible strategy: invite your email subscribers periodically to come and work with you.
When you've already established your brand with them and they trust you, they will trust your recommendation more.
Prospecting Tips – In Closing
Building your email list is important in achieving passive prospecting. It's the best asset you have in keeping your leads warm and buying from you.
And if you'd love to know more on how to build your email list make sure to register for my upcoming FREE training called My 6-Step Prospecting & Recruiting Formula where you can learn how to find interested prospects that become raving fans and paying customers ALL coming to you.
You can register by clicking on the yellow button below 👇

Resources Mentioned & More That Will Help Rock Your Biz
The Ultimate Branding Blueprint – Learn More Here 
This is my signature course when it comes to building an Influential Brand Online that attracts leads and sales for your business.
Episode 223 – My Attraction Marketing Secrets – The 1 Thing You Need To Know To Sell Without Being Pushy – Learn More Here 
In this Episode I share with you the #1 single most important thing that you need in your business to attract perfect clients and prospects.
Influence (Book) – Learn More Here 
Have you ever wondered how some people just have that 'Magic' over others? They can go up and talk to people easier, they can command attention and lead people into buying decisions easier…. how do they do it? Is it just a gift? Nope… it has everything to do with understanding how people operate and how to INFLUENCE them. This is one of my favorite books and if you're in a position where you collect decisions from people (sales) this is a MUST read!
The B-L.A.B. – Come Join Us Here 
AKA Build Like A Boss, The B-LAB is Tanya Aliza's FREE Facebook Mastermind group full of awesome Networkers and Entrepreneurs that are all on a mission to grow their businesses Faster and easier with Online Strategies for prospecting, recruiting and sales. We do themed days of the week, we hold each other accountable and we lift each other up! Come introduce yourself and your business.
Julie Verity – Champagne Moment of the week –  https://www.facebook.com/JLVerity
Did you get some value from these prospecting tips & email list training?

I hope you did because each week I put my heart into making sure you get some amazing prospecting tips & email list training so you can rock it in your business while creating a life you love.

Wanna Share This Because You Love Sharing Valuable Info?
Each Monday I post a new video training and free resource on my blog.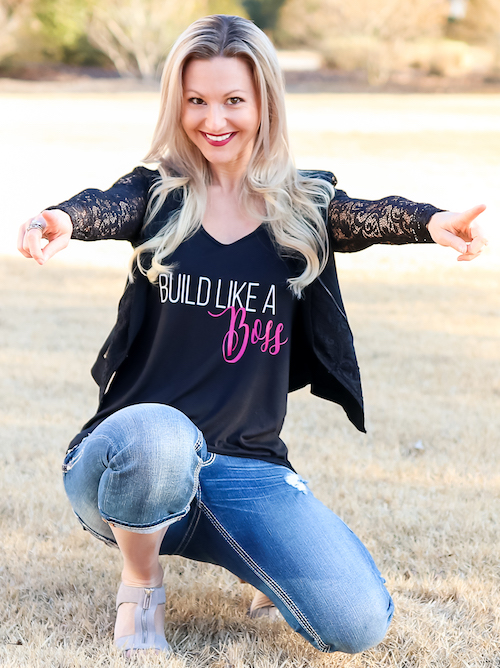 Each Tuesday I do a Live Q&A training on my Facebook Page so make sure we're connected www.facebook.com/tanyaaliza
Stand Out and Stay Connected… drop a comment below.
You are a Rock Star!