These prospecting tips I'm going to share with you will change the way you feel about starting conversations with total strangers.
This is a huge deal because back in 2009 when I ran out of friends and family to talk to…my upline told me to just go out there and find new people to talk to.
And I was like, "Say what?!"
I was quite intimidated with the idea of starting random conversations with complete strangers.
But… I was also determined to find a way to get over my fear so I could become a success in my business.
So in this Episode of Tanya Aliza TV, I'm going to give you my BEST prospecting tips on how to get over the fear of talking to total strangers about your business, product or service.
Prospecting Tips – How To Get Over The Fear Of Starting Business Conversations With Total Strangers – Episode 146

With every Episode of Tanya Aliza TV, I like to empower you with a POWERFUL free resource that you can implement right away and create results with fast in your business.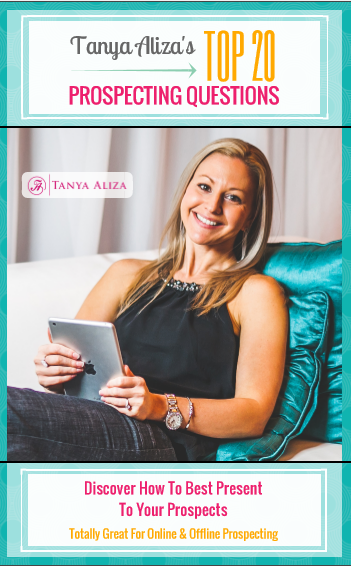 And today since we're talking about getting rid of the fear of staring conversations with strangers…I'm giving you My Top 20 Prospecting Questions. This guide will help you ask the right types of questions that will make it easier to start conversations with total strangers that lead into business.
You can download it by clicking on the yellow button above.
If you don't already know this about me…I'm an introvert.
So the idea of going out there to find people to talk to was not something I felt comfortable with.
To me it just felt like I was going out there to hunt people down…I know all my fellow introverts can feel me on this one 🙂
So I set out to find a way to make this process easier for me because I didn't want to feel disingenuous during the whole process.
PLUS…I wanted to get over the fear that I had that was holding me back and I was determined to grow my business.
I'm going to share with you a couple of prospecting tips that helped me talk to total strangers and be able to get to the point where now I really enjoy the entire process.
Prospecting Tips – This one thing changed EVERYTHING
So the ONE thing that helped me was to re-frame my thinking.
Instead of thinking I'm going out with the intention of prospecting I decided I was going to go out to make new friends and to help people.
That took the pressure off of me and it made me feel more true to who I am.
Now if your an introvert like me its still going to feel a bit uncomfortable to go out there and make new friends…
But I promise that the more you do it the better it gets and easier it will become for you.
Prospecting Tips – Its not what YOU think its about
When I was new in my network marketing company I thought I had to go around telling everybody how great my network marketing products were and that's actually how I started conversations.
Its not about your product, service or whatever it is were selling…its not about going out there to get people to buy a product or service or join your business.
Its more about finding a need and letting your product, service or business be the solution to that need.
If your having a conversation with someone whether in person or on social media and they're telling you that they have a need or problem…and you come in and use your product or service as the solution to their need… then the whole process becomes genuine and serves them.
Prospecting Tips – Prospecting in a way that serves your prospect
So how do you find the needs of your prospects?
You ask questions…
Questions are the KEY to discovering the needs and problems they have that your product, business or service could help them with.
When asking questions don't forget to pay attention to what they say…don't think about your next question while their talking or you'll miss out on getting to know them, and their needs.
Prospecting Tips – Give them a compliment
Something that's always worked really well for me is that I'll give a GENUINE compliment to the person I'm talking to.
It's gotta be genuine though…typically I'll compliment someone on what their wearing because I like fashion.
Find something about them you like and compliment them or if they're on social media you can look for something they've posted that you genuinely like and give them a compliment on it.
Once you compliment them it opens them up and makes it easier to have a conversation.
Prospecting Tips – In Conclusion
Network marketing has been a really great excuse for me as an adult to go out there and make new friends…
So when I changed my mindset from, "I'm prospecting or or hunting for new business to… I'm going to go out there to make new friends…
I truly believe thats what it has allowed me to do.
Not everybody is going to buy or join you…but if you approach people the right way and start the conversation with the intention to make a friend…even if they don't buy or join… you might gain a great new friend which could amplify your life in so many ways.
And make sure you grab my free resource that will help you with asking the right questions when talking to total strangers.
You can download it by clicking on the yellow button below.

Resources Mentioned & More That Will Help Rock Your Biz
Beyond Objections – Learn More 
In this powerful 77 min Audio training and downloadable Cheat Sheet you will be equipped to handle any objection or question that your prospect gives you after you share your business with them.
Download the audio to your smart phone, tablet or computer and take it with you on the go, at the gym or in the car and become a professional in closing the sale without being salesy or weird.
It's all about finding out what the REAL questions and objections are and leading them into the direction of a sale or new teammate.
The Champion Prospecting Series – Learn More 
Todd Falcone is one of my favorite trainers when it comes to dialing cold market leads and starting the conversations with them. Discover Todd's powerful prospecting techniques as they are unleashed on live prospects right before your very ears! Hear EXACTLY what he does while dialing a variety of lead types and learn to duplicate his proven method of prospecting.
The Cold Market Prospecting Blueprint by Ray Higdon – Learn More 
This is a great training resource done by my friend Chris Carroll and Ray Higdon. Chris is a top recruiter and he shares his prospecting strategies through this training
Get Over Your Damn Self – Book by Romi Neustadt – Learn More Here 
The No B.S. Blueprint to building a life changing business. This is one of the best books I've read when it comes to learning how to talk to prospects and transition the conversations, naturally, into business. I bought the audio book, listened to it twice, then bought the paperback because I wanted to highlight the scripts she gives… they are THAT good. This is a book that I highly recommend everyone in Network Marketing to get. For the guys… this is a really feminine read, but still highly worth it.
The B-L.A.B. – Come Join Us Here
AKA Build Like A Boss, The B-LAB is Tanya Aliza's FREE Facebook Mastermind group full of awesome Networkers and Entrepreneurs that are all on a mission to grow their businesses Faster and easier with Online Strategies for prospecting, recruiting and sales. We do themed days of the week, we hold each other accountable and we lift each other up! Come introduce yourself and your business.
Did you get some value from these prospecting tips?

I hope you did because each week I put my heart into making sure you get some amazing prospecting tips so you can rock it in your business while creating a life you love.

Wanna Share This Because You Love Sharing Valuable Info?
Each Monday I post a new video training and free resource on my blog.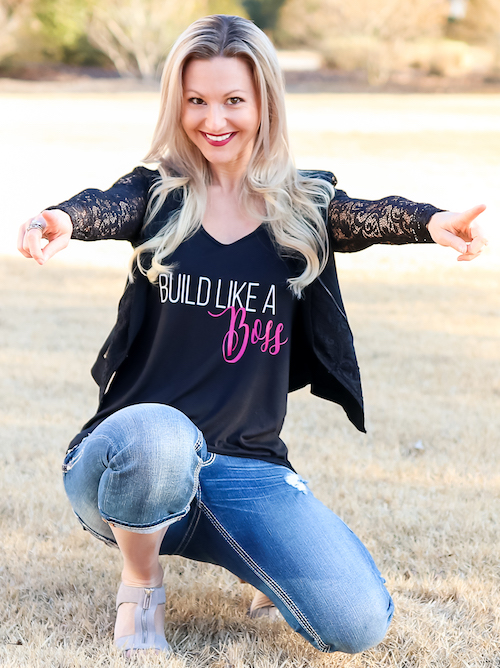 Each Tuesday I do a Live Q&A training on my Facebook Page so make sure we're connected www.facebook.com/tanyaaliza
Stand Out and Stay Connected… drop a comment below.
You are a Rock Star!
Question of The Week: Are there any good prospecting questions that you like to ask when 'making friends?' Share your tips in the comments section below.
I'd love to know!
Hope you enjoyed these prospecting tips!