So, you're trying to market your business online using social media marketing, but you're not sure what to post to get engagement, leads, and sales?
Well, you're not the first person to feel this way.
A lot of people struggle with what to post on a day to day basis to create lots of engagement, curiosity and sales for their business.
If ideas for social media posts just aren't coming to you, then this episode of Tanya Aliza TV is for you!
In this episode of Tanya Aliza TV, I'll be sharing some social media post ideas to help you gain more engagement and get people wanting to know more about your business, service or products.
Social Media Marketing – 25 Facebook Post Ideas to Attract More Customers & Sales For Your Business – Episode 95

With every Episode of Tanya Aliza TV, I like to empower you with a POWERFUL FREE resource that you can download and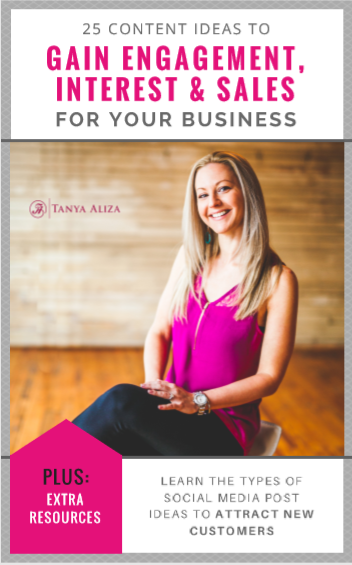 implement right away and create results with fast in your business.
This week, since we're talking about social media post ideas to gain engagement, I've put together a guide called 25 Content Ideas to Gain Engagement, Interest & Sales For Your Business.
This way you'll never run out of content ideas to post for your social media strategy.
Creating content, blogging and social media marketing is one of the best things you can do to create residual leads and sales for your business.
I personally generate 100 leads or more a day in my business and a lot of those people are buying products or services from me even though I'm not physically present in that transaction.
And I've created a 7-figure income business from creating good content that serves my target audience.
Which is why I get a lot of people coming to me asking, 'Tanya, how do you do it and what do I talk or post about that would help me grow my business?'
The beauty of creating content is that you create that work once and when you publish it online it starts to work for you for as long as you leave it there.
You can even use your own content
But before you start creating and sharing content online…
There's a couple of things that are foundational that you MUST learn first if you want to create social media marketing posts that generate interest, leads, and sales for your business.
💠Here are 3 things you must first understand before creating content…
Social Media Marketing – No one cares about your product, service or business
In fact, they don't really care about you either.
I know that sounds harsh but here's the thing…
People need a good reason to engage with your posts or read your blog content.
If you can completely remove yourself from the equation and focus on your audience's needs, wants and desires, you will have a never-ending supply of content that will make them want more from you.
Social Media Marketing – It's all about the benefits not the features
Make a list of your business, products or services benefits…not features.
This does not include facts and figures…this is a list of what your benefits can do for them.
Asking yourself these questions can really reframe your mind about how you can create valuable content they care about:
✔How can it change their life?
✔ How can it solve their existing problems?
✔ How can it put their mind at ease about things they worry about?
✔ What keeps them up at night?
Think of how you can become a source of value to your target audience before you even ask them for money.
Social Media Marketing – People want to buy but don't want to be sold
Yea no one wants that icky feeling that they're being sold. People love to buy, but once they think you're trying to sell them something, they run for the hills.
Instead, ask yourself how you can serve these people and create valuable content for them to help them solve their problems and struggles.
Social Media Marketing – Share tips that can help them reach their goals
Let's say you wanted to promote a weight-loss management program that's really popular and gets people results.
Here are some examples of how you can share valuable content:
You can create some tips that can help your audience with weight loss.
It doesn't have to be a long book or essay on weight loss ideas and tips, it can be as simple as giving them 5 tips to help them with their weight loss goals.
A great to come up with ideas for tips is to do a Google search using the terms 'weight loss tips and ideas' and you'll have plenty of content to work with.
Here's an example:
✅5 Food That You Can Incorporate Into Your Diet To Help You Burn Fat and Lose Weight Fast
After giving them these valuable tips you can make a recommendation to take a look at your product that can help them accelerate their results.
Social Media Marketing – Find blogs or Youtube videos with related content
If you do a search for related weight loss content you will find hundreds of related content and repurpose that content and share it with your audience.
In doing so you can say that you found content that you know will help them with their weight loss goals or any other specific topic that the content your sharing can help them with.
This positions you as someone that offers and shares really great sources of content even if it's not your own.
And then you can have a call to action to invite them to learn more about the products YOU sell that can help them with their weight loss goals.
Social Media Marketing – Do case studies or interviews
You'll see me do this from time to time where I bring out a guest that can provide valuable content for my audience.
If you'd like to see how I interview other successful entrepreneurs check out Tanya Aliza TV Episode 74
You can also have someone with a success story from your company come out and share their story and this can lead to a lot of engagement and exposure for your products or services.
Social Media Marketing – Create a tutorial
People love tutorials that can help them see a demonstration of how something is used or done.
You can create a tutorial on how you use your products throughout your day and show them step by step what you do in your day to get the most results out of your products.
This will help them see themselves using your products and how it could help them.
Social Media Marketing – Create a personal experience post
If you have a really good success story or personal experience with your products or service, consider sharing your experience on a Facebook Live or blog post.
When you do this, you'll want to focus on what specifically the products have helped you with.
Make the focus all around the problem and then the results after you found the solution.
You don't want to say the name of the product or company because you'll want to leave a call to action for people to reach out to you to learn more about what you're doing or using that's helped you so much.
Social Media Marketing – In closing
✔Your target audience does not care about YOU, your business or products, they ONLY care about what it can do for THEM and help improve their lives.
✔Focus on the benefits not the features of your products, business or service.
✔Don't sell people, instead help them improve their lives by sharing valuable content.
✔Don't expect people to know the next step to take with you. Always have a call to action that tells them to either reach out or take a look at your products, service or business.
🔶Need even more social media marketing content ideas?
I've got you covered.
Click on the yellow button below to download my 25 Content Ideas to Gain Engagement, Interest & Sales For Your Business.

Resources Mentioned & More That Will Help Rock Your Biz
Unlimited Fan Page Profits – Learn More
If you don't have a Facebook Fan Page yet and you're looking at all these rock stars with Fan Page and you want one for yourself… Unlimited Fan Page Profits is a training that I put together that will walk you through the steps of building a Profitable Facebook Page and marketing plan to generate leads, build a big audience and make daily sales.
Facebook Live Checklist (Free) – Learn More
This is my go-to checklist that I've been using before, during and after my FB Live broadcasts that have gotten me tens of thousands on eyeballs on my products and services! It's no secret that doing FB Lives can bring you a lot of exposure and business, but sometimes it can be exhausting and intimidating to know if you're doing them right to get people to actually take the next step with you…
The 3-Minute Expert by Ray Higdon – Learn More
Ray is the Bomb dot com when it comes to video and he's built a wildly successful business through doing short 3 minute videos to promote he's Brand and Products. Based on his success with this strategy, he's put together this amazing training and if you're looking to do video for your business, this is a much see.
Video Ranking Academy by Sean Cannell – Learn More
If you are already doing videos and posting them on YouTube and you want to learn how to optimize these videos so that you get more views and Rankings, this is one of the best trainings I've been through that can help you do this. I've been able to rank my videos on the first page of YouTube in 1 day with this training.
The B-L.A.B. – Come Join Us
AKA Build Like A Boss, The B-LAB is Tanya Aliza's FREE Facebook Mastermind group full of awesome Networkers and Entrepreneurs that are all on a mission to grow their businesses Faster and easier with Online Strategies for prospecting, recruiting and sales. We do themed days of the week, we hold each other accountable and we lift each other up!
Come introduce yourself and your business.
Did you get some value from these social media marketing ideas?

I hope you did because each week I put my heart into making sure you get some amazing social media marketing ideas and strategies to rock it in your business while creating a life you love.

Wanna Share This Because You Love Sharing Valuable Info?
Each Monday I post a new video training and free resource on my blog.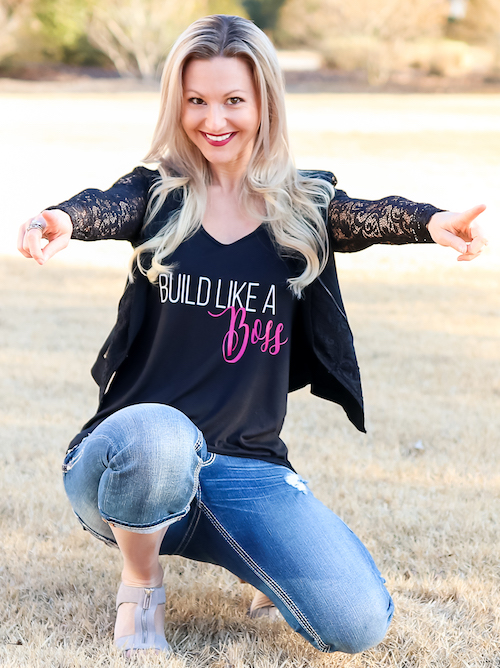 Each Tuesday I do a Live Q&A training on my Facebook Page so make sure we're connected www.facebook.com/tanyaaliza
Stand Out and Stay Connected… drop a comment below.
You are a Rock Star!
Question of the week: Are you using content marketing to help you grow your business online?
If you are, let us know what platform your loving most.
Hope you enjoyed these social media marketing post ideas 😊