Should you focus your prospecting and team building efforts on your Facebook page or profile?
That's a question a lot of network marketers ask and there's a lot of confusion around this question.
Trying to figure out where to focus inside a platform like Facebook that has so many other platforms inside of it…
…can be mind-boggling for some.
So in this Episode of Tanya Aliza TV, I'll be covering the following topics:
✓Do you actually 'need' a Facebook page to grow your network marketing business?
✓Is a Facebook personal profile all you need in the long run to build a large team and reach a 6-figure income?
✓The major difference between a Facebook page and a Facebook personal profile
✓The pros and cons of having a Facebook page
✓When you should focus your prospecting and recruiting efforts on your personal profile instead of your Facebook page
I'm also going to share with you my personal recommendations and experience so that you know exactly where to put your focus and get the best long-term results with your prospecting and team building efforts.
Facebook Page Or Profile – Which Is Best For Network Marketing Success? – Episode 133
This week I'm doing something really special. I'm hosting a free training that's all about using Facebook properly to generate lots of leads and income for your business.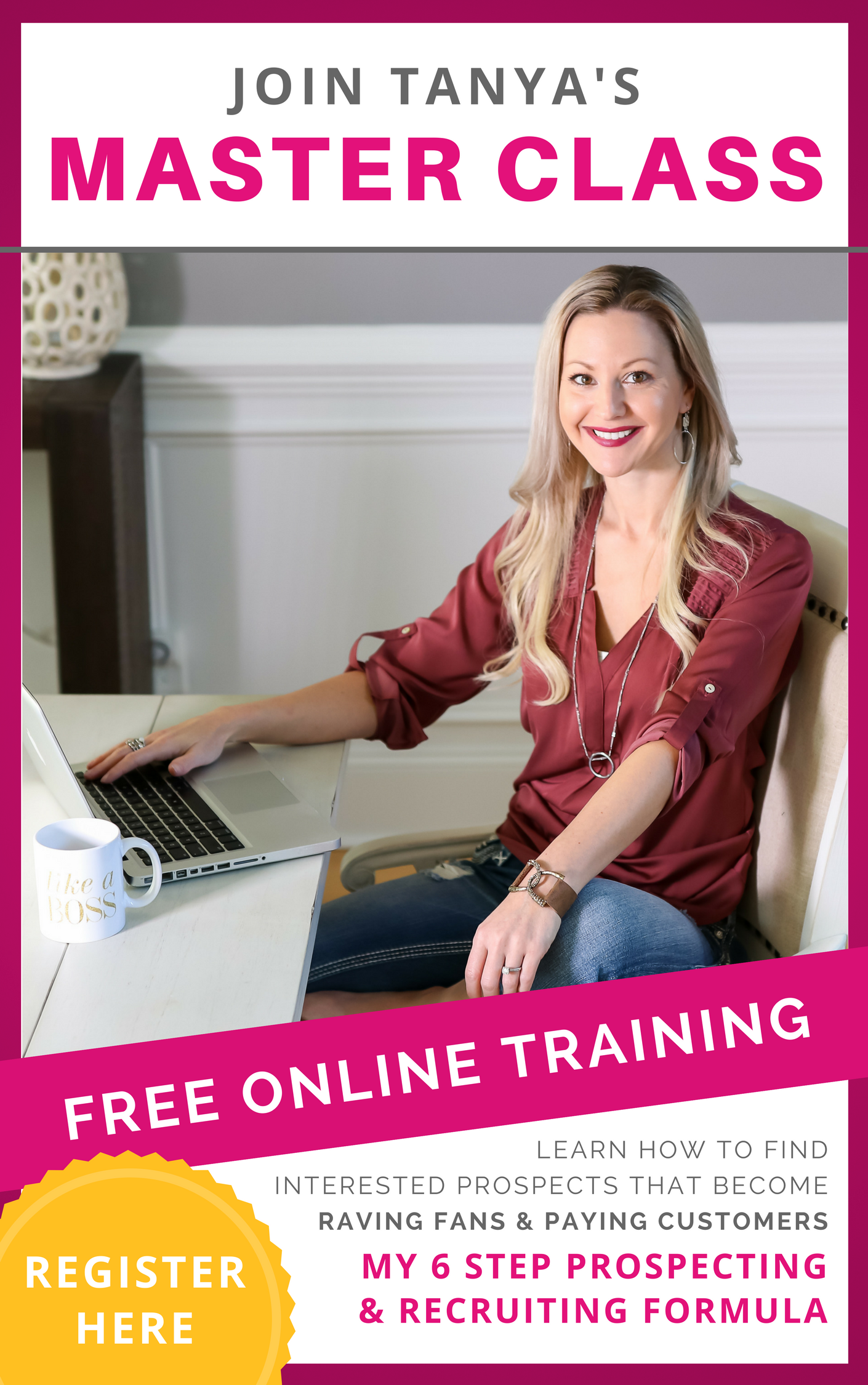 If you have 26 minutes a day and you want to automate your business so you can have more leverage, then you'll definitely want to attend My 6 Step Prospecting & Recruiting Formula training that I'm doing this week.
You can get registered by clicking on the yellow button above.
I hope to see you there 😉
Facebook is a platform with other platforms inside of it like Facebook profiles, groups, business pages, Facebook events etc…
Which begs the question…
Where should I be focusing when prospecting and recruiting for my business? And what's the biggest difference between using a Facebook profile vs a Facebook business page?
These are all really important questions to ask if you have a business and you want to use the platform for long-term success.
Facebook Page Or Profile – What's the difference?
Okay here's something that most people don't know…
It's against Facebook's terms and conditions to operate a business from your personal profile.
Your Personal Profile is designed for you to keep up with friends and family and that's exactly what Facebook wants you to use it for.
There are many differences between the two but this is the most important one in my opinion.
If you strive to be a professional network marketer then this will matter to you as well.
This is why for long-term success you may want to consider looking at using a Facebook Business page to run your business instead of your personal profile.
Facebook Page Or Profile – When a Facebook Page isn't a good idea
Where you're at in your business and what goals you have should dictate whether you should start a Facebook page or not.
If you haven't created your first $500 a month in your business yet…then start with your personal profile.
There's no need to get bogged down with creating a business page if you're just getting started or you haven't hit $500 a month in residual income.
So here's what your plan of action should be until you hit the income goal above.
Reach out to all your friends on your personal profile and see if they're open to learning more about your business.
Did you know that you can actually print out your friend's list on your personal profile?
Yep…this is pretty cool and it will help you keep track of who you've reached out to and invited to take a look at your business, products or service.
However, once you've reached out to all your friends on your personal profile you'll want to move on to the next phase which is to start a Facebook Fan page to expand your reach on social media.
Facebook Page Or Profile – Why a Facebook Page makes sense for long-term success
With a personal profile being limited to only 5,000 friends, you'll definitely want to expand your reach.
This is the beauty of a Facebook business page.
There are no limits as to how many followers you can have.
But here's one of my favorite reasons for putting my focus on my Facebook page…
Every time you upload a video or do a Facebook Live from your Facebook page, Facebook will collect all the data from those people who are watching your videos and engaging and liking your content and it will create what is called a custom audience.
A custom audience is a group of people that you can use later on to run Facebook Ads to and re-market to.
But this isn't just any group of people…these are people who are highly likely to want to hear more about what you have to offer.
These are HOT prospects!
And to take this one step further, you can go on to create what's called a lookalike audience from this custom audience.
This is where Facebook finds millions of people that are on Facebook that look exactly like those people that already raised their hand and liked your post or Facebook Live and engaged with you on Facebook.
This has been huge for my business and I'll be talking about it in the free training that I have coming up so make sure you get registered because it's going to be pretty powerful.
Facebook Page Or Profile – Full transparency when starting a Facebook business page
Okay so here's where I like to be super honest and transparent because you need to know what to expect…
If you're getting engagement on your personal profile and you start a Facebook business page you won't get the same engagement right off the bat.
Nope, not even close and that's gonna be a huge strike to your ego…
…it was to me in the beginning so I totally get it if it feels the same way to you.
But here's what I did to get more engagement as fast as possible…
Facebook Page Or Profile – How to slowly transition people to your Facebook profile to your Facebook Page
Over the years I slowly transitioned all of my focus from my Facebook profile over to my Facebook business page.
One of the things I did was start a 2-part video series where I went live from my Facebook profile but let everyone know that I would continue and do part 2 from my Facebook page.
That helped immensely with getting people from my personal profile to my Facebook page.
Eventually, everyone became conditioned to me starting my Facebook lives and sharing my training over on my Facebook page.
Facebook Page Or Profile – In Closing
And it's all about conditioning your audience to know where and when to expect you.
If your goal is to create a long-term business that offers you leverage and automation… you'll want to look at transitioning over to a Facebook page to run your business from.
Another factor to consider when deciding whether to use a Facebook business page or not is if you want to be seen as a credible and professional network marketer.
But remember that your business goes through different phases and when you're first getting started or trying to reach your first income goal you'll want to reach out to those that you know first.
Once you do that… then you'll want to expand your reach.
Bonus: Not sure how to approach the people on your friends about your business or products?
No worries. I've got you covered.
I'm hosting a free training that's all about using Facebook properly to generate lots of leads and income for your business.
And as a bonus, I'm giving away My Social Media SCRIPTS That Convert as a BONUS just for hanging out with me. It will show you exactly WHAT to SAY to strike up conversations on
Social Media to peek your Prospects interest and get them excited to hear more.
You can get registered by clicking on the yellow button below:
Resources Mentioned & More That Will Help Rock Your Biz
Unlimited Fan Page Profits – Learn More
If you don't have a Facebook Fan Page yet and you're looking at all these rock stars with Fan Page and you want one for yourself… Unlimited Fan Page Profits is a training that I put together that will walk you through the steps of building a Profitable Facebook Page and marketing plan to generate leads, build a big audience and make daily sales.
How to Invite Your Prospects To Take A Look – Learn More Here
Facebook Ads Revealed – Learn More Here 
Have you ever wanted to know how to do Facebook Ads properly with knowing exactly how to extract a positive return on investment so you don't waste your money? This training with show you exactly how I do Facebook Ads for my business. I pull you behind the scenes right into my Ads Manager so you can see exactly how to do it for your business too.
25 Social Media Post Ideas – Get It Here
Ever wonder what to post on Social Media to get more Engagement, Comments, Likes and Business rolling in? Here are some great ideas that you can model in your business that have worked well in my business. Enjoy
The B-L.A.B. – Come Join Us Here
AKA Build Like A Boss, The B-LAB is Tanya Aliza's FREE Facebook Mastermind group full of awesome Networkers and Entrepreneurs that are all on a mission to grow their businesses Faster and easier with Online Strategies for prospecting, recruiting and sales. We do themed days of the week, we hold each other accountable and we lift each other up! Come introduce yourself and your business.
Did you get some value from this Facebook Page Or Profile training?

I hope you did because each week I put my heart into making sure you get some amazing Facebook Page Or Profile network marketing training and strategies to rock it in your business while creating a life you love.

Wanna Share This Because You Love Sharing Valuable Info?
Each Monday I post a new video training and free resource on my blog.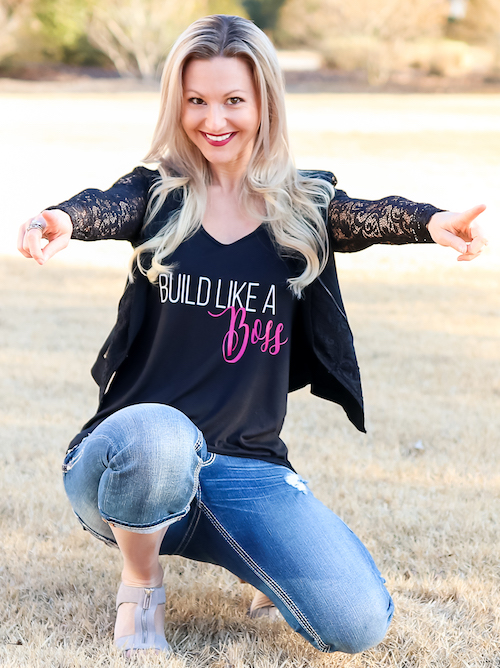 Each Tuesday I do a Live Q&A training on my Facebook Page so make sure we're connected www.facebook.com/tanyaaliza
Stand Out and Stay Connected… drop a comment below.
You are a Rock Star!
Question of the week: Are you using your Facebook personal profile or are you using your Facebook business page to conduct the majority of your business?
Share with me in the comments below. I would love to know!
Join the Conversation Rock Star...
comments