I know so many people who need to learn how to do social media prospecting the right way.
A lot of people are just copying and pasting messages and its getting them nothing but people blocking or ignoring them.
If you've got a business, product or service that you're trying to grow… then you'll want to know HOW to properly start conversations with strangers on social media that will lead to them wanting to know more about your products, business or services.
In this episode of Tanya Aliza TV, I'm going to be sharing some scripts and thoughts on starting conversations with total strangers on Social Media with the intent of leading into a business conversation.
This will help you if you have products or services that you're trying to sell.
Social Media Prospecting – My Proven Formula To Initiating Business Conversations With Strangers On Social Media – Episode 145
With every Episode of Tanya Aliza TV, I like to empower you with a POWERFUL free resource that you can implement right away and create results with fast in your business.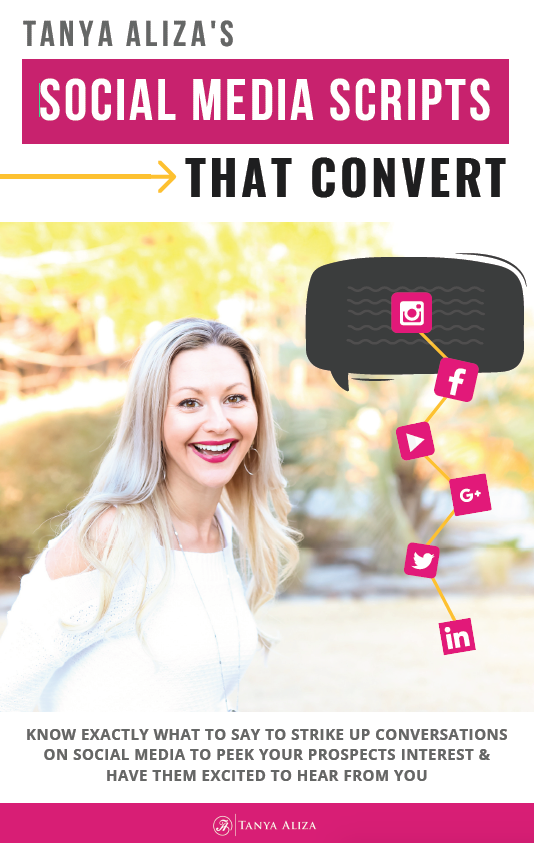 And today since we're talking about how to start those conversations with strangers…I'm giving you My Social Media Scripts That Convert. This guide will help you start conversations on social media that lead into business so you can get more exposure for your business, products or services.
You can download it by clicking on the yellow button above.
Social Media Prospecting – My Biggest Tip When Prospecting On Social Media
The biggest tip I can give you when you're prospecting on social media is to go into it with an 'I give a damn!' attitude and mindset.
What exactly do I mean by that?
It means you take some time to get to know the person before you start a conversation with them.
You want to go check out their profile to see what their interests are, read their about section, check out where they live, what work they do, do they have a family, what do they follow on social media, what are their hobbies, etc.…
Also, check out their posts on their page…this will give you a lot of insight into what they are all about and what things you can find you both have in common and later use in conversation with them.
Do some research on them with the intent to get to know them a bit more before you reach out to them.
If there's one thing that bugs me more than anything on social media is when people use copy and paste messages when doing their social media prospecting.
I cannot tell you how many times people have done that to me, and I see that they're sending me copy paste messages and didn't even take the time to learn more about me and personalize the message to who I am.
This makes them look spammy and foolish so don't be that person.
Social Media Prospecting – Get on their radar
Here's another thing I like to do before I send them a message.
I like to get on their radar…I want them to be somewhat familiar with me before I even message them.
So, what I do is I go to their profile and I'll make genuine comments on their posts and I'll like the posts that resonate with me the most.
This way when they see my message in their Inbox they aren't wondering where in the world I came from.
Social Media Prospecting – The easiest way to start a conversation
I have a 3-message script formula that I use when I first message someone on Facebook.
The goal with your initial reach out is to Start the Conversation ONLY.
I don't send any links or business information whatsoever.
Please don't do that as that will only make people want to block you.
I'm going to show you how to initiate a conversation on social media but you'll definitely want to download My Social Media Scripts That Convert so you know exactly how to lead the conversation towards business.
Social Media Prospecting – Example of how I start conversations with strangers on Social Media
Here's what I do when I find someone on Social Media and I want to start a conversation with them.
The easiest thing to do is to talk about where they live.
If their profile mentions where they live you can use that as a conversation starter.
As an example lets say I'm doing some research on someones profile and it says they live in Chicago…
I might say something like this:
"Hey John, just wanted to reach out cause I noticed that you are in xyz group here on Facebook, I saw your comments on this post about xyz I thought it was pretty awesome. I noticed that you also live in Chicago. Is that currently where you reside? Its funny I have a girlfriend Paulina who lives in Chicago as well, she absolutely loves it there but the only thing she totally hates about it is it gets way too dang cold in the winter. Are you currently in Chicago? how are you loving it there?"
As you can see I try to find something that I can relate and make personalized in that first message.
And the goal with the initial reach out is to ask a question to get them engaged in conversation with you.
Social Media Prospecting – In Conclusion
Make sure that you are NOT sending unpersonalized copy & paste messages to people.
Find a way to make it personalized and find something about them that you can relate to.
Also…and this is SUPER important…compliment them on something that you can genuinely find to compliment them on. That way they're more inclined to engaging back with you.
And remember if you want to see my entire 3-script formula that I use form beginning ot end when prospecting on social media then make sure you download My Social Media Scripts That Convert. You can download it by clicking on the yellow button below 👇
Resources Mentioned & More That Will Help Rock Your Biz
Episode 134 – The Best Social Media Platforms To Prospect, Recruit and Build Your Business – Learn More Here 
Top 20 Prospecting Questions Freebie – Learn More Here 
Unlimited Fan Page Profits – Learn More
If you don't have a Facebook Fan Page yet and you're looking at all these rock stars with Fan Page and you want one for yourself… Unlimited Fan Page Profits is a training that I put together that will walk you through the steps of building a Profitable Facebook Page and marketing plan to generate leads, build a big audience and make daily sales.
Jab Jab Jab, Right Hook (book) – Learn More Here 
This is one of my favorite books and I recommend it to anyone that wants to master the art of Social Media to get it and read it 5 times! It teaches you how to function on Social Media to get the most results.
The B-L.A.B. – Come Join Us Here
AKA Build Like A Boss, The B-LAB is Tanya Aliza's FREE Facebook Mastermind group full of awesome Networkers and Entrepreneurs that are all on a mission to grow their businesses Faster and easier with Online Strategies for prospecting, recruiting and sales. We do themed days of the week, we hold each other accountable and we lift each other up! Come introduce yourself and your business.
Did you get some value from these social media prospecting tips?

I hope you did because each week I put my heart into making sure you get some amazing social media prospecting tips so you can rock it in your business while creating a life you love.

Wanna Share This Because You Love Sharing Valuable Info?
Each Monday I post a new video training and free resource on my blog.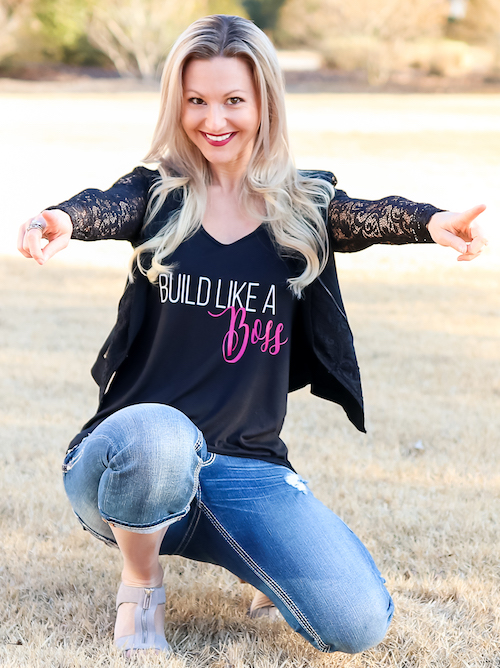 Each Tuesday I do a Live Q&A training on my Facebook Page so make sure we're connected www.facebook.com/tanyaaliza
Stand Out and Stay Connected… drop a comment below.
You are a Rock Star!
Question of The Week: Do you have any good tips when it comes to starting conversations with prospects on social media that's working really well for you in your business?
I'd love to know. Drop it in the comments below!
Hope you enjoyed these social media prospecting tips 😊