I know a lot of people who need these social media tips to help them bring out more of their personality on social media.
A lot of people struggle to figure if they should be professional vs fun in their social media content.
If you're struggling to figure out how to portray yourself on social media…then this episode is for you!
In this Episode of Tanya Aliza TV, I'm going to share with you the absolute best way to construct your social media content so you look professional yet having fun and engaging with your audience.
Social Media Tips – How To Present Yourself On Social Media So More People Pay Attention – Episode 176

With every Episode of Tanya Aliza TV, I like to empower you with a POWERFUL free resource that you can implement right away and create results with fast in your business.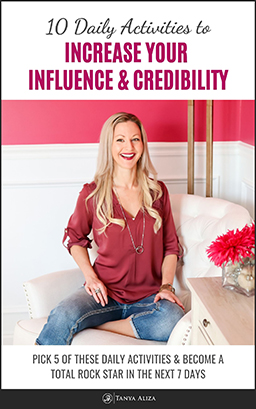 This week since we're talking about attaining a balance between being fun yet professional… I'm giving you My 10 Daily Activities To Increase Influence & Credibility with your audience.
You can download it by clicking on the yellow button above ☝️
I've had a lot of people ask me:
"Tanya, how do you balance looking professional, but still having fun and keeping it real on social media?"
And that is such a great question that I decided to do an entire training episode on it.
When I first got started in my business I thought I had to show up all professional and stuffy to get people to take me seriously.
But what I found was quite the opposite.
The more vulnerable and authentic I got…the more attention I started to get and more people started taking me seriously.
If you're wanting to be more YOU and less 'professional and rigid with your posts and content on social media…then pay real close attention to the 5 tips I'm going to share with you on how to do this.
Here are five tips that will help add more of your personality to your posts and content:
Social Media Tip #1 – Be quirky – Not stupid
Having fun means different things for different people.
For example, I wouldn't post anything that's too outrageous or silly, or it involves drinking alcohol to an extended amount.
Sure, I would post me having a glass of wine or something classy like that… But I would never share any drunken moments on my social media.
Be quirky, have fun but remember to use your humor wisely.
Social Media Tip #2- Be a person of value
The best way to build credibility and professionalism on social media is to give people value.
You want to be someone who delivers value, not just entertainment.
When you post on Social Media have a balanced ratio of what you post that's valuable and helpful versus fun and quirky.
Social Media Tip #3 – Avoid super controversial subjects
This is a tricky one.
Personally, I like to stay clear of controversial and political topics to avoid causing offense and hurting people.
I know that there are people out there that get very religious, political and so on… but this isn't my style because it doesn't fall in line with my end goal.
Some people are very different and voicing their political or religious views does fall in line with their end goal, so use your discretion.
Personally, my goal is to help everyone no matter what religion or political views they have.
Social Media Tip #4 – Share your lifestyle
Don't be all business all the time.
That turns people off and it can possibly get people to stop following you which you definitely don't want.
So make sure you share your lifestyle and things that you do in your day to day life, family events etc…
Keep it real and keep it fun. You don't have to be talking business all the time.
Social Media Tip #5 -Be YOU
Don't think that you need to be someone else than who you are on Social Media.
If you're being fake people will sense it and they will be turned off immediately.
If you are someone who is fun, loving and quirky…then show it.
You're going to enjoy everything so much more this way, and your audience will love you for it too!
Social Media Tips  – In Closing
Remember that the way you present yourself on social media should help you achieve your goals if you're in business.
A lot of network marketers think they have to be super professional when they first get started in their business.
I sure did.
But remember that the more vulnerable and real you are with your audience…the better results you'll get.
Just think of the people you naturally gravitate towards?
It's not the super-serious stuffy people talking business all the time…it's the people who are authentic and offer value.
The bottom line is to be positive and likable.
And to help you become a person of influence and credibility…make sure you pick up the resource that goes with this episode. I put together for you My 10 Daily Activities To Increase Your Influence And Credibility.
It will help you become a total rockstar on social media.
You can download it by clicking on the yellow button below 👇

Resources Mentioned & More That Will Help Rock Your Biz
Jab Jab Jab, Right Hook (book) – Learn More Here 
This is one of my favorite books and I recommend it to anyone that wants to master the art of Social Media to get it and read it 5 times! It teaches you how to function on Social Media to get the most results.
Unlimited Fan Page Profits – Learn More Here 
If you don't have a Facebook Fan Page yet and you're looking at all these rock stars with Fan Page and you want one for yourself… Unlimited Fan Page Profits is a training that I put together that will walk you through the steps of building a Profitable Facebook Page and marketing plan to generate leads, build a big audience and make daily sales.
Social Marketing & Recruiting Bootcamp – Learn More Here
This is a free training I'm doing with my good friends John & Nadya Melton and were showing you How We Use 1 Simple Facebook Group To Sell & Recruit New Teammates Like Clockwork In 3 Easy Steps.
If you want to be a great leader and get better at RECRUITING new teammates in a way that duplicates…this training is for you!
The B-L.A.B. – Come Join Us Here
AKA Build Like A Boss, The B-LAB is Tanya Aliza's FREE Facebook Mastermind group full of awesome Networkers and Entrepreneurs that are all on a mission to grow their businesses Faster and easier with Online Strategies for prospecting, recruiting and sales. We do themed days of the week, we hold each other accountable and we lift each other up! Come introduce yourself and your business.
Did you get some value from these social media tips?

I hope you did because each week I put my heart into making sure you get some amazing social media tips so you can rock it in your business while creating a life you love.

Wanna Share This Because You Love Sharing Valuable Info?
Each Monday I post a new video training and free resource on my blog.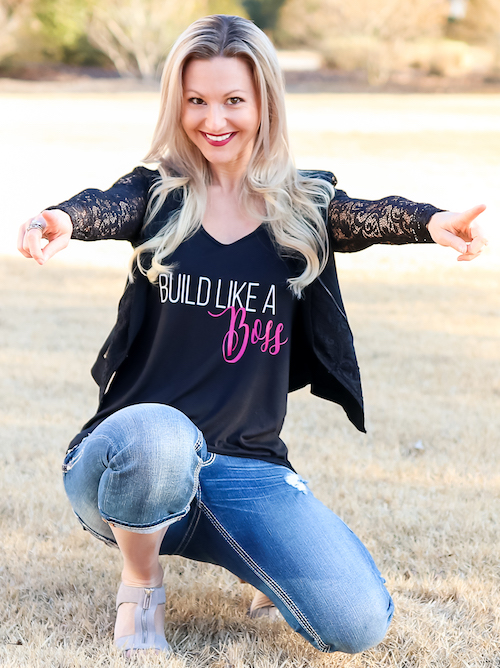 Each Tuesday I do a Live Q&A training on my Facebook Page so make sure we're connected www.facebook.com/tanyaaliza
Stand Out and Stay Connected… drop a comment below.
You are a Rock Star!
Question of The Week: Is there a good tip that you have when it comes to keeping it real on social media?
Share in the comments section below. I would love to know!
Hope you enjoyed these social media tips 🙂