"Tanya, how the heck do I create network marketing success FAST?"
This is a question I get asked ALOT.
So in this episode of Tanya Aliza TV, I'm going to share with you the 6 things that I personally implemented when I started my network marketing business that helped me hit one of the top ranks in my company in less than 90 days.
Whether you're brand new, or been at your business for awhile… this is going to be such a powerful training for you, if not directly for you then for your team.
The 6 Steps I Used To Create Network Marketing Success Right Out Of The Gate – Episode 197

With every Episode of Tanya Aliza TV, I like to empower you with a POWERFUL free resource that you can implement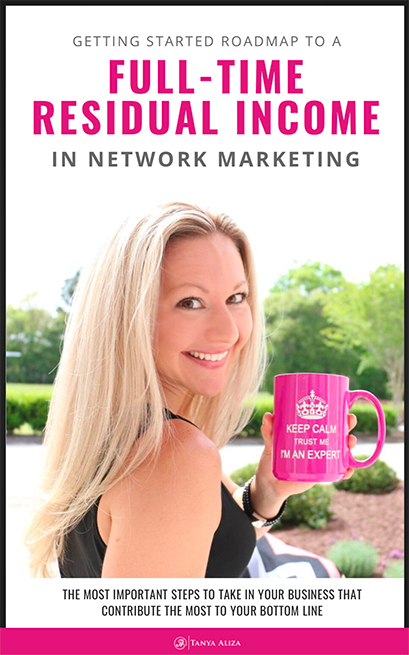 right away and create results with fast in your business.
Since we're talking about how to create results fast in your network marketing business, I want to give you My Getting Started Roadmap To A Full-Time Residual Income in Network Marketing. This roadmap will help you or your team launch your business when you get started so that you can create those results FAST.
Alright, so let's get straight into the 6 steps because you just might be in a situation where you need to make some moolah fast, or maybe you just need a boost of confidence in your business.
And keep in mind that these 6 tips aren't theory…they're the actual steps that I took when I got started in my network marketing business to create these results with fast.
Network Marketing Success – Tip #1
Tip number one is that you have to make sure you go through your teams getting started training.
And when you're going through it you want to make sure that you are comfortable with the process of connecting, presenting and closing someone to give you a decision.
When you start your business in network marketing you want to make sure that you have a clear grasp and handle on knowing and getting comfortable with doing those three things.
This is very important.
So make sure you work with your leadership and inside of your getting started training to make sure those are the first three things that you know how to do.
Network Marketing Success – Tip #2
You've got to understand your tools.
This is something that I had to learn as well.
What tools do you have that you can use to help you grow your business?
I'm not saying go out there and fill up a big old toolbox, I'm saying go find out what tools are available to you to share a presentation when you're prospect your prospects are interested in learning more.
What are the tools that you use to close or follow up with a prospect or track what it is that you're doing?
Find those tool sand make sure you use them.
Network Marketing Success – Tip #3
Make a list.
Your business is going to go nowhere without a list of people that you can talk to about your products or services.
You need to sit down and make a list.
Now, do you need to sit there for 25 million hours to make the list?
No.
But make a list of 10 or so people that you're going to work on reaching out to during the week.
If you work week to week, then it just makes it easier. You're taking little bite-sized chunks.
This makes it easier for you to stay in momentum in your business.
Network Marketing Success Tip #4
Create a tracking sheet. This is something that I did, very simply, using Google Sheets or Google Doc.
You could also use your iPad or journal or notebook, it doesn't really matter.
I like to know where everybody is throughout the prospecting process and what kinds of decisions I'm getting from my prospects.
What you cannot measure, you cannot figure out where you need help or what to get better at.
You also might forget about the things that you're doing or the people that you put through the process.
So you need to have a tracking sheet in your business.
Network Marketing Success Tip #5
Have a daily goal.
A daily goal for you is going to be different than my goals. Everybody's goals are different.
If you have a goal of making $1,000 a month in your business, you're daily actions will be different than if you're somebody that wants to make, let's say, $10,000 a month in your business.
Whatever your goal is for the month, like a monthly income goal, make sure that your daily activities and actions match up with that goal.
Network Marketing Success Tip #6
And the last tip is to check in periodically with your leadership or your mentors that you're working with.
You need to let them know that what you're doing and ask for help when you need it.
See, the thing is, it's tough to be a leader because it typically means you've got a big, huge, massive team.
For me, even though I want to connect with all of my people on my team every other day or week, it's absolutely impossible.
So, I love, love, love it when my people reach out to me when they need something.
Don't be shy and reach out to your leadership.
That's what they're there for.
But don't expect them to reach out to you all the time when you need the help.
You are your own business owner, ask for the help you need it.
Network Marketing Success Tips – In Closing
So there you have it, my 6 network marketing success tips to help you create success with fast in your business.
Now remember, creating success fast rarely happens.
There's skills that are involved, there's practice, there's trial and error.
I definitely want to make sure I'm setting your expectations up to win.
If you're not a millionaire in your first 30 or 90 days, don't worry about it.
You're on the right track and you're developing your skills.
In fact, when I first got started in network marketing in 2009, I sucked for about two years.
Now, the only reason why I am where I am today is becauseI didn't quit.
I committed to my goals and I made a commitment to get better at what I was doing every day.
And remember to grab My Getting Started Roadmap To A Full-Time Residual Income in Network Marketing. This roadmap will help you or your team launch your business when you get started so that you can create those results FAST.
You can download it by clicking on the yellow button below👇

Check out the resources in the show notes below for even more amazing resources that go with this episode.
Resources Mentioned & More That Will Help Rock Your Biz
Social Marketing & Recruiting Bootcamp – Learn More Here
This is a free training I'm doing with my good friends John & Nadya Melton and were showing you How We Use 1 Simple Facebook Group To Sell & Recruit New Teammates Like Clockwork In 3 Easy Steps.
If you want to be a great leader and get better at RECRUITING new teammates in a way that duplicates…this training is for you!
How To Get Duplication In Network Marketing When Building On Social Media – Episode 144 – Learn More Here
Beyond Objections – Learn More
In this powerful 77 min Audio training and downloadable Cheat Sheet you will be equipped to handle any objection or question that your prospect gives you after you share your business with them.
Download the audio to your smart phone, tablet or computer and take it with you on the go, at the gym or in the car and become a professional in closing the sale without being salesy or weird.
It's all about finding out what the REAL questions and objections are and leading them into the direction of a sale or new teammate.
The B-L.A.B. – Come Join Us Here
AKA Build Like A Boss, The B-LAB is Tanya Aliza's FREE Facebook Mastermind group full of awesome Networkers and Entrepreneurs that are all on a mission to grow their businesses Faster and easier with Online Strategies for prospecting, recruiting and sales. We do themed days of the week, we hold each other accountable and we lift each other up! Come introduce yourself and your business.
Did you get some value from these network marketing success tips?

I hope you did because each week I put my heart into making sure you get some amazing network marketing success tips so you can rock it in your business while creating a life you love.

Wanna Share This Because You Love Sharing Valuable Info?
Each Monday I post a new video training and free resource on my blog.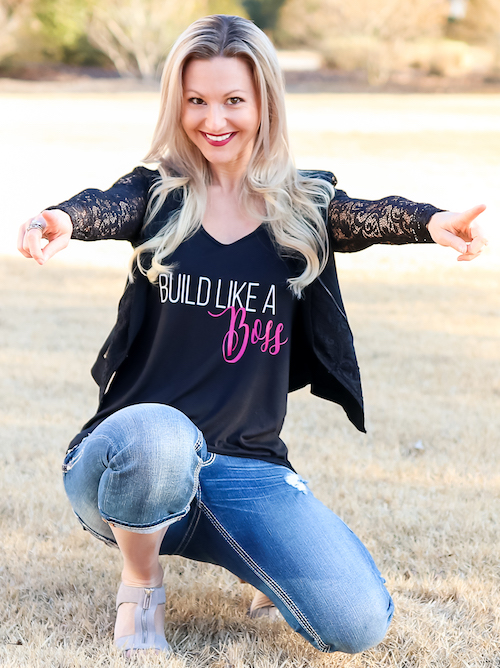 Each Tuesday I do a Live Q&A training on my Facebook Page so make sure we're connected www.facebook.com/tanyaaliza
Stand Out and Stay Connected… drop a comment below.
You are a Rock Star!
Question of The Week: Do you have any tips that have worked for you and you would like to share? I'd love to hear about it.
Hope you enjoyed my network marketing success tips 😉