I want to share with you a really cool Facebook Group Strategy that you can implement with your team to drive massive sales and growth in your business.
It only takes 14 days and its a fun and rewarding way to get your team in activity mode.
All you'll need is 1 Simple Facebook Group that you can easily set up and use to invite prospects to.
In this episode of Tanya Aliza TV, I'm going to share with you how with just 1 Simple Facebook group you can drive massive sales and growth for you and your team in a way that's fun and duplicatable.
Facebook Group Strategy – How To Use Facebook Pop-Up Groups To Make Massive Sales In Your Business – Episode 159

With every Episode of Tanya Aliza TV, I like to empower you with a POWERFUL free resource that you can implement right away and create results with fast in your business.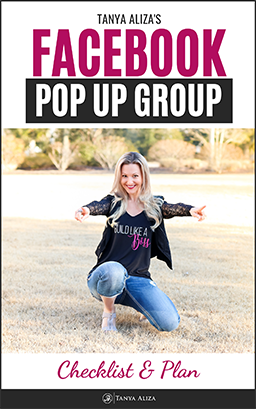 This week since we're learning all about using a Facebook Pop Up group strategy I want to give you My Facebook Pop Up Group Checklist & Guide so you know exactly what to do when implementing this strategy.
So make sure you download it by clicking on the yellow button above.
Okay, so I have to give credit where credit is due. This strategy that I'm going to share with you is not my own but a strategy I learned from two of my amazing LadyBoss Rockstars that are on my network marketing team.
Their names are Kathy & Jordan and after seeing them use this strategy and the volume that has come from using this strategy I just knew I had to do this training and share what they are doing and how you can use it too.
Ok, so before I give you some steps I want to first give you a holistic overview of how this works.
I know there's a lot of ways you can use Facebook groups but this is going to be a pop-up Facebook group which means you'll open the group up for 14 days and then you abandon it.
And how often you do this depends on how often you want to use this strategy.
You can open it up every 14 days or every month or every two months…that's completely up to you.
But essentially this Facebook group is going to be a really exciting community with lots of stories and testimonials being shared and it's going to be a place where you and your team invite your prospects to learn more about your products or services.
It's almost like a really cool mini launch that you create for you and your team where you invite prospects into the group for the 14 days that you keep it open.
I'm going to share all the steps that you need to take in order to successfully use these Facebook pop-up groups but I've laid it all out in the checklist I created for you so make sure you download it and use it as a guide.
Facebook Group Strategy #1- Make a list of 14 people that will share their product or business story
Think of who you can schedule to go live inside of your pop-up group to share either a product testimonial or a business testimonial?
They can either be in your downline, sideline, upline or wherever and reach out to them to see if they can come out and share their story inside of your pop-up group.
And make sure that while they're sharing their story inside the group you have a call to action that say's 'If you want to learn more make sure you reach out to the person who invited you to this group.'
This way you and your team can then follow up with their prospects.
Facebook Group Strategy #2- Get them on the schedule
This one builds on the first one and it's pretty straight forward.
Make sure you reach out to the people that you've asked to share their story in your Facebook group and get them on the calendar with the date and time that they've agreed to come out and share their story inside the group.
And remind them a day before just so it stays top of mind 😉
Facebook Group Strategy #3 – Set the Facebook group up
If you've never set up a Facebook group before its quite simple. You can go to Youtube and look it up and you'll find a lot of great videos that walk you through the steps.
Just make sure that you set it up as a secret group.
That means no one can come into the group unless they are invited or added by someone from the group.
This is how you can make sure that all of the members are secured to the person that invited them.
Facebook Group Strategy #4 – Shoot a video to make as the pinned announcement post in the group
Also, make sure you put a banner at the top and do a video that basically says, 'Welcome' 'Here's what you're going to get out of the group' 'make sure to set the group notification to on' 'feel free to invite anyone you like to this group with us' 'here's what you could WIN and how.'
This lets everyone that comes into the group know how the pop-up group is going to work and how they're going to benefit from it.
Once you do that video pin it to the top so it's the first thing they see as soon as they're in there.
Facebook Group Strategy #5 – Announce the pop-up group to your team
This step is where you get your team on board. Let them know what day it's going to start and how it's going to work.
I would suggest you also do a little bit of a training for your team to teach them how to invite and close their prospects in the group.
Facebook Group Strategy #6 – Teach your team how to close
I suggest you show your team how to close the prospects that invite to the group.
Show them how to start 3-way chats with their upline if they need the extra support but basically, you want to create volume and growth for you and your team from these pop-up groups and knowing how to close is crucial to getting that done.
Facebook Group Strategy #7- Put together some prizes and incentives to get people to buy or join fast
Think about prizes or ways that you can incentivize potential new customers that sign up from the group before a certain period of time.
Get creative with this and think of giveaways or prizes that you can put together to create excitement and urgency.
Facebook Group Strategy #8 – Incentivize people to join immediately
Create a prize exclusively for those that buy or join right on the spot.
This will create urgency and will get people to take action fast because they'll get rewarded for being one of the first to take action.
You can also let everyone know the dates of your next pop up group if you think that you're going to have another one. That way they can get excited about adding their new people to the next one.
This is especially exciting for those who join the business from the pop-up group because they saw first-hand how simple and fun it will be to invite people into the group and start building their business this way.
These pop-up groups are simple and fun.
It's also one of the fastest ways to add volume and growth to you and your teams business.
So make sure our download My Facebook Pop Up Group Checklist & Guide so you know exactly what steps to take as your implementing this strategy for you and your team.
You can download it by clicking on the yellow button below 😉

Resources Mentioned & More That Will Help Rock Your Biz
Facebook Live Checklist – Learn More
This is my go-to checklist that I've been using before, during and after my FB Live broadcasts that have gotten me tens of thousands on eyeballs on my products and services!
It's no secret that doing FB Lives can bring you a lot of exposure and business, but sometimes it can be exhausting and intimidating to know if you're doing them right to get people to actually take the next step with you…
FB Ads Revealed – Learn More
Want to learn how to generate leads and sales using Facebook Ads? In this Facebook Ads Mini Class, you'll learn how to run Simple Facebook Ad Campaigns for your business without losing MONEY or dozens of HOURS in the process…even if you've never run Facebook Ads Before.
Unlimited Fan Page Profits – Learn More 
If you don't have a Facebook Fan Page yet and you're looking at all these rock stars with Fan Page and you want one for yourself… Unlimited Fan Page Profits is a training that I put together that will walk you through the steps of building a Profitable Facebook Page and marketing plan to generate leads, build a big audience and make daily sales.
The B-L.A.B. – Come Join Us Here
AKA Build Like A Boss, The B-LAB is Tanya Aliza's FREE Facebook Mastermind group full of awesome Networkers and Entrepreneurs that are all on a mission to grow their businesses Faster and easier with Online Strategies for prospecting, recruiting and sales. We do themed days of the week, we hold each other accountable and we lift each other up! Come introduce yourself and your business.
Did you get some value from this Facebook group strategy?

I hope you did because each week I put my heart into making sure you get some amazing Facebook group strategy so you can rock it in your business while creating a life you love.

Wanna Share This Because You Love Sharing Valuable Info?
Each Monday I post a new video training and free resource on my blog.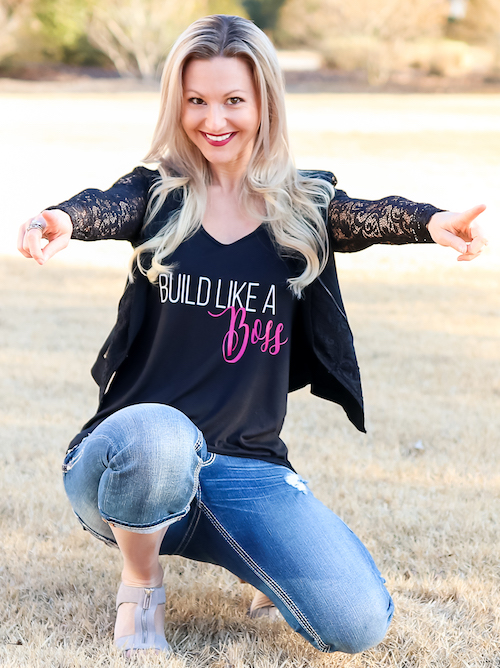 Each Tuesday I do a Live Q&A training on my Facebook Page so make sure we're connected www.facebook.com/tanyaaliza
Stand Out and Stay Connected… drop a comment below.
You are a Rock Star!
Question of The Week: Have you used this type of Facebook group strategy before? Are you excited to start your next Pop Up Group Strategy with your team?
Share them with us in the comments section below and join the conversation!
I'd love to know. Drop it in the comments below!
Hope you enjoyed this Facebook group strategy 🙂