Do you ever get stuck trying to come up with great content ideas for social media posts or content?
Especially content that attracts the right people that want to buy your stuff?
If you've had this problem, too, you're in luck because in this episode of Tanya Aliza TV, I'm going to share with you a very simple and effective way for you to find stellar content that is perfectly put together to attract perfect potential new buyers!
How To Find Content Ideas For Social Media That Attract The Best Customers – Episode 225
With every Episode of Tanya Aliza TV, I like to empower you with a POWERFUL free resource that you can implement right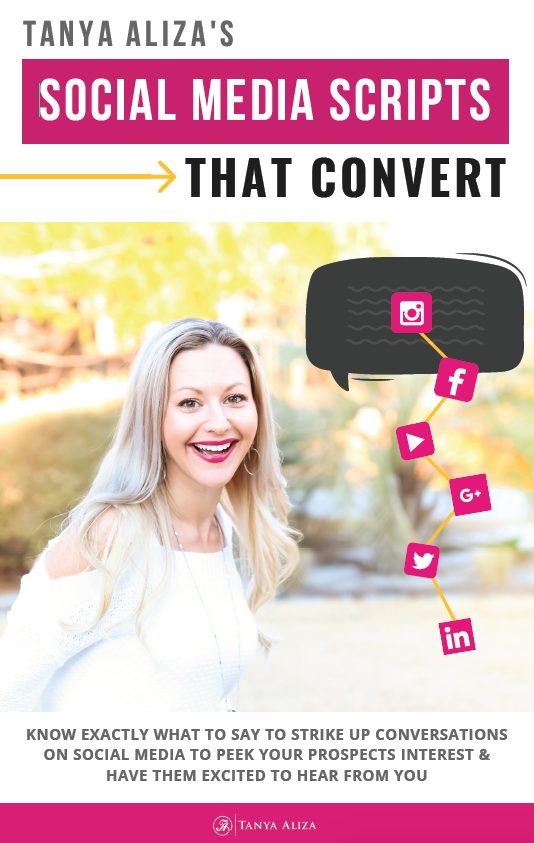 away and create results fast in your business.
This week, since we're talking about creating social media content that gets people's attention…you'll need to know how to properly engage in those conversations so that you gain them as customers.
I created a 3 part message series called My Social Media Scripts That Convert and it will help you know exactly what to say to strike up conversations on social media to peek your prospect interest and have them excited to hear from you!
Content Ideas For Social Media – What You Need To Think About Before You Post
Before I show you this really cool strategy, there's a couple of things you need to think about.
Grab a pen and paper and note down your answers to these questions!
Who are you trying to attract in your world when you're posting on social media?
Start thinking about the things that interest you, and what you're really into.
Who are the kinds of people you like to surround yourself with?
Who are your best customers and teammates?
What kind of people are they?
Are they male?
Female?
Moms?
Are they parents?
Overweight?
Underweight?
What are they into?
If you don't know who you're trying to attract, your posts are gonna be meaningless.
It's not gonna work, and you will not see any results.
Before figuring out what you should post, figure out who you're posting for.
Content Ideas For Social Media – How To Get Ideas for Great Content
Now that you know who those people are you want to attract, let's move on to my secret in coming up with top-notch content!
Make sure to follow along with me in the video above because I walk through through this exact process.
Ok let's dive right in…
Go to google.com (don't use your search bar for this…type in Google.com!)
Type in your target people (this is where your notes come in handy) and type magazine after it. (Example: working moms magazines)
Click search, and when the results come up, click the Images tab.
In the images tab, you will see a collection of magazine covers about what you searched for. The thing about these magazine covers is that these magazines have copywriters and editors that are paid to create some of the best headlines for front covers so people buy their magazine.
Go through and look at the headlines, and ask yourself if it's a juicy topic you can create a piece of content around that has something to do with what you're offering.
Do some research on your chosen topic.
 Post!
Spend time doing this, and you basically have ready content for the next months!
The work has basically been cut out for you, you just have to make sure that the content you post is relevant to your potential customers or teammates!
Content Ideas For Social Media – In Closing
With this strategy, you'll have plenty ideas of what to post on social media.
In fact, you'll be getting more eyeballs on your posts than ever before.
Now that you know what to post, you're going to need to know how to have a conversation with the people who engage in your post and complete the transaction.
You can learn how to close these conversations by downloading My Social Media Scripts That Convert.
It will help you know exactly what to say to strike up conversations on social media to peek your prospects interest and have them excited to hear from you!
You can download it by clicking on the yellow button below 👇
Resources Mentioned & More That Will Help Rock Your Biz
The Revenue Multiplier Masterclass – Learn More Here
Come behind-the-scenes of my multi-million dollar business to discover the
3 "Smart Marketing" secrets that help me Attract Perfect Buyers, all day, every day.
Unlimited Fan Page Profits – Learn More Here
If you don't have a Facebook Fan Page yet and you're looking at all these rock stars with Fan Page and you want one for yourself… Unlimited Fan Page Profits is a training that I put together that will walk you through the steps of building a Profitable Facebook Page and marketing plan to generate leads, build a big audience and make daily sales.
Episode 224 – The Top 5 Social Media Tools I Use To Save Me Time And Get More Engagement – Learn More Here
In this episode of Tanya Aliza TV, I'm going to share with you 5 of my favorite Social Media Tools that I use in my business that help me save time, and helps me keep a good relationship with my family.
Instaboost Launch Workshop – Learn More Here
Marina Simone is not only a very good friend of mine, she is an absolute lady boss in business and has one of the best Instagram training programs I've ever seen when it comes to using the platform to grow your Brand and Business. This is the ONLY training that you'll ever need to get when it comes to Instagram because she goes over absolutely everything you'll need to know.
Facebook Ads Revealed – Learn More Here 
Have you ever wanted to know how to do Facebook Ads properly with knowing exactly how to extract a positive return on investment so you don't waste your money? This training with show you exactly how I do Facebook Ads for my business. I pull you behind the scenes right into my Ads Manager so you can see exactly how to do it for your business too.
The B-L.A.B. – Come Join Us Here
AKA Build Like A Boss, The B-LAB is Tanya Aliza's FREE Facebook Mastermind group full of awesome Networkers and Entrepreneurs that are all on a mission to grow their businesses Faster and easier with Online Strategies for prospecting, recruiting and sales. We do themed days of the week, we hold each other accountable and we lift each other up! Come introduce yourself and your business.
Did you get some value from this training on Content Ideas For Social Media?

I hope you did because each week I put my heart into making sure you get some amazing Content Ideas For Social Media so you can rock it in your business while creating a life you love.

Wanna Share This Because You Love Sharing Valuable Info?
Each Monday I post a new video training and free resource on my blog.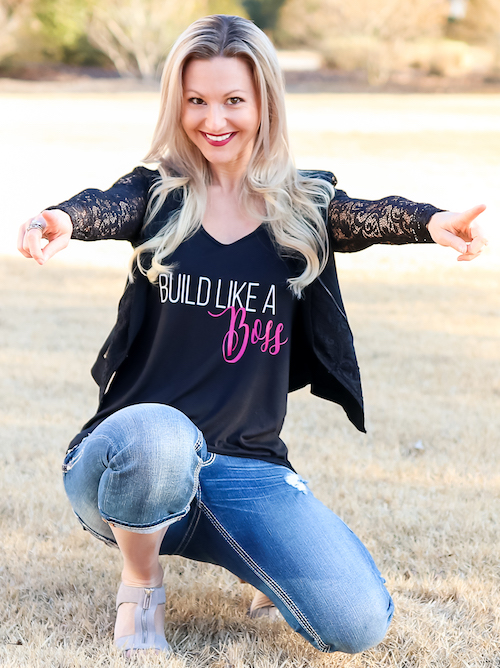 Each Tuesday I do a Live Q&A training on my Facebook Page so make sure we're connected www.facebook.com/tanyaaliza
Stand Out and Stay Connected… drop a comment below.
You are a Rock Star!
Question of The Week: Where do you get really cool content ideas for your social media?