In this episode, I'm going to share with you why your social media profile can be the making or breaking of your business and how implementing just a couple of tweaks can create a more engaging and interesting social media profile that attracts people to your business service or products.
You've heard all the craze about social media and it's potential to help you build your business.
And with Facebook alone having one billion active users, you most likely jumped on board feeling confident you would crush it on social media.
Instead, you're probably scratching your head trying to figure out why no one's paying attention to you and why even friends and family are flat out ignoring you.
If this is you, then you've probably created your social media profile without giving it the much careful consideration that it needs.
In this episode of Tanya Aliza TV, I'm going to share with you 5 key actions steps to implement immediately on your social media profile if you want more engagement for your business and your posts when you're on social media.
How To Optimize Your Social Media Profile for Network Marketing Success – Episode 59


With every Episode of Tanya Aliza TV, I like to empower you with a POWERFUL FREE resource that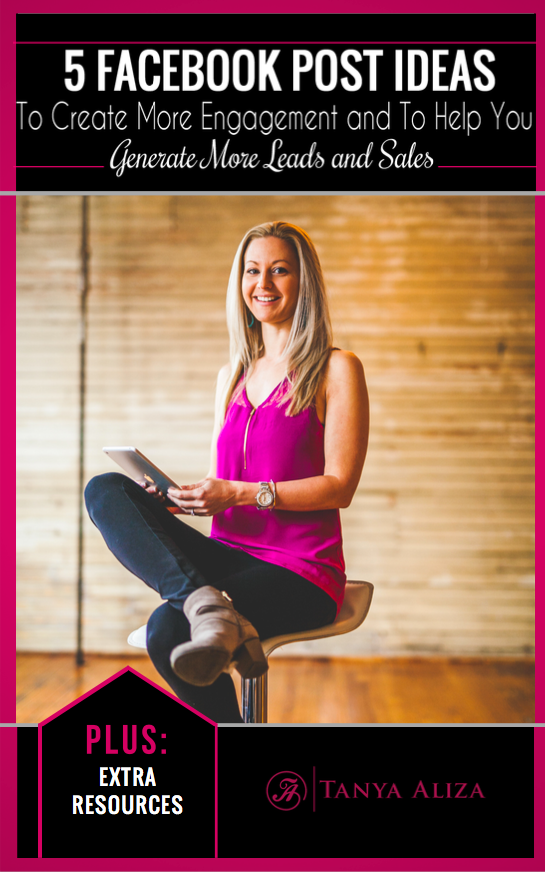 you can download and implement right away and create results with fast in your business.
This week, since we're talking about getting more engagement on social media, I'm giving you My 5 Facebook Post Ideas that will help you get more leads and sales towards your product, service or business.
When it comes to online branding, the proper creation of your social media profile is absolutely essential.
Whether you are just trying to get more exposure online, connect with your fans or customers, or working to build an online presence, social media profiles are the way to go as they are the first impression of you and your business that people receive when they find your page.
However, a lot of people go about using their social media profile as a commercial for their business or products. I want to help you be successful on social media because it actually works.
I've been able to become a top income earner in my company using social media.
I'm going to share with you 5 things that you need to do right now on your social media profile, if you want it to help you grow your network marketing business.
Social Media Profile – Tip #1
Remove your company name and logo from everywhere on your social media profile.
You are not a billboard for your company so don't plaster your company name and products all over your social media profiles. You are branding you and your name.
So instead, have something curiosity-driven and fun that people can relate to.
Social Media Profile – Tip #2
Remove your logo, your cat, your dog and your baby (unless you're in the picture with the baby) from your social media profile. If you're out there prospecting and people look to connect with you on social media, they're going to wonder why there's a picture of a baby or a cat talking about business.
Just make sure that your face actually shows up on your social media profile picture.
Social Media Profile – Tip #3
Remove your boring about me description.
There's a section on your social media profile where you can add some info about you. Make sure it's not salesy. Remember it's not Salesbook it's Facebook😉
Be a real person on social media and make it easy for people to identify with you.
Social Media Profile – Tip #4
Get rid of your salesy promotional posts on your Facebook page or profile. Post value or stories.
Share your story without mentioning your company name. Create curiosity and then have a call to action for them to reach out to you to learn more.
In Episode 42 I give some great ideas on what to post on social media to create curiosity and have people reaching to you for more information.
Social Media Profile – Tip #5
Remove negativity, sarcasm or anything weird from your profile. If you are negative and it can be about anything like politics, marriage, religion, life ect. Then that's what you are selling. You're selling negativity and no one wants that.
Life brings enough problems on its own and people want to be lifted up so they can rise above their circumstances.
Make sure you represent yourself as someone you'd want to follow yourself.
If this helped you and you want to take your social media efforts to the next level then make sure you download this week's free resource My 5 Facebook Post Ideas so you can generate more leads and sales through your social media efforts.
Click on the yellow button below to download the resource.

Some Awesome Resources That Will Help You Even More
Unlimited Fan Page Profits – Learn More 
If you don't have a Facebook Fan Page yet and you're looking at all these rock stars with Fan Page and you want one for yourself… Unlimited Fan Page Profits is a training that I put together that will walk you through the steps of building a Profitable Facebook Page and marketing plan to generate leads, build a big audience and make daily sales.
Jab Jab Jab, Right Hook (book) – Learn More 
This is one of my favorite books and I recommend it to anyone that wants to master the art of Social Media to get it and read it 5 times! It teaches you how to function on Social Media to get the most results.
The B-L.A.B. – Come Join Us
AKA Build Like A Boss, The B-LAB is Tanya Aliza's FREE Facebook Mastermind group full of awesome Networkers and Entrepreneurs that are all on a mission to grow their businesses Faster and easier with Online Strategies for prospecting, recruiting and sales.
We do themed days of the week, we hold each other accountable and we lift each other up! Come introduce yourself and your business.
Did you get some value from these social media profile tips?

I hope you did because each week I put my heart into making sure you get amazing network marketing success tips and strategies to rock it in your business while creating a life you love.

Wanna Share This Because You Love Sharing Valuable Info?
Each Monday I post a new video training and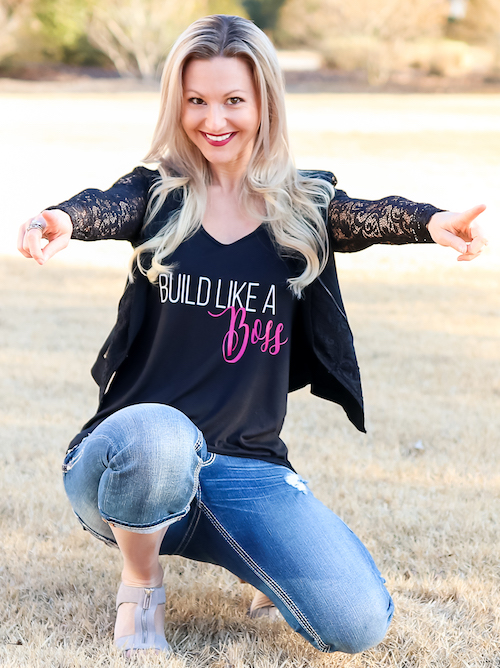 free resource on my blog.
Each Tuesday I do a Live Q&A training on my Facebook Page so make sure we're connected www.facebook.com/tanyaaliza
Stand Out and Stay Connected… drop a comment below.
You are a Rock Star!
Question of the week: Which was your favorite social media profile tip? Do you have any tips you'd like to share? Please drop them in the comments below, I'd love to hear from you!