In this episode, I'm going to show you how to use Facebook messenger for business so you can stop wasting time on traditional 3-way calls that take up a ton of time and aren't effective anymore.
Are you still doing old school 3-way calls?
You know… those that can take up a ton of your time & leave your prospects feeling like they can't do what you do?
If you're trying to figure out a better way…I'm here to show you a more efficient way to get your 3-way calls done.
In this Episode of Tanya Aliza TV, I'm going to share with you the best way to replace an old school 3-way call, that people hate and wastes a lot of time….with a new way that people love and saves a bunch of time.
How To Use Facebook Messenger For Business To Save Time & Sign Up A Ton Of Business – Episode 177

With every episode of Tanya Aliza TV, I like to empower you with a POWERFUL free resource that you can implement right away and create results with fast in your business.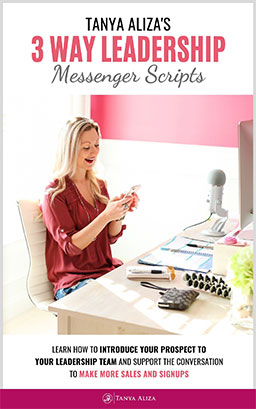 This week since we're talking about how to use Facebook messenger to design a really good 3-way conversation with your prospect…I'm going to give you My 3 Way Leadership Messenger Scripts.
These scripts will help you learn how to properly introduce, edify and set up a conversation between your prospect and your upline leadership so you can get amazing results.
You can download them by clicking on the yellow button above ☝️
Why would anyone want to learn how to use Facebook Messenger for business?
I've done my fair share of old school network marketing 3-way calls. Since 2019 to be exact.
3 way calls used to be a staple in my business.
But to be honest, they were a pain and they aren't the best way to get a prospect interested in your business, products or services.
Here's why…
When a prospect is going through the sales process with you they are analyzing what you're doing to see if it's something they would want to be doing too.
And if you're doing something that takes A LOT of time and isn't that fun….chances are they won't want to join you.
But the good news is we now have a powerful little tool called Facebook Messenger that's changed the way we do 3-way calls.
How to use Facebook Messenger for business if you're still stuck in the old-school way of doing it
In 2016 when I learned how to use Facebook messenger and replaced my 3-way call strategy I was blown away…but also skeptical.
I honestly didn't believe anyone would join my team or buy products from me without an actual phone call.
However, I have a friend who was using Facebook messenger for his 3-way calls and the lifestyle he had was exactly what I wanted.
He was able to spend time with his family AND it created more duplication for his team than I'd ever seen before.
So I humbled my self and started using that strategy as well.
I was blown away with the results.
I'm going to share with you the things that I've learned over the past years to make this strategy the most effective strategy for you and your business.
I'm also going to show you how to work with your upline leadership so they can help you with your 3-way calls using Facebook messenger instead of a traditional phone call.
But before you even try to how to use Facebook Messenger for business, you need to know why it's more effective
If you're going to overhaul a strategy in your business you need to understand why you're even doing it right?
Here's why this strategy is more effective:
Easy and duplicatable
Saves a ton of time
Allows your prospect to check out your process (powerful if you have good leadership)
Allows you and your Upline to work with more people
THE BEST training resource for your new reps to see how its's done
and how questions are answered
Ok so now that we know why we're moving away from traditional 3-way calls…here are the steps I take to use Facebook messenger effectively when taking a prospect through the sales process and how I use my upline leadership in this process.
How To Use Facebook Messenger For Business – Step #1
After I've shared a business presentation with my prospect I immediately start a group conversation with my upline and my prospect.
I then introduce and edify my upline leadership to my prospect.
Pro Tip #1: Never ask your prospect for permission to introduce them to your upline. You just do it and your prospect will see it as a normal part of what you do.
Pro Tip #2: This is not a place for you or your upline to hard sell anything.
Make sure your leadership knows this. This is just a way for your prospect to get questions answered and feel there a part of a community and have a little fun.
How To Use Facebook Messenger For Business – Step #2
I will decide which one of my upline leadership is best for doing this group chat with my prospect. I typically like to bring in one female and one male to the group chat to give it a different dynamic but typically what I do is bring in the ones I think my prospect will be able to relate with the most.
How To Use Facebook Messenger For Business – Step #3
I like to message my prospect privately to let them know I started the group chat and I let them know why I started the conversation.
I'll also edify my upline leadership in this message to get them familiar with who they'll be chatting with and also it gets them excited to meet my upline.
How To Use Facebook Messenger For Business – Step #4
I use the group chat for pre-enrollment questions so that if I'm not available at the time they have a question then one of my other leaders can jump in and help them out.
So since we are working off of 3 different peoples schedule…it's more efficient for your prospect and they also see that when they join the business they can also leverage other people to help them in the business.
How To Use Facebook Messenger For Business – In Closing
Remember, Network Marketing is a business of duplication.
Your prospect is looking at EVERYTHING you're doing while taking them through the process.
Using this strategy with Facebook messenger is going to increase the chances of your prospects wanting to join or buy from you.
And to make this super easy for you I'm giving you My 3 Way Leadership Messenger Scripts that you can use to know exactly what to say when you introduce your prospects to your leadership in a Facebook messenger group chat.
You can download it by clicking on the yellow button below 👇

Resources Mentioned & More That Will Help Rock Your Biz
Social Marketing & Recruiting Bootcamp – Learn More Here
This is a free training I'm doing with my good friends John & Nadya Melton and were showing you How We Use 1 Simple Facebook Group To Sell & Recruit New Teammates Like Clockwork In 3 Easy Steps.
If you want to be a great leader and get better at RECRUITING new teammates in a way that duplicates…this training is for you!
Book – Get Over Your Damn Self by Romi Neustadt – Learn More
The No B.S. Blueprint to building a life changing business. This is one of the best books I've read when it comes to learning how to talk to prospects and transition the conversations, naturally, into business. I bought the audiobook, listened to it twice, then bought the paperback because I wanted to highlight the scripts she gives… they are THAT good. This is a book that I highly recommend everyone in Network Marketing to get. For the guys… this is a really feminine read, but still highly worth it.
Mark Harbert's On Demand Messenger Revolution Training – Learn More 
Mark is a master at using the Facebook messenger bot to build relationships with people on Facebook and also to grow his list and build his business.
And he shows people how to use it in an automated fashion so you're not spending hours and hours on Facebook just trying to start conversations with prospects and instead make better use of their time.
If you want to dive deeper into the many ways you can use Facebook messenger to create duplication and leverage for you and your team…this is the training for you!
The B-L.A.B. – Come Join Us Here
AKA Build Like A Boss, The B-LAB is Tanya Aliza's FREE Facebook Mastermind group full of awesome Networkers and Entrepreneurs that are all on a mission to grow their businesses Faster and easier with Online Strategies for prospecting, recruiting and sales. We do themed days of the week, we hold each other accountable and we lift each other up! Come introduce yourself and your business.
Did you get some value from learning how to use Facebook Messenger for business?

I hope you did because each week I put my heart into making sure you get some amazing tips on how to use Facebook Messenger for business so you can rock it in your business while creating a life you love.

Wanna Share This Because You Love Sharing Valuable Info?
Each Monday I post a new video training and free resource on my blog.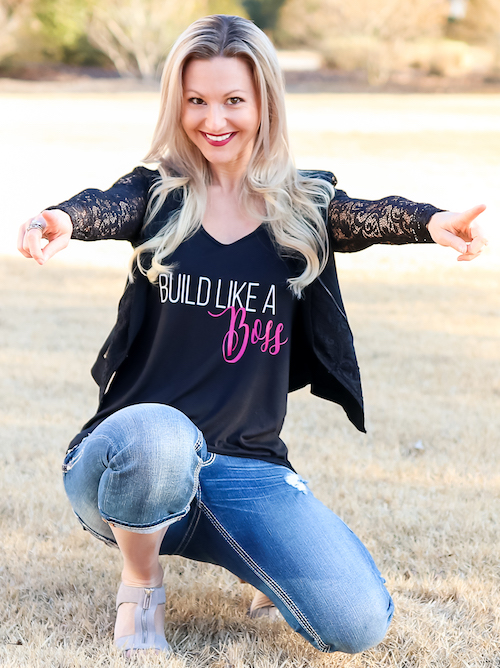 Each Tuesday I do a Live Q&A training on my Facebook Page so make sure we're connected www.facebook.com/tanyaaliza
Stand Out and Stay Connected… drop a comment below.
You are a Rock Star!
Question of The Week: Do you have a unique system or process that involves your leadership?
Share in the comments section below. I would love to know!
Hope you enjoyed learning how to use Facebook Messenger for business 🙂