Goal setting and planning is one of the foundational keys to success.
Without a plan you will be aimlessly wandering around without the results that you are wanting.
And trust me…I know there's a ton of goal setting books and training out there…. But trust me when I say…
This goal setting training is going to actually help you stick to your goals so that you actually achieve them.
In this episode of Tanya Aliza TV, I'm going to share with you the actual strategy that I use twice a year to plan my business goals and how I've double my income each year with this plan.
My Goal Setting Plan That Almost Doubles My Income Each Year – Episode 142

With every Episode of Tanya Aliza TV, I like to empower you with a POWERFUL free resource that you can implement right away and create results with fast in your business.
And today since were talking about goal setting for your business I'm giving you My Goal Planning Tracker & Template so you can see how I set my goals and reverse engineer them and have a template to use that can do the same for your business.
You can download it by clicking on the yellow button above.
Plan Your Goal Setting Session
Every year my team and I plan to get together twice a year to do our 6 month yearly planning. We used to do it once a year but we found that a lot can change in 6 months so breaking it down to 6 months has given us the ability to stay on track and make additional plans should life get in the way as it typically can.
Unplugging for a whole day to get your game plan together for the next 6 months can be the difference between reaching every single one of your goals or falling short.
So if you haven't done so already, you're not too late to get your strategy ironed out.
So what we do is we come together as a team and we ask ourselves:
✓"What do we want to accomplish this year?"
✓"How many people do we want to impact and inspire this year?"
✓"What's our mission statement?"
✓"What kind of income/profit goals do we have within the company?"
If we know what our targets are we can reverse engineer everything that we need to do task wise so we can hit our targets.
This will work for you no matter what type of business you're building.
I'm going to give you a couple of examples so you can easily see how this goal setting strategy works and you can implement it in your business so you can hit your goals in your business.
Start your goal setting session with 3 Income Goals
When I was working with my very first business coach back in 2014 he made me write 3 income goals down.
✅ He asked me to write my first annual income goal based on a number that allowed me to feel that I had made a big accomplishment in my business.
✅ Then I had to write down a secondary annual income goal that was more like a WOW goal. Something that would be totally incredible for you.
✅ The 3rd income goal was a Holy $h&! income goal.
This 3rd goal just blows you away and you believe it's impossible. It's an annual income goal that stretches your mind to the next level.
So this is the first step I want you to do in your goal setting planning session and then we're going to reverse engineer it so you have a plan in place for the next 6 months.
Keep in mind that this is Step 1…there is no point in planning activities for the next 6 months of your business if you don't know what your income target is.
So grab a notepad or journal and write your 3 income goals down.
Goal Setting – List out the income producing activities
Now that we know what our income targets are we can make a plan on how
were going to get there.
List out what your income producing activities are.
You can do this with a business partner, an upline or maybe even someone on your team.
You need to figure out what your specific money making activities are that will help you hit your goal.
So for example, if your in network marketing, it might be figuring out how many people you need to connect with or do a presentation with on a daily basis.
Or how many customers you need to enroll and with what package you need to enroll them with every day or every week.
And then from there you want to reverse engineer what you need to do to get there.
So for example, if you know you need to sell 5 product packages a week to hit your annual income goal then you need to figure out how many people you need to talk to to be able to do a presentation.
You need to factor in your ratios as well.
So if you know you close 1 out of every 5 people you do a presentation for, you'll be able to reverse engineer this and write down how many presentations you'll need to do every week to hit your goals.
When you go through My Goal Planning Tracker & Template sheet your going to see an example and a breakdown of how to make that possible and fill in the blanks with your specific information based on your business model and personal business goals.
When Goal Setting remember to reward yourself
I'm guilty of working, working, working and not rewarding myself for my efforts and hard work.
So I highly encourage you to reward yourself for your hard work and efforts as well. I'm definitely learning to get better at this and its super important and that's why I've included a section for it inMy Goal Planning Tracker & Template worksheet.
In the template that I'm giving you with this episode I want you to write down what you'll reward yourself with after hitting your benchmarks.
This is really important cause why the heck would we be doing the work if there's no reward, right?
Goal Setting example of how to reverse engineer an income goal
I'm going to show you below and example of how you would do this if you are in network marketing and you have a team that you can huddle with to set goals with.
So let's say your goal is to hit the 'Elite Galactic Level' in your company in the next 90 days.
Here's a breakdown of the goal reverse engineered:
1️⃣What it will take to get there in points or dollar amount – 400,000
And let's say you now take a snapshot of where you're at as far as points or dollar amount and figure out how much more you'll need
2️⃣What more is needed for your team – 200,000
Then figure out what the average points/volume are for every package sold
3️⃣Average pack sold = 500 points/volume
4️⃣Need to sell 400 packs
So basically you now know you'll need to sell 400 packs to hit that volume benchmark
And if you're in network marketing you now know that you can map out how your team will impact you reaching this goal. The beauty of network marketing is that you're not running alone. 😉
5️⃣So now you can figure out who's running with you? – Let's say you have 10 Leaders + Yourself = 11
6️⃣Each of you have to do 37 packs within 90 days
7️⃣That's 2.43 Packs each day for the next 90 days
That's how I would reverse engineer this goal and the template I'm giving you will help you do this as well.
Product launches are done the same way
Goal Setting – In Conclusion
And just remember that Goal setting and planning is one of the foundational keys to success.
You need to know where your going or else you'll go nowhere.
So start off by blocking out a day that you and your team, business partner or upline can start a goal setting session and plan your next 6 months.
And remember to use My Goal Planning Tracker & Template so you can see how I set my goals and reverse engineer and have a template to do the same for your business.
You can download it by clicking on the yellow button below.

Resources Mentioned & More That Will Help Rock Your Biz
Episode 27 – Network Marketing Business Plan – How To Launch Your Business – Learn More Here 
This episode also includes my Business Launch Planner that will help you get your running group hyped up to crush it.
My Daily/Weekly/Monthly Planner – Learn More Here
This is the exact planner that I use to help me stay organized and planned out each day.
The Miracle Morning For Network Marketers (Book) – Learn More
This is one of my favorite series of books. I happen to be featured in this book because of my crazy liking for my miracle morning routine and how it's totally helped me and my business. If you're trying to get a more solid routine down that you can follow to create more success in your business… this is a great book to read.
The B-L.A.B. – Come Join Us Here
AKA Build Like A Boss, The B-LAB is Tanya Aliza's FREE Facebook Mastermind group full of awesome Networkers and Entrepreneurs that are all on a mission to grow their businesses Faster and easier with Online Strategies for prospecting, recruiting and sales. We do themed days of the week, we hold each other accountable and we lift each other up! Come introduce yourself and your business.
Did you get some value from this goal setting strategy?

I hope you did because each week I put my heart into making sure you get some amazing goal setting strategies so you can rock it in your business while creating a life you love.

Wanna Share This Because You Love Sharing Valuable Info?
Each Monday I post a new video training and free resource on my blog.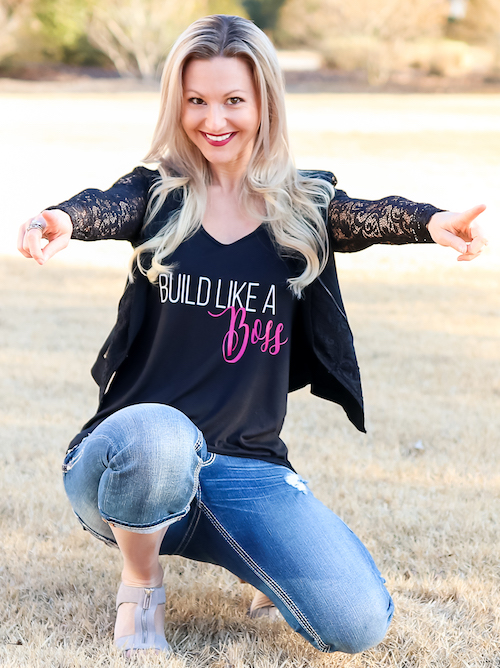 Each Tuesday I do a Live Q&A training on my Facebook Page so make sure we're connected www.facebook.com/tanyaaliza
Stand Out and Stay Connected… drop a comment below.
You are a Rock Star!
Question of The Week: Do you have any goal setting strategies that you'd like to share with My Community?
I'd love to know. Drop it in the comments below!
Join the Conversation Rock Star...
comments