Would you be interested in accessing my Network Marketing Prospecting Scripts that will help maximize your prospecting and recruiting efforts?
Then you're in luck.
My Network Marketing Prospecting Scripts will help you prospect and recruit Like A Boss!
In this Episode of Tanya Aliza TV, I'm going to share with you some of my best Network Marketing Prospecting Scripts that I use with new prospects and have gotten me great results.
I'll also show you HOW and WHEN I use them so you get more sales and sign ups.
The Network Marketing Prospecting Scripts I Use On Social Media To Get More Sales & Teammates – Episode 152

With every Episode of Tanya Aliza TV, I like to empower you with a POWERFUL free resource that you can implement right away and create results with fast in your business.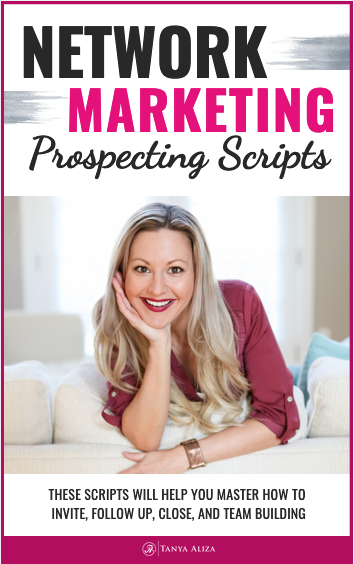 This week I'm giving you my Network Marketing Prospecting Scripts Swipe File so you can see the process I use in my business when I'm prospecting and recruiting.
These network marketing prospecting scripts will help you master how to invite, follow up, close and team building.
But before you dive into my swipe file of network marketing prospecting scripts there's a couple of things you need to know and that I want to share with you to help you get the most results out of using them.
This ain't your Grandmas Network Marketing Prospecting Scripts
One thing's for sure…Social Media has really changed the way we communicate.
I personally don't do any old school belly to belly prospecting anymore.
Most of my prospecting has transitioned to happen through chat, text and messenger so I've tweaked these Network Marketing Prospecting scripts a little to fit these new tools we have available to us.
Times have changed and the way we prospect has changed…therefore my scripts have changed as well.
If you love using Social Media to build your business you'll love my Network Marketing prospecting scripts.
Network Marketing Prospecting Scripts don't replace the fundamentals
While tools change and may come and go….some things never change….
Like the fundamentals in human interaction and communication.
So an important word of caution when using Scripts…. don't water down your personality OR use these scripts word for word.
Just because your not prospecting belly to belly doesn't mean you can use these scripts word for word and sound like a robot and get great results.
It just doesn't work that way. You'll want to infuse your personality into these scripts.
And since you might be in a different company than me, you'll want to change these up to match your company, products and processes… and use these as the foundation to help you build upon.
Also, I test different variations to see what works best for me and I recommend you do the same.
When your having a conversation with a prospect it should flow naturally…you should never script a conversation because that's just awkward…don't be awkward 😉
The only part I script out is the process for Presenting, Closing and Following Up
So just understand the fundamentals of these scripts and merge them with your personality.
You'll get GREAT results that way.
Why use Network Marketing prospecting scripts?
Ok you're probably wondering, 'If scripts shouldn't be used word for word then why use them at all?'
If your brand new in your business or your not having any success with your current prospecting strategy, you'll want to use and learn someone else's network marketing prospecting scripts that work and make them your own.
There is a science and methodology behind using scripts and they work as long as you don't leave your personality behind.
Also, I create these script messages to keep me moving forward fast and not have to repeat myself.
As you start prospecting you'll start to notice that some things will be repeated over and over.
For example, your getting started steps will be the same for every new prospect that joins your team.
In that case you'll want to be able to just copy and paste that and send it to your new teammate.
If you streamline this process you'll save more time and be much more effective.
Making the most out of these Network Marketing prospecting scripts swipe file
Most of these scripts are tailored to be used with Facebook voice messenger.
I highly recommend that you start using Facebook voice feature if you're not already.
Instagram also has the voice feature as well so you might want to check it out if you're using Instagram to prospect for your business.
I did a really good episode on how I use Facebook messenger to reach out to prospects and present, follow up and close and it's honestly been a God send because it makes the process so easy.
I'll leave a link to the episode in the show notes below so you can go through it.
So most of these scripts I use with the voice feature with the exception of when I send someone my sign up steps and link to get started with me in my business.
Also, I highly recommend you add these scripts to Evernote.
If you're not using Evernote go check it out.
It's a really cool App that you can use on all of your devices and they sync so you can add my swipe files to your Evernote and access them on your phone or laptop…it will be available to you no matter what device your on.
This makes it super easy to access and also can be shared with your team so you can help them out.
Network Marketing Prospecting Scripts – In Closing
Okay, are you excited to download my network marketing prospecting scripts?
I hope so…these scripts will really help you with your prospecting efforts on Social Media.
These scripts are divided in 4 categories.
You'll have access to my:
🔶Inviting scripts
🔶Follow Up Scripts
🔶Closing scripts
🔶Team building scripts
With all of these scripts you'll soon be prospecting and recruiting like a boss so make sure you download it by clicking on the yellow button below 😉

Resources Mentioned & More That Will Help Rock Your Biz
My Facebook Recruiting Secret – How I Used Facebook Messenger To Enroll 52 New Teammates Last Month – Learn More Here
Mark Harbert's On Demand Messenger Revolution Training – Learn More
If you've ever wanted to know how to use Facebook Messenger Bots to help you build your Brand and Business, this training is jam packed with strategy and ideas to help you keep your pipeline full of interested prospects. Imagine, never running out of customers and being able to build a list of people that you can re- market to and communicate with, on-demand, when you have specials and promos that come up. The possibilities are endless with this tool and strategy in your world.
The Ultimate Branding Blueprint – Learn More Here
This is my signature course when it comes to building a Influential Brand Online that attracts leads and sales for your business.
60 min Enrollment Method – Learn More Here
If you've ever wanted to create your own Sales Webinar for your Network Marketing products or business, this is a great free training that you can check our by my good friend Kate McShea. Kate is one of the best trainers I know and she can definitely help you to craft your own presentation AND put it on Autopilot for your business.
Get Over Your Damn Self (Book) by Romi Neustadt – Learn More Here
The No B.S. Blueprint to building a life changing business. This is one of the best books I've read when it comes to learning how to talk to prospects and transition the conversations, naturally, into business. I bought the audio book, listened to it twice, then bought the paperback because I wanted to highlight the scripts she gives… they are THAT good. This is a book that I highly recommend everyone in Network Marketing to get. For the guys… this is a really feminine read, but still highly worth it.
The B-L.A.B. – Come Join Us Here
AKA Build Like A Boss, The B-LAB is Tanya Aliza's FREE Facebook Mastermind group full of awesome Networkers and Entrepreneurs that are all on a mission to grow their businesses Faster and easier with Online Strategies for prospecting, recruiting and sales. We do themed days of the week, we hold each other accountable and we lift each other up! Come introduce yourself and your business.
Did you get some value from these network marketing prospecting scripts?

I hope you did because each week I put my heart into making sure you get some amazing network marketing prospecting scripts so you can rock it in your business while creating a life you love.

Wanna Share This Because You Love Sharing Valuable Info?
Each Monday I post a new video training and free resource on my blog.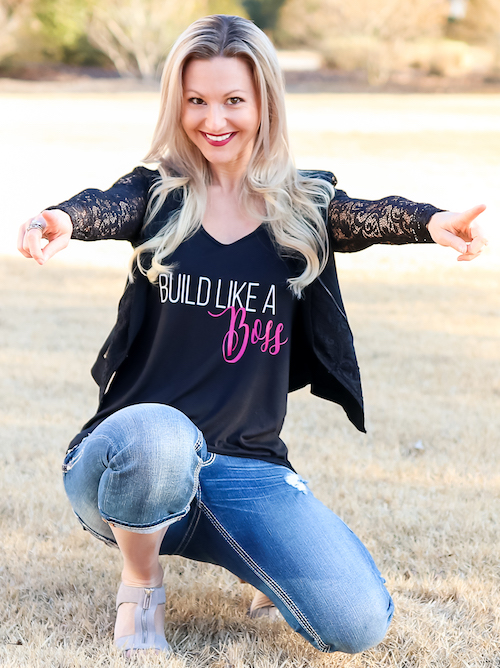 Each Tuesday I do a Live Q&A training on my Facebook Page so make sure we're connected www.facebook.com/tanyaaliza
Stand Out and Stay Connected… drop a comment below.
You are a Rock Star!
Question of The Week: Do you have any Network Marketing Prospecting Scripts that you use that have been working really well that you care to share?
I'd love to know. Drop it in the comments below!