In this Episode, I'm sharing my best network marketing success tips to help you become a person of influence so you can make a bigger impact in business and life.
Have you ever wanted to increase your influence?
I mean after all… building your business would be a heck of a lot easier if people viewed you as 'influencial' right?
When you're influential you're kind of a "big deal" so in this Episode of Tanya Aliza TV, I'm going to share with you my 'big deal' exercise that will help you increase your influence so you can increase the impact that your business has on your future and in the world.
Network Marketing Success – Use This BIG Deal Exercise To Become A Person Of Influence – Episode 132

This week, I'm giving you The Big Deal Exercise Worksheet to go along with the exercise in this Episode that will help you become a more influential person so you can make a bigger impact in your business and in your life as well.
Any time I learn something that has a really positive impact on my life and business, I love to share it with my community so I can help them build a wildly successful business and life.
I recently attended Amy Porterfield's Entrepreneur Experience Event and she did an exercise with everyone in the audience called 'The Big Deal' exercise.
And I'll be honest here…at first, I was a little skeptical about how great it would be so I was like…"Oh, I'll just do it when I get back home."
But I did it anyway…thank God, because towards the end I had a lot of lightbulb moments go off.
It was that powerful!
So I'm going to briefly walk you through doing this exercise and I'm also going to include a worksheet to go along with it where you can fill in the blanks and share it with your team.
So make sure you download it first so you can fill in the blanks as we move along through this exercise together.
Click on the yellow button above. Print it and follow along with me.
Did you print it out? C'mon, do it now… I'm here waiting 😉
Okay, so the first thing I want you to do is ask yourself this question:
Do you believe that you were meant to be a big deal?
Obviously, at some level, you must believe you are cause you're here and you're one of my peeps…
So obviously you are a Big Deal…
BUT…
…how do you define it and put it into action?
There's a couple of steps to doing this…
Network Marketing Success Step 1 – What does it mean for YOU to be considered a big deal?
So what does that mean to you?
Write it down in your worksheet that you downloaded.
I'm going to share what I wrote down just to give you an idea to help you brainstorm a bit.
Here's the list of what I wrote down that helps me to feel like I'm a big deal:
✓I contribute a huge amount of money every year to charities around the world
✓I'm asked to speak and train at the most popular internet marketing events out there
✓I can work and live anywhere in the world
✓People recognize me where I go based on my value I contribute to the world
✓I have a private jet that I take my friends on to explore the best places and experiences in the world
✓I have multiple houses around the world
✓My spouse, family and friends and all the people in my world love and adore me along with all of my corkiness
✓I get 100,000 views or more on my Youtube videos
✓I get asked to coach and mentor some of the most successful businesses in the world
So those are the things that define what would make me feel like a big deal.
Write your list down and then move on to step #2
Network Marketing Success Step 2 – Ask yourself, what do I need to do to become that big deal?
Okay so step 2 is to write down some of the action steps that you'll need to do to get you closer to your list of things to make you feel like a big deal.
I'm going to share what I wrote down just to give you an idea to help you brainstorm a bit.
Here's the list of action steps I need to take:
✓I need to invest in a high-level mastermind with very important and scary professional people that all make more money than me.
✓I have to delegate and scale my staff and my team better
✓I have to come up with ideas and implement them faster
✓I have to get out there on more platforms for more exposure with the brand
✓I gotta look at maybe changing or expanding the direction of my brand.
Okay so on your worksheet write down some of the action steps that YOU need to take in order to get closer to the things you wrote down in step #1
Network Marketing Success Step 3 – Write down the 3 habits, traits, or beliefs that are holding you back right now and are keeping you from playing big and becoming that big deal
In this step, you gotta get a little vulnerable and honest with yourself.
Here are the things that I wrote down that I believe and are holding me back:
✓I have to believe that what I have is good enough.
✓People who are playing at a higher level don't think I'm good enough.
✓I have to do the hard tasks in my company.
✓I have to be the most influential person in the room.
✓Pivoting in my business is something I can't do.
So what is it for you?
What habits, beliefs or traits hold you back?
It could be things like not waking up early or spending too much time on social media or some beliefs about yourself that keep you away from taking action in your business.
Whatever they are, write them down in the worksheet and move on to step #4
Network Marketing Success Step 4 – You have to believe hard and take all out massive action
You have to believe hard that you can do all the things that you stated in Step #1 and then you have to take massive action on the things that you listed out in step #2
Those are the 4 steps to the big deal exercise.
Did you love them?
I hope so cause I know they have the power to really bring light to what you value and what action steps you need to take to live a life of purpose.
Network Marketing Success – In Closing
This is something that is going to hold you accountable to yourself in becoming that big deal that you already are.
This exercise is so powerful if you do it!
Remember to print out the worksheet that goes along with this 'big deal' exercise and put it where you can see it so that you keep yourself accountable to everything you listed out.
You can download it by clicking on the yellow button below:

Resources Mentioned & More That Will Help Rock Your Biz
Amy Porterfield's Podcast/Blog – Learn More
As always, I want to give credit where credit is due and since I learned this 'BIG Deal' exercise at Amy's event I want to introduce you to her so you can also soak up all her goodness!
The Ultimate Branding Blueprint – Learn More Here
This is my signature course when it comes to building an Influential Brand Online that attracts leads and sales for your business. It's really good and I totally suggest checking it out.
A Brand Called You (Book) – Learn More 
This is one of my favorite books on learning about the importance of Branding yourself so you can create a life and business that you love…with leverage! I saw the author speak on stage at an event I was at in Florida and it was the best Keynote speech I have ever heard. His book is equally powerful and amazing and I'm happy to share it with you.
The B-L.A.B. – Come Join Us Here
AKA Build Like A Boss, The B-LAB is Tanya Aliza's FREE Facebook Mastermind group full of awesome Networkers and Entrepreneurs that are all on a mission to grow their businesses Faster and easier with Online Strategies for prospecting, recruiting and sales. We do themed days of the week, we hold each other accountable and we lift each other up! Come introduce yourself and your business.
Did you get some value from this network marketing success training?

I hope you did because each week I put my heart into making sure you get some amazing network marketing success training and strategies to rock it in your business while creating a life you love.

Wanna Share This Because You Love Sharing Valuable Info?
Each Monday I post a new video training and free resource on my blog.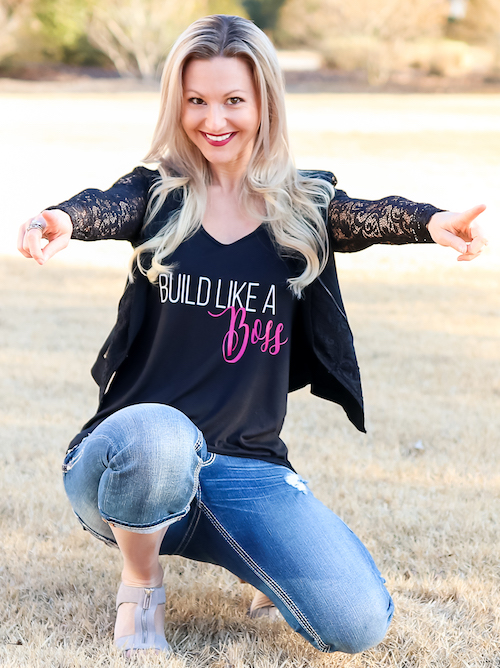 Each Tuesday I do a Live Q&A training on my Facebook Page so make sure we're connected www.facebook.com/tanyaaliza
Stand Out and Stay Connected… drop a comment below.
You are a Rock Star!
Question of the week: Do you believe that you are meant to be a big deal? I wanna hear you drop a "heck yea!" in the comments section below!