These Network Marketing Tips will help you save a ton of time by showing you how to automate the sign up process for your prospects.
Over the years of building my Network Marketing business, I've become very good at creating more and more automation, leverage, and systems in my business.
Basically, if I have to say something over and over, or repeat the same thing multiple times, I'm going to find a way to automate it and create a process for it.
One thing that's been a game changer for my business is that I've automated my sign up process with my prospects. This has been an absolute game changer for me, my time and my new teammates….
In this episode, I want to share with you how I've done this so that you can model and copy the process into your world to make your life so much easier… and this also helps you to sell more higher priced packages too.
Network Marketing Tips – How To Automate The Sign Up Process With Your Prospects To Save You Time – Episode 205
With every Episode of Tanya Aliza TV, I like to empower you with a POWERFUL free resource that you can implement right away and create results with fast in your business.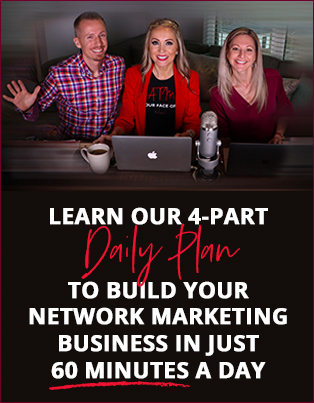 Since we're talking about getting results fast in your network marketing business, I've got a training coming up that you won't want to miss.
My good friends John and Nadya & myself are going to show you Our 4 Part Daily Plan To Build Your Network Marketing Business In Just 60 Mins A Day.
If you're a busy person and you really want to get efficient with your daily method of operation in building your network marketing business then you'll get a ton of value on this training.
Make sure you get registered and save your spot by clicking on the yellow button above.
Network Marketing Tips – Know what packages are you going to be recommending
Everyone has a different way that they get started in their business.
It really all depends on your business model, the packages your company has and all the different ways that your customers and team members can get started.
And there's many different packages that maybe, possibly, you have that new customer or your new prospect or your new teammate can actually choose, right?
So I want you to think about three.
What are the three most popular packages that people get started?
Think about including a beginner package, an intermediate package, and maybe an expert package.
Something that ranges from small, medium, to high.
Network Marketing Tips – Record your process
The next step once you're done mapping out your 3 packages is to record yourself on your computer.
You're going to screen record yourself walking and talking your prospect through the process, what website to go to, which packages you recommend and why.
You can use something like Zoom, which is free or any other screen recording software platform out there that you can use.
You're going to screen record yourself walking your prospect through the process and explaining the differences between the packages.
Then you'll explain why you recommend that big package and maybe give them a little backstory on why you started with it or why others typically come in at the larger package.
So I'm telling them what website to go to, where to click, what to click next, where to put in their information, what they're going to expect to see on the next page, and I take them through that whole process.
Network Marketing Tips – Make this available for your team
Here's a pro tip for you…make this generic so that your whole team can use the video.
You can use Zoom or Loom to record your screen and then upload it to Youtube as unlisted.
Unlisted means not everybody on YouTube can see it. Only people with the Youtube link that you give them can see it.
I can't tell you how much time this has saved me and how much easier it is for my prospects to watch the video and follow along versus me trying to explain it over text or over the phone or anything like that.
Saves me a ton of time and it also provides a lot of leverage within your team because now your team is getting all of their people started exactly the same way as well.
Huge game changer in my business as far as leverage and automation.
Network Marketing Tips – In Closing
If you want to create the residual laid-back lifestyle that everybody wants when they join Network Marketing then you'll want to automate as much as possible in your business.
After all, that's the beauty of network marketing.
And remember, to learn my Daily Method of Operation to build your network marketing business in 60 minutes a day, make sure to get registered for my upcoming training where John, Nadya & myself will show you Our 4 Part Daily Plan To Build Your Network Marketing Business In Just 60 Mins A Day.
This will definitely help you get focused again and back on track.
It will also take the overwhelm and confusion out of what you should be doing every single day to build a big team.
So make sure you save your spot because we fill up pretty fast.
You can get registered by clicking on the yellow button below👇
Check out the resources in the show notes below for even more amazing resources that go with this episode.
Resources Mentioned & More That Will Help Rock Your Biz
The Social Marketing & Recruiting Bootcamp 2020 Registration Is Now Open – Learn More Here
Come join my good friends John & Nadya Melton & myself for our Virtual Training Bootcamp Event that's going to help hundreds of Network Marketers consistently recruit new reps into their business using PROVEN social media strategies.
This is NOT a webinar….this is a Virtual Interactive Bootcamp where you'll see us training as if you're at a live event with us, but from the comfort of your own home. 
Beyond Objections – Learn More Here
In this powerful 77 min Audio training and downloadable Cheat Sheet you will be equipped to handle any objection or question that your prospect gives you after you share your business with them.
Download the audio to your smart phone, tablet or computer and take it with you on the go, at the gym or in the car and become a professional in closing the sale without being salesy or weird.
It's all about finding out what the REAL questions and objections are and leading them into the direction of a sale or new teammate.
Influence (Book) – Learn More Here
Have you ever wondered how some people just have that 'Magic' over others? They can go up and talk to people easier, they can command attention and lead people into buying decisions easier…. how do they do it?
Is it just a gift? Nope… it has everything to do with understanding how people operate and how to INFLUENCE them. This is one of my favorite books and if you're in a position where you collect decisions from people (sales) this is a MUST read!
The B-L.A.B. – Come Join Us Here
AKA Build Like A Boss, The B-LAB is Tanya Aliza's FREE Facebook Mastermind group full of awesome Networkers and Entrepreneurs that are all on a mission to grow their businesses Faster and easier with Online Strategies for prospecting, recruiting and sales. We do themed days of the week, we hold each other accountable and we lift each other up! Come introduce yourself and your business.
Did you get some value from these network marketing tips?

I hope you did because each week I put my heart into making sure you get some amazing network marketing tips so you can rock it in your business while creating a life you love.

Wanna Share This Because You Love Sharing Valuable Info?
Each Monday I post a new video training and free resource on my blog.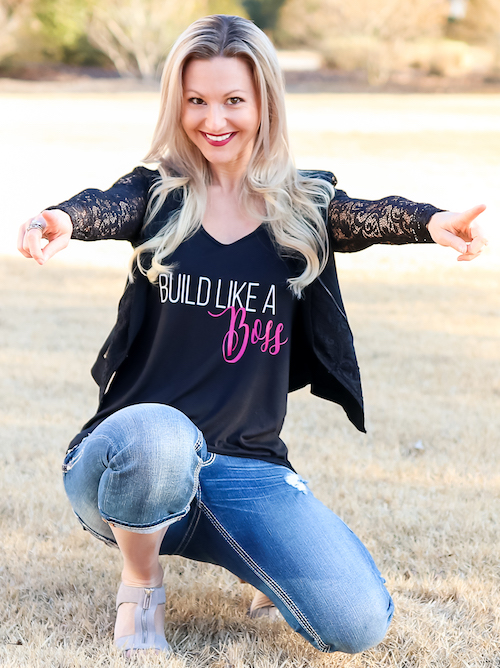 Each Tuesday I do a Live Q&A training on my Facebook Page so make sure we're connected www.facebook.com/tanyaaliza
Stand Out and Stay Connected… drop a comment below.
You are a Rock Star!
Question of The Week: I'm curious to know the goal date you have to get this in place with your team…. Share in the comments section below cause I'd love to know.
Also, let me know how you enjoyed this week's episode, I love hearing the feedback.
Hope you enjoyed these network marketing tips;-)