In this episode, you'll learn my best network marketing training on how to get your team motivated and fired up with team contests so that the majority are participating and winning inside of your team.
Are you having a hard time motivating your team and getting them in action?
Does it feel like you're the only one on your team who treats your business like a business?
Click play below to watch this week's episode of Tanya Aliza TV so you can learn some simple strategies to get your team motivated and in action.
Network Marketing Training – How to Motivate Your Team & Get Them Excited To Work- Episode 66
With every Episode of Tanya Aliza TV, I like to empower you with a POWERFUL free resource that you can implement right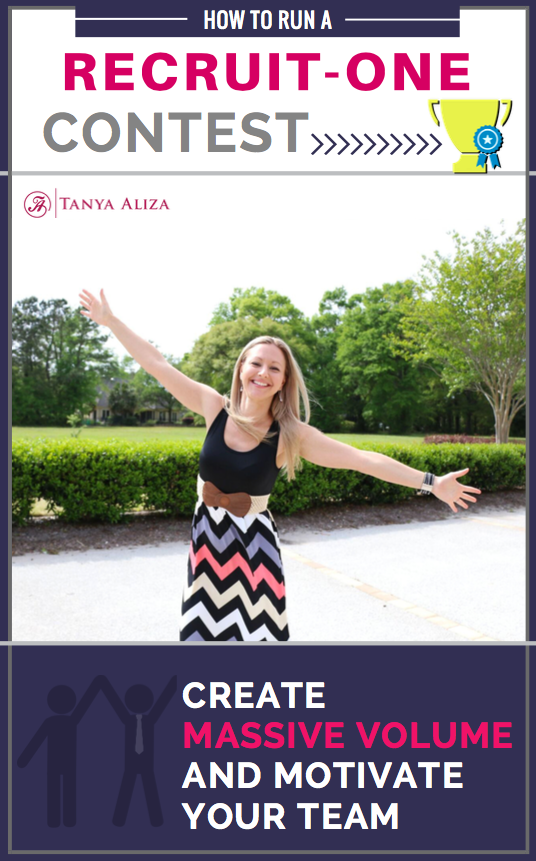 away and create results with fast in your business.
This week, I'm giving you My Recruit One Team Contest Guide.
This is a free network marketing training resource for you and your team to use to help you create a contest that gets everyone wanting to participate and winning inside of your team.
This episode was inspired by a question from one of my fans and followers inside of my Free Private Mastermind Facebook Group. She was struggling to get her team motivated and committed and asked me to help her out.
So, in this episode, you'll learn all about setting expectations with your team mates and a really cool strategy to get EVERYONE motivated, not just your movers and shakers.
Network Marketing Training – Set The Right Expectations With Your Team From The Beginning
It's important to remember that in Network marketing you're not employing people. You're bringing in people who want to become their own bosses and will run their business on their own terms.
They can work as hard as they want or as little as they want. The choice is theirs.
For this reason, when someone new gets started with me in my team, I'll ask them what their goals are.
Once they share their goals with me I'll ask them how serious they are about their goals.
I'll then share with them the reality of being in business for yourself.
I'll prepare them to expect to lose motivation and feel like quitting a couple of times throughout their career in network marketing.
After I mentally prepare them for tough times in their business, I'll ask them these questions;
"How do you want me to help you through those tough times?" "Do I reach out to motivate you?" "Do I leave you alone?" "What would you like me to do?"
This question will give you not only insight into how you can help them but also gives you permission to give them a little "tough love" if needed 😊
Network Marketing Training – The Pareto Principle
One thing that you have to remember as a team leader is the 'The Pareto Principle' more famously known as the 80/20 rule.
This principle states that 80% of your income is going to be generated by 20% of your team.
This means that 80% of your income is going to come from 20% of your teams effort.
But your goal in network marketing is to get a lot of people to give a little bit of work over a long and consistent period of time. That's actually something I heard Eric Worre say and I thought it was brilliant.
Network Marketing Training – Run A Team Contest That Works For Everyone
Team contests and incentives are a great way to keep your team in action.
If you're not already doing team contests, you'll want to start because they work really well.
A strategy we use that works really well for us is to run what we call a "recruit one contest." I outline how I create this contest inside this week's free network marketing training resource.
With this type of contest everyone is going to run to participate because it's designed to get everyone engaged and motivated.
This isn't a contest designed only for your leaders but also for those that want to participate on a lower scale but still wants to experience some wins in their business.
Because timing and circumstances can be different for everyone, you don't want to ignore the 80%.
The 80% in Network Marketing is important because as I mentioned before, it's the small effort over a long consistent period of time that also contributes to your team volume and sales.
Go check out My Recruit One Team Contest Guide and get this started with your team so you can increase your sales and volume in your business.
Click on the yellow button below to download this free network marketing training resource:
Some Awesome Resources That Will Help You Even More
If you want your team to grow and participate, you'll want to create a team culture that is fun and rewarding to be a part of.  So, I'm going to leave you with some resources that will help you make this happen:
Attraction Marketing Bootcamp – Learn More
This is a free 10 day Online Recruiting Bootcamp where you'll learn how to use the internet to generate leads and have prospects calling you about your product, service or opportunity. This is a great resource if you're looking for more people to talk to about your business and it really serves and helps this Recruit-One contest.
Your First 90 Days – Learn More
This is one of my favorite resources and trainings when it comes to understanding how to start or re-start your business the Right Way. I share this training with many of my new teammates and I encourage them to go through it multiple times…it's that good.
Influence (Book) – Learn More 
Have you ever wondered how some people just have that 'Magic' over others? They can go up and talk to people easier, they can command attention and lead people into buying decisions easier…. how do they do it? Is it just a gift? Nope… it has everything to do with understanding how people operate and how to INFLUENCE them. This is one of my favorite books and if you're in a position where you collect decisions from people (sales) this is a MUST read!
The B-L.A.B. – Come Join Us 
AKA Build Like A Boss, The B-LAB is Tanya Aliza's FREE Facebook Mastermind group full of awesome Networkers and Entrepreneurs that are all on a mission to grow their businesses Faster and easier with Online Strategies for prospecting, recruiting and sales. We do themed days of the week, we hold each other accountable and we lift each other up! Come introduce yourself and your business.
Did you get some value from this network marketing training?

I hope you did because each week I put my heart into making sure you get some amazing network marketing training and strategies to rock it in your business while creating a life you love.

Wanna Share This Because You Love Sharing Valuable Info?
Each Monday I post a new video training and free resource on my blog.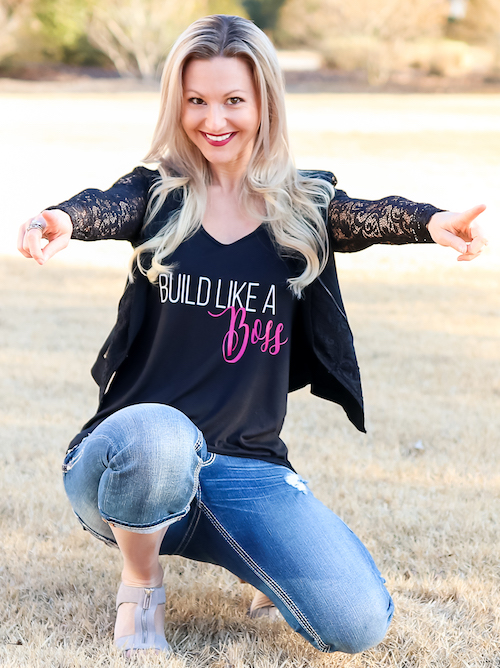 Each Tuesday I do a Live Q&A training on my Facebook Page so make sure we're connected www.facebook.com/tanyaaliza
Stand Out and Stay Connected… drop a comment below.
You are a Rock Star!
Question of the week: Did this network marketing training help you? What are you currently doing that's working really well to motivate your team?
If you have something that's working I'd love for you to share it in the comments below!