This network marketing training will help you if you're team is starting to grow and you're wanting to be the BEST leader to them… but …you're struggling to find some balance.
Cause if you don't, you'll burn yourself out being everything to everyone in the team.
And that would NOT be good for you or your team.
I made my fair share of mistakes when I first got started in Network Marketing and started growing a team…and that's how I learned what to do and NOT to do as Upline leader.
In this Episode of Tanya Aliza TV, I'm going to give you 5 things that you SHOULD do to be the best Upline …AND what you shouldn't do, so you can empower your team to become leaders instead of enabling them to become dependent and lazy.
Network Marketing Training – How To Be The Best Upline To Your Team Without Burning Out – Episode 170

With every Episode of Tanya Aliza TV, I like to empower you with a POWERFUL free resource that you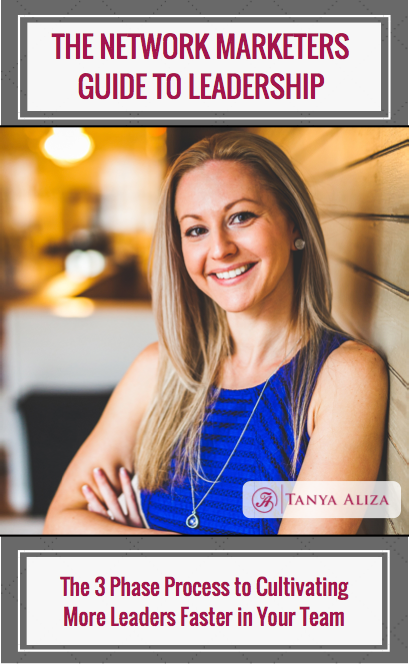 can implement right away and create results with fast in your business.
This week since we're talking about being the best leader to your team, I'm giving you My Network Marketers Guide To Leadership so you can be a great leader that creates a team culture of leadership and resourcefulness.
One of my favorite things about Network Marketing is the leverage and duplication that's built into growing a team.
That is…if you do it right.
If you don't do this right, you'll burn yourself out and won't ever get to enjoy the leverage that it can bring you.
I definitely made my fair share of mistakes when I first got started in Network Marketing and started growing a team…So after a lot of trial and error, I created a proven process that cultivates leaders faster (at least the ones that want that role).
I'm going to break it down into 5 steps.
Let's dive right in…
Network Marketing Training #1 – Set the expectation from the beginning
Rather than telling your new people what they might want to hear…I want you to set up the expectation that you're looking for leaders.
Let them know that you'll guide them in their business but you won't do everything for them.
They will be expected to put in the work and figure things out and experience things on their own sometimes.
This way the expectation is set and you won't create a big old mess for yourself.
Network Marketing Training #2 –  Work Closely within the first 30 days and then let them fly
In the first 30 days work closely with them and teach them the ropes.
Whatever you're already doing in your team that's working…. do that, but do it with them, so they can see how it's done.
And then…let them FLY!
Kick them out of the nest so they can fall down a couple of times and learn to get back up.
This is how people learn best.
When they have to overcome their own challenges, it builds them into leaders if they allow it to.
So definitely work closely with them for the first 30 days and then let them fly on their own and develop themselves in their business.
Network Marketing Training #3 – Use your resources and plug them into your support channels
When I have a new rep getting started I make sure they have our company's support telephone number because I do not want to be customer support… and neither do you so make sure they know how to reach out to them.
I also make sure I plug them into our team training, Facebook groups and Facebook team chat threads for help and support.
If you don't have a Facebook team chat set up in messenger…you gotta start one.
We have one in my team and it's a huge time saver because everyone in the chat can help out so it's not just one person doing all the work.
This is super important so you don't burn out answering questions 24/7.
Network Marketing Training #4 – Give them a checklist
If you don't have a getting started checklist you need one.
This way your new rep has a guide and the steps they need to take once they get started.
You don't want them waiting around on you for instructions…just give them the getting started steps and get them plugged in right away.
Network Marketing Training #5 – Recognition and Appreciation
Make sure you recognize your new teammates for being resourceful and also let them know you appreciate them.
I send out Birthday cards with a tool I use called Send Out Cards to make this super easy but special at the same time.
If you haven't heard of Send Out Cards check it out in the show notes section below. It's a really cool tool.
Find a way to make people feel loved and good inside your team.
This will make them want to stick around and do more which is great for everyone.
Network Marketing Training – In Closing
The fastest way to grow your team and cultivate leaders is to be one yourself.
And you do this by setting the example.
Leaders don't do everything for their new reps and they definitely don't answer questions 2/7.
They work with their new people on mindset and lead them to the resources, support channels, and training but they don't enable them to become dependent on them.
Instead, they raise the standards and help them become the leaders they are meant to be.
And remember if you want to dive deeper into this make sure you download My Network Marketers Guide To Leadership so you can be a great leader that creates a team culture of leadership and resourcefulness.
You can download it by clicking on the yellow button below 👇

Resources Mentioned & More That Will Help Rock Your Biz
Social Marketing & Recruiting Bootcamp – Learn More Here
This is a free training I'm doing with my good friends John & Nadya Melton and were showing you How We Use 1 Simple Facebook Group To Sell & Recruit New Teammates Like Clockwork In 3 Easy Steps.
If you want to be a great leader and get better at RECRUITING new teammates in a way that duplicates…this training is for you!
Episode 9 – How To Create Leaders In Network Marketing – My biggest mistake – Learn More Here 
The Ultimate Branding Blueprint – Learn More Here
One of the fastest ways to set yourself apart as a leader is to create an Online Brand for yourself. It's also the best way to attract high quality leads and sales for your business.
If you want to learn exactly how to build your brand online then check out my signature course that will show you exactly how to build an Influential Brand Online that attracts leads and sales for your business.
SendOutCards – Learn More Here
This is an online greeting card and gift platform where if you want to send someone a physical 'Thank You' Card or gift you go into your online portal and you enter in their details and a personalized 'Thank You' Card and or gift is physically sent to your recipient. I use this to Recognize, Congratulate, Wish Happy Birthdays and Network. I absolutely love this service!
The Psychology of Influence Book – Learn More
One thing leaders do well is understand how people operate. If you want to learn how people operate and make decisions you'll want to read this book.
I talk about this book all the time and if you don't have it yet, I suggest you go get it!
The B-L.A.B. – Come Join Us Here
AKA Build Like A Boss, The B-LAB is Tanya Aliza's FREE Facebook Mastermind group full of awesome Networkers and Entrepreneurs that are all on a mission to grow their businesses Faster and easier with Online Strategies for prospecting, recruiting and sales. We do themed days of the week, we hold each other accountable and we lift each other up! Come introduce yourself and your business.
Did you get some value from this network marketing training?

I hope you did because each week I put my heart into making sure you get some awesome network marketing training so you can rock it in your business while creating a life you love.

Wanna Share This Because You Love Sharing Valuable Info?
Each Monday I post a new video training and free resource on my blog.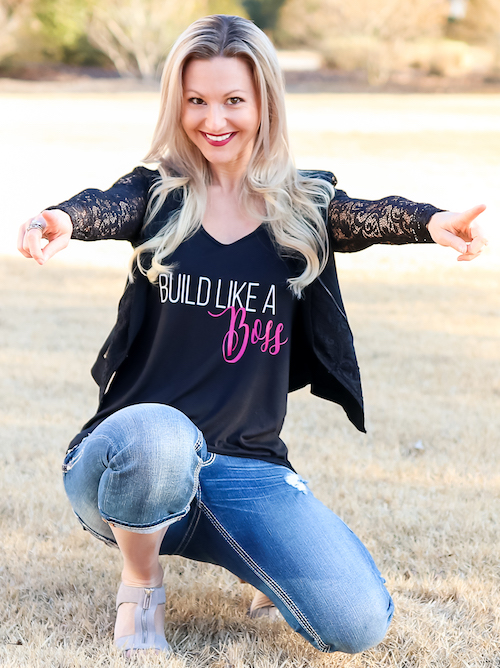 Each Tuesday I do a Live Q&A training on my Facebook Page so make sure we're connected www.facebook.com/tanyaaliza
Stand Out and Stay Connected… drop a comment below.
You are a Rock Star!
Question of The Week: Is there a Network Marketing Leadership tip that you implement in your business that you'd like to share?
If you do share in the comments section below. I would love to know!
Hope you enjoyed this network marketing training 🙂