In this network marketing training, I share 3 really awesome tips that will help you and your team get fired up again if you've lost some momentum and excitement.
Have you had your team's momentum fizzle out a little bit?
Maybe you've lost your motivation as well?
And we all know that no one gets paid in network marketing unless they're in action…you and your downline needs to be taking action every single day.
If you want your team to get fired up again so you can start seeing BIG results…this episode is for you!
In this episode of Tanya Aliza TV, I'm going to share with you three ways that you can increase and inject the momentum back into your business so you can start seeing the results you want.
How To Re-Spark The Momentum In Your Business When Things Fizzle Out – Episode 179

With every Episode of Tanya Aliza TV, I like to empower you with a POWERFUL free resource that you can implement right away and create results with fast in your business.
This week since we're talking about relaunching your business, grabbing that momentum, and injecting it back into your team and in your business. I've put together My Business Launch Strategy Plan for you to download and use.
It will show you step by step exactly how I do my business launches and go on a 90-day run with my team so that everyone goes into activity mode, gets excited and momentum starts to pick up again.
You can download it by clicking on the yellow button above ☝️
You're probably wondering how the momentum fizzled out in the first place right?
Well, the answer is pretty simple.
Lack of activity.
If you're in activity mode, even if it's just a little bit every day, you typically will never experience the momentum fizzling out.
And I know, I know…activity mode is really hard to get back into especially when you've been in a funk.
So, I'm going to give you three really good tips that will make it easier to increase the momentum and get out of that funk.
Network Marketing Training – #1 Relaunch your business
Yep, doesn't matter if you've been in the business for 5 years, 10 years, 500 years, 5 minutes.
You can launch your business, and you can come up with a really cool business launch plan.
Typically, I'll do this in a 90-day run leading up to a quarterly event in my business.
So, decide and commit, to doing a business relaunch, either if it's just yourself or if you have a team, bring your team on board and relaunch.
Network Marketing Training – #2 Get on a Zoom or conference call with your team
You'll want to get on a Zoom or a video conference call with your team and let them know the plan.
Let them know what you're doing, what you're going to be doing as far as the launch goes, and inject that momentum and excitement throughout your team.
Remember, it starts with you as the leader to create that excitement and to create that activity.
They're going to be following the leader so be that great leader.
Pro Tip: When you're doing this business launch and then you get on the video conference call with your team, most people love accountability so do a video conference call once a week for maybe the next four to eight weeks with your team.
Do an accountability check and keep the momentum going each and every week with the activity that you've outlined in your business launch plan.
Network Marketing Training – #3 Get an accountability partner
Get an accountability partner for the next 30, or 60, or 90 days.
It's so much better when you're running with a partner towards a similar goal.
You guys can motivate each other, check-in with each other, and just remember…a lot of the time, it's easier to give up and disappoint ourselves than somebody else.
So bring an accountability partner into the mix to help you inject that momentum back into your business.
Network Marketing Training – In Closing
You want to make whatever you're doing fun, and if there's any way that you can gamify it, you're going to see some pretty amazing magic happen inside of your team and your own momentum.
So find a way to gamify it. You can have prizes and put a contest together to help get most of your team motivated and having fun again.
Inside My Business Launch Plan that I'm giving you with this episode, you're going to see exactly what I do and how I also construct some of my contests and some of my prizes inside of my team.
So make sure to download it by clicking on the yellow button below 👇

Check out the resources in the show notes below for even more amazing resources that go with this episode.
Resources Mentioned & More That Will Help Rock Your Biz
Social Marketing & Recruiting Bootcamp – Learn More Here
This is a free training I'm doing with my good friends John & Nadya Melton and were showing you How We Use 1 Simple Facebook Group To Sell & Recruit New Teammates Like Clockwork In 3 Easy Steps.
If you want to be a great leader and get better at RECRUITING new teammates in a way that duplicates…this training is for you!
Episode 27 – Network Marketing Business Plan – How To Launch Your Business – Learn More Here 
The Network Revolution (Book) – Learn More Here 
This book was co-authored by my good friend and Lady Boss, Jessica Higdon. I not only love cause I'm in it (wink wink) but because it showcases many success stories from everyday people that have created amazing results in Network Marketing. I have multiple copies of this book on hand to share with my prospects as an amazing recruiting tool. I suggest you order a few copies too!
The Miracle Morning For Network Marketers (Book) – Learn More
This is one of my favorite series of books. I happen to be featured in this book because of my crazy liking for my miracle morning routine and how it's totally helped me and my business. If you're trying to get a more solid routine down that you can follow to create more success in your business… this is a great book to read.
The B-L.A.B. – Come Join Us Here
AKA Build Like A Boss, The B-LAB is Tanya Aliza's FREE Facebook Mastermind group full of awesome Networkers and Entrepreneurs that are all on a mission to grow their businesses Faster and easier with Online Strategies for prospecting, recruiting and sales. We do themed days of the week, we hold each other accountable and we lift each other up! Come introduce yourself and your business.
Did you get some value from this network marketing training?

I hope you did because each week I put my heart into making sure you get some amazing network marketing training so you can rock it in your business while creating a life you love.

Wanna Share This Because You Love Sharing Valuable Info?
Each Monday I post a new video training and free resource on my blog.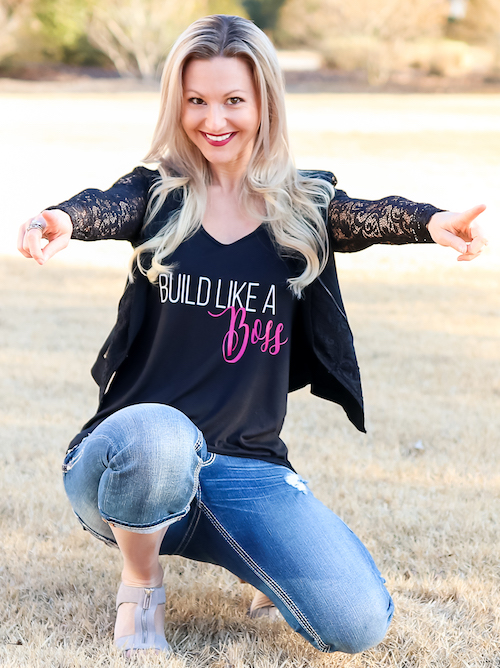 Each Tuesday I do a Live Q&A training on my Facebook Page so make sure we're connected www.facebook.com/tanyaaliza
Stand Out and Stay Connected… drop a comment below.
You are a Rock Star!
Question of The Week: Have you ever had to inject a surge of momentum back into your team? If yes, tell me what you did to get the momentum back.
I would love to know!
Hope you enjoyed this network marketing training 🙂