Running low on business motivation? 
Then, like me, you need to start doing affirmations.
I don't want to sound cheesy here, but I do believe my daily affirmations have led me in the direction I want to go.
This has been one of my secrets to attracting wealth, success (and even love!)
I've never been selfish with all of you (I love y'all!) and I want you in on all the goodness affirmations yield.
So, today, I want to share with you 17 Phrases that I use to motivate myself and attract wealth.
Read on if you want in!
Business Motivation – 17 Affirmations I Use Everyday To Attract Wealth –  Episode 265

With every episode of Tanya Aliza TV, I like to equip you with a POWERFUL free resource that goes with the episode which you can implement right away to create some of the same results, if not better, in your entrepreneurial ventures.
 Since we're talking about business affirmations I just want to announce that I have a brand new mini workshop called "My Millionaire Morning Routine" that we just launched.  Depending on when you're watching this video right now, enrollment may or may not be open. 
After attending the workshop, you'll learn how to attract wealth, success, clarity, and happiness into your personal and business life.
So, if we're open, better get in! If we're not, get on the waitlist.
You can register for this workshop by clicking the yellow button above👆
Business Motivation – 17 Affirmations I Use Everyday To Attract Wealth
Whether you're asking  How To Get Yourself Out Of A Funk And Motivated To Take Action 
…or you're feeling Stuck In A Rut? This Mindset Hack Will Get You Back In Action Mode , you're going to LOVE these affirmations.
17 Affirmations I Use Everyday To Attract Wealth
These 17 affirmations are going to get you back on track, motivated, and excited about what you are working on.
I'm exactly where I'm supposed to be right now

I have all I need to create success

I am a successful Entrepreneur 

One day at a time

I am the best mom/fur mom

I am the most loving and passionate girlfriend/wife 

I am a cash millionaire by _________________.

I have the best mentors/coaches and teachers that are excited for me to succeed

I am balanced and happy

Money flows freely to me

Top Influencers connect with me and want to hear my story

I attract the best high value clients that are excited to work with me

I have a thriving community that's growing every day

I am the best version of myself

I love growing, learning and expanding my mind

I make $____________ per month with ease

I am fit and I love my body
Using these affirmations are actually part of my own personal Millionaire Morning Routine that I implement every single day. 
Take these affirmations and put them into your day.  
When you say them, say them with conviction. Speak life into them! 
You can also take this a step further and enroll in my mini workshop called The millionaire Morning Routine.
In the workshop, I will help you build out your 22-minute Millionaire Morning. 
Go to tanyaaliza.com/mmr to register for the workshop.
In Closing
Now go get that business motivation!
These 17 affirmations will  help get you back on track and excited for what you're working on.
Remember, you have to put them into your day and speak life into them!
Again, don't forget to register for the "My Millionaire Morning Routine" 
After attending the workshop, you'll learn how to attract wealth, success, clarity, and happiness into your personal and business life.
You can register for this workshop by clicking on the yellow button below 👇

 Resources Mentioned & More That Will Help Rock Your Biz
The Millionaire Morning Routine – Learn More Here
As Entrepreneurs and Business Owners we need clarity, focus, routine, systems and a plan that gives us results, but more importantly the Freedom and Lifestyle that we're working towards. I'm always asked to share my morning routine and I finally have been able to do this in this program. In my Millionaire Morning Routine I share with you how I attract wealth, success, clarity and happiness using my 5 step, 22 min morning routine. This routine has completely changed my life and I hope it helps you as much as it's helped me.
The Miracle Morning Book – Learn More Here
My List Building Bootcamp – www.mylistbuildingbootcamp.com
I created this 6 week workshop to walk you through the simple steps of creating a high quality sales funnel for your Brand that attracts an engaged audience of perfect buyers to you. After you complete this program you will have a Freebie Funnel that brings you qualified leads, builds your email list (even if you don't have one yet) and affords you the opportunity to spend less time on social media while making more sales..
Tanya's Toolbox – Learn More Here
Many people ask me to share my personal camera and video gear, my health, wellness and beauty products, my favorite books and more. Instead of listing out each item individually here on the blog, I made some really cool 'KITS' that you can check out.
I update these favorites all the time to make sure that I'm giving you the 'latest and greatest' in what I personally use and love.
If you don't have a KIT that you share with your audience yet… make sure to check out the free training I made for you here → www.tanyaaliza.com/267 
Kit's are awesome and a great way to also add an additional revenue stream to your Brand.
Done 4 You Brand Services – Learn More Here
For my super busy Entrepreneurs out there, I know that you might not have the time to go through the steps of a course or program, and you have the resources to get the experts to do all the work for you. Good news for you… My dedicated internal design team and I can work with you to get your online brand and business all set up. We are marketing experts AND design professionals which makes a big difference when it comes to your Online Brand and attracting leads and sales.
We build and design marketing funnels, websites/blogs, logos, brand boards, facebook business pages and more!
B-LAB – Come Join Us Here
The B-LAB stands for BUILD LIKE A BOSS! And that's exactly what you are! You're the Boss of your business and the BOSS of your life!
However, being the BOSS and carrying the weight of that everyday can get lonely, that's exactly why I created The B-LAB! This is the place to meet and engage with other Entrepreneurs going through the exact day to day processes as you.
My team and I are inside this community helping you, celebrating you and supporting you through your Entrepreneur journey… along with 37,000+ Entrepreneurs!
Did you get some value from this strategy?

I hope you did because I put my heart into making sure you get good training on keeping yourself motivated and excited for your business.

Wanna Share This Because You Love Sharing Valuable Info?
 Each Monday I post a new video training and free resource on my blog.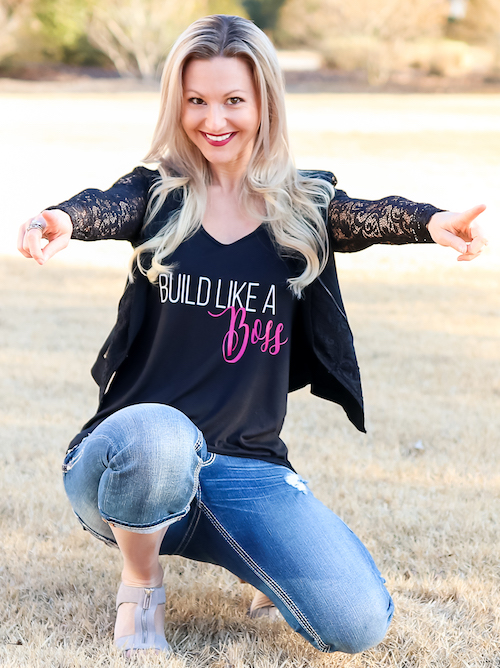 Each Tuesday I do a Live Q&A training on my Facebook Page so make sure we're connected www.facebook.com/tanyaaliza
 Stand Out and Stay Connected… drop a comment below.
 You are a Rock Star!