Are you loving Instagram stories?
I'm pretty sure you're seeing all these Brands, Influencers and people using Instagram stories and probably wondering…
How the heck do I get them to work for my business?
I mean, you want business results right? You don't just want to waste time on Social Media.
In this Episode of Tanya Aliza TV, I'm going to share with you why you want to be using Instagram stories and how to use them effectively to get more sales for your business, products, and services.
How To Use Instagram Stories To Grow Your Business – Episode 161

With every Episode of Tanya Aliza TV, I like to empower you with a POWERFUL free resource that you can implement right away and create results with fast in your business.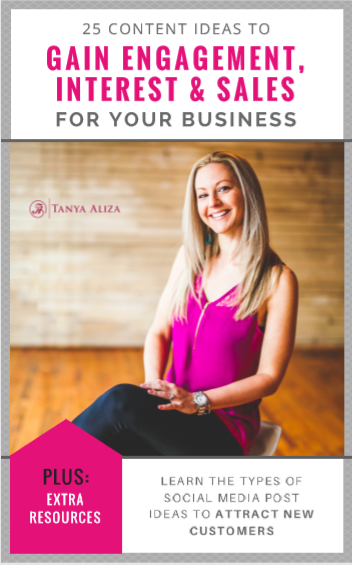 This week since we're talking about using Instagram stories to make more sales and what to post when doing your Insta stories…I put together My 25 Social Media Post Ideas so you know WHAT to post so you can get the most eyeballs and engagement from your posting efforts.
So make sure you download it by clicking on the yellow button above.
Why Instagram stories?
Using Instagram stories is one of the FASTEST ways to build a relationship with your audience.
And building a relationship with your audience is what it's all about.
I don't necessarily use it to bring in cold market prospects but what I do love using it for is to get people warmed up to me and my brand.
It's a great way to get people to know you better.
Instagram stories help you understand your audience better
Instagram stories are a great way to better learn and understand what your followers like and need.
You can do this in the form of using polls to ask your audience questions to understand better what they need or want.
This is the perfect way to get more insights about your audience so you know exactly what you type of content you should be posting.
Instagram stories give you the opportunity to showcase what you love
If you're building a brand online then you'll have an opportunity with your Instagram stories to showcase what you love and use.
I'm going to share some examples with you here on how to effectively do that but this is a great way to lead into your recommendations and suggestions which will, in turn, lead into more sales for your business, products or services.
Instagram stories give you the opportunity to showcase testimonials
I love this one because it's so powerful for people to see other people's success stories with using your products or services.
So whenever you see testimonial take a screenshot of it and use it on your Instagram stories because it's a powerful way to get people curious and interested in what you offer.
What to post on your Instagram stories
If you've been following me and my training for a while you know that when it comes to content I recommend following the 80/20 rule.
With content, I say that 80% of your posts should be education, lifestyle & entertainment type posts and the other 20% should be promotional posts with a direct call to action.
But with Instagram stories, I believe you should follow the 90/10 rule which means most of your Instagram Stories should be lifestyle posts because the best way for people to build a relationship with you let them into your life as if it we're your own reality TV show.
How to promote with Instagram stories
And when you're about to promote something… you don't do it by saying 'Hey come check out my XYZ product…that's not the way to go about it with Instagram stories.
You'll want to frame it as a recommendation or suggestion for people to check out.
I do this on my Insta stories with products I promote and I make it fun and just show myself using it and how much I enjoy it so that people get curious as to what it is and what it's all about.
And then at the end as a call to action, I use this really cool strategy that I learned from my good friend Rachel Jackson where she uses the phone number element question box that Instagram gives you to tell people to drop their phone number in the box if they want to get more information by text.
It's a really cool way to get people reaching out to you to learn more about what it is that you're using and recommending.
Pro Tip on getting great ideas for your Instagram stories
Here's a little secret I use on getting great at using Instagram stories to build your business.
Go follow at least 10 of your favorite influencers that are using Instagram stories and pay real close attention to what they are doing and posting.
Then you'll want to gather and write down some ideas for content and posts that you can do as well with your stories.
Instagram stories – In Closing
If you're not carving out some time in your schedule to use Instagram Stories to grow your business — I hate to say it but you're missing out.
It's such a fun way to get HOT leads reaching out to you through direct messages.
Most people just don't know what or how to work Instagram stories to grow their business.
So to help you out with this even more, remember that I've got My 25 Social Media Post Ideas ready for you so you know what to post on Social Media and make the most out of your Instagram stories posting efforts.
You can download it by clicking on the yellow button below 😉

Resources Mentioned & More That Will Help Rock Your Biz
Jab Jab Jab, Right Hook (book) – Learn More Here
This is one of my favorite books and I recommend it to anyone that wants to master the art of Social Media to get it and read it 5 times! It teaches you how to function on Social Media to get the most results.
Free Online Training Class – How I Enroll 2-5 New Teammates Per Week Using This Social Media Blueprint – Learn More Here 
Come join me on this exciting training class that I'm hosting where I'm going to share with you my Social Media Prospecting Blueprint. This is a perfect way to leverage your time and build your business from anywhere in the World via your computer. I'll also share with you how to Attract Leaders and High Volume Producers to your business.
Beyond Objections – Learn More
In this powerful 77 min Audio training and downloadable Cheat Sheet you will be equipped to handle any objection or question that your prospect gives you after you share your business with them.
Download the audio to your smart phone, tablet or computer and take it with you on the go, at the gym or in the car and become a professional in closing the sale without being salesy or weird.
It's all about finding out what the REAL questions and objections are and leading them into the direction of a sale or new teammate.
The B-L.A.B. – Come Join Us Here
AKA Build Like A Boss, The B-LAB is Tanya Aliza's FREE Facebook Mastermind group full of awesome Networkers and Entrepreneurs that are all on a mission to grow their businesses Faster and easier with Online Strategies for prospecting, recruiting and sales. We do themed days of the week, we hold each other accountable and we lift each other up! Come introduce yourself and your business.
Did you get some value from these Instagram story tips?

I hope you did because each week I put my heart into making sure you get some amazing Instagram story tips & more so you can rock it in your business while creating a life you love.

Wanna Share This Because You Love Sharing Valuable Info?
Each Monday I post a new video training and free resource on my blog.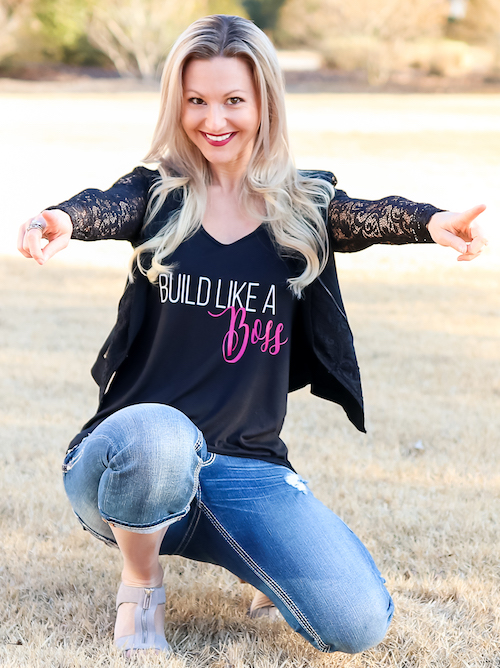 Each Tuesday I do a Live Q&A training on my Facebook Page so make sure we're connected www.facebook.com/tanyaaliza
Stand Out and Stay Connected… drop a comment below.
You are a Rock Star!
Question of The Week: Would you like me to do a private training on Instagram and all the ways that you can use it for business?
Share with me in the comments section below. I'd love to know!
Hope you enjoyed these Instagram story tips 🙂