The fastest way for your new reps to reach network marketing success is to get them started the right way…
So when a new rep gets started… do you bring them in at the highest package or the lowest package?
How do you know which serves your prospect best?
How you get a new rep started has nothing to do with you and it has everything to do with your prospect and serving their needs should be your top priority.
In this Episode of Tanya Aliza TV, I'm going to show you how to get a new rep started in your network marketing business so that you can both make MORE money…but most importantly, set your prospect up to WIN so they can hit their goals as FAST as possible.
Network Marketing Success – Get Your Reps Started On The Highest Package – Episode 129

With every Episode of Tanya Aliza TV, I like to empower you with a
POWERFUL free resource that you can implement right away and create results with fast in your business.
This week, since we're talking about how to get a new rep started in your business I'm giving you My Getting Started Roadmap To A Full-Time Residual Income In Network Marketing so you can reach your network marketing income goals FAST.
I was introduced to network marketing back in 2009 while I was working as a finance specialist for a very large automotive group doing all their financing and leasing.
And while I was making a lot of money…I had no TIME!
No time to enjoy my life and travel to all the places I wanted to.
Can you relate?
This led me to accept an invitation to a home meeting from a girlfriend of mine and her upline was sharing the different income levels and sharing the averages each rep made in the company.
And then he shared the income level that they were at and I was completely skeptical.
As a matter of fact, I was skeptical about the whole thing.
But when they got to the point shared their annual income and the number of hours a day they were working…I was all ears!
And for me, it was more the time freedom than the money.
Now my mom raised me to be a smart Lady Boss.
She taught me that when you want something in life you need to find someone that has what you want and do what they're doing.
So when my friend's upline shared their story with me and told me that they started at the highest package…I was more than ready to get started at the highest package.
I wanted to be in the position that they were in so I didn't even blink an eye and did exactly what they did when they got started.
So I'm going to share with you a couple of closing questions that I took away from that experience back in 2009 when I first got started in Network Marketing and I have used it in my business to help me figure out what the best package is for my prospects to get started with.
Network Marketing Success – Prevent resistance so they want to join
The full package isn't going to necessarily be for everybody and you want to make sure you're serving your people in the best way possible.
This way they feel like they are being taken care of.
If your goal is to get every single person on the highest package so that you'll make the most profits, your prospects will pick up on that and they will resist joining your team.
This is definitely something you want to avoid doing.
So how do you avoid this from happening?
You want to ask the right questions…
Network Marketing Success – Find out what your new reps goals are
Here's an example of one of the questions that I ask my prospect right off the bat after they watch the presentation and they want to get started;
"There's a couple of ways that you can get started with us and I want to make sure that I set you up properly to win. So can you share with me how much you would want to earn every month initially in this business?"
So if someone says to me that they want to earn less than $500 a month, I'll offer a mid to lower package for them to get started at.
But if they tell me they want to make $1000 or more a month, I'll tell them;
"Okay that's awesome, I can help you get there and we have a roadmap to help you reach that goal as fast as possible."
I'm going to give you a couple of recommendations on how I suggest you get started to reach that income goal.
And then I'll share my story with you on how I got started and I'm going to make a couple of recommendations on how I suggest you get started too."
Network Marketing Success – Share your story and let them choose
So I'm not telling them what package they have to start with and I'm not boxing them up into just 1 option, instead, I'm sharing my story on how I got started which is at full-package of course.
So without them feeling uncomfortable or pushed into a certain package, I helped them feel guided and then once I do that I let them attach themselves to the package that they feel suits them best.
Network Marketing Success – It starts with you
Remember that this whole process starts with YOU.
And if you have a powerful story to tell your prospect about how you got started then you'll want to start your business the right way.
If YOU start with the highest package you can inspire and empower your prospects to start out their business like you did.
If you're in your business to win then create a powerful story for yourself.
Order product, get the highest package and you'll be able to powerfully say what you did when you first started in your network marketing business.
This is so much more powerful and effective than telling someone 'this is what I think you should do'
Instead saying… 'This is what I did' and then letting them choose…is a very strategic and effective closing line that will help you and your prospects go where you both want to go in your business.
Network Marketing Success – In Closing
So the takeaway here is that it all starts with YOU.
Your network marketing success depends on YOU modeling throughout your business what you want your team to do.
So if you want to go far and reach full-time income levels order at the highest package and you'll see that duplicating throughout your business.
And to help you with taking this one step further I'm giving you My Getting
Started Roadmap To A Full-Time Residual Income In Network Marketing so you can see exactly what you need to do and in what order to hit a full-time income in your network marketing business.
You can download it by clicking on the yellow button below 👇

Resources Mentioned & More That Will Help Rock Your Biz
Free Online Training Class – How I Enroll 2-5 New Teammates Per Week Using This Social Media Blueprint – Learn More Here
Come join me on this exciting training class that I'm hosting where I'm going to share with you my Social Media Prospecting Blueprint. This is a perfect way to leverage your time and build your business from anywhere in the World via your computer. I'll also share with you how to Attract Leaders and High Volume Producers to your business.
Get Over Your Damn Self (Book) by Romi Neustadt – Learn More Here
The No B.S. Blueprint to building a life-changing business. This is one of the best books I've read when it comes to learning how to talk to prospects and transition the conversations, naturally, into business. I bought the audiobook, listened to it twice, then bought the paperback because I wanted to highlight the scripts she gives… they are THAT good. This is a book that I highly recommend everyone in Network Marketing to get. For the guys… this is a really feminine read, but still highly worth it.
Your First 90 Days – Learn More 
This is one of my favorite resources and trainings when it comes to understanding how to start or re-start your business the Right Way. I share this training with many of my new teammates and I encourage them to go through it multiple times…it's that good.
How To Come Up With The Money To Join a Business Fast When Money Is Tight – Episode 64 – Check It Out Here
The B-L.A.B. – Come Join Us Here
AKA Build Like A Boss, The B-LAB is Tanya Aliza's FREE Facebook Mastermind group full of awesome Networkers and Entrepreneurs that are all on a mission to grow their businesses faster and easier with Online Strategies for prospecting, recruiting and sales. We do themed days of the week, we hold each other accountable and we lift each other up! Come introduce yourself and your business.
Did you get some value from this network marketing success training?

I hope you did because each week I put my heart into making sure you get some amazing network marketing success training to help you and rock it in your business while creating a life you love.

Wanna Share This Because You Love Sharing Valuable Info?
Each Monday I post a new video training and free resource on my blog.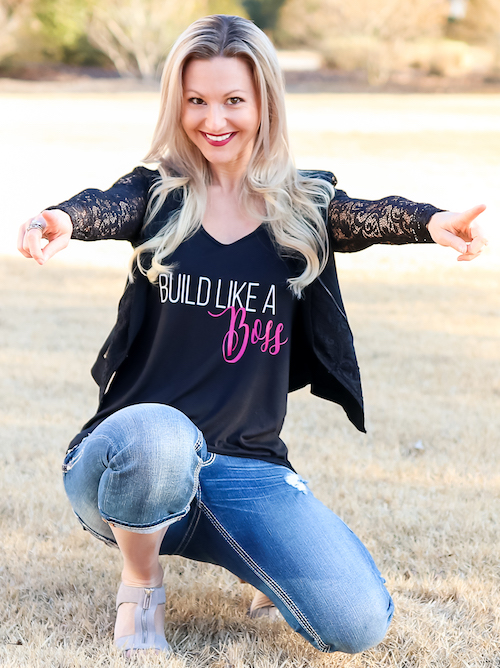 Each Tuesday I do a Live Q&A training on my Facebook Page so make sure we're connected www.facebook.com/tanyaaliza
Stand Out and Stay Connected… drop a comment below.
You are a Rock Star!
Question of the week: How did you get started in your business? Did you start with a small or a large package and what were your income goals?
Share that with me in the comments section below! I'd love to know.
Hope you got a ton of value from this network marketing success training 😉