I'm so excited to finally have the time to sit down and show you how to market on Social Media, because if you're not already using social media to grow your home business, you're leaving a ton of opportunity on the table.
And quite frankly if you aren't on social media catching up new customers and reps, you'll be eating my dust. Just sayin!
But since I'm super cool and like to share my home business building strategies, you're in for a treat with this post today.
I need you to promise me one thing though, instead of just reading this post and saying "ah that's cool", I'd love to see you put this training in action right after you read it and start getting some results. Promise?
Okay cool, lets rock right into the 7 strategies that I have cooked up for you today!
Social Media Strategy #1
My Facebook Page Instead of My Personal Profile
Even though I know a lot of people reading this will already have a Facebook Business page, I also know a lot of you don't have one or you're not using it like you should.
Everything business related will be posted on my Fan Page instead of my personal profile. Why? Because of the biggest reason that no one can argue with, it's against Facebook rules to post business related posts on a personal profile.
So that's where all the cool biz stuff goes now. Plus it's great having my personal profile left for fun friends type stuff.
If you're still trying to get Facebook to work for you and you haven't quite mastered it yet, you can Click Here for a Free Facebook Training that I co-hosted with one of my favorite marketing friends…. you'll love it and be recruiting form Facebook in no-time flat.
Social Media Strategy #2
I FINALLY started using Instagram and I encourage you to do too!
I can't tell you how much I tried to avoid learning Instagram but I had to learn. It's one of those things that if you don't learn, you're going to be missing some great opportunity.
I just went through an epic Instagram training and I'm going to do a training on it soon so keep posted.
I'm starting to really love Instagram because it's easy and on the go and I direct the traffic I get on Instagram back to my blog.
Social Media Strategy #3
YouTube is Awesome!
If you know me, I love videos. I love them so much because they convert people into raving fans, followers and customers very quickly.
In fact, all my coaching clients are taught to do video immediately because of how effective it is.
I use YouTube very congruently with my blog and you'll often see YouTube videos posted on my blog for extra exposure.
Social Media Strategy #4
My Big Bad BLOG
You'll notice that everything on my social media will lead back to my blog. Why? Because I own it and I control the content. Unlike a Facebook or Instagram account, it can never get shut down.
My blog builds amazing relationships with my visitors and its works for me 24/7 even while I'm sleeping.
If you're looking to take your home business to the next level and you don't have a blog in place yet then click the button below to register for my live webinar this Tuesday at 9pm EST.
Social Media Strategy #5
The Stealth Twitter Search
To be honest, I don't use Twitter that much but I think it's an amazing online prospecting tool.
When you log into Twitter you'll see a search bar at the top where you can search for terms that people are tweeting about. This is a perfect way to get in front of your perfect prospect.

For example: let's say you're in the weight loss niche and you type in 'lose weight'
You'll see a whole bunch of people that are tweeting about something to do with losing weight. Connect with these people with a reply message and take the conversation into helping them with your product.
This works even better if you have a blog and you can share a blog post that you did about this topic that gives value and then leads into a recommendation into your products. When they hop over to your blog they'll see how awesome you are and are 10 times more likely to buy from you verses you NOT having a blog!
Yes I'm Blog Biased. Because it works and…. oh yeah… IT Works!
It's amazing how simple this is and how few people know about it.
Social Media Strategy #6
Facebook Video
Lately you've probably seen that I've been uploading videos directly to my Facebook Page instead of just sharing a link to my YouTube video.
What I've noticed is that Facebook is loving this and is rewarding us with more exposure on these videos.
I have a prediction (yes mark these words) that Facebook is going to be the search engine of choice over the next 5 years and it will be taking over a good chunk of Google.
Which means that instead of going to Google to search for things, you'll be doing it right from the Facebook Search bar.

If you understand search engine optimization and keywords, then you'll know that getting ahead of the curve with keyword optimized Facebook connect is critical. Facebook video is an excellent way to do this. Upload the video then make sure the title is keyword optimized. Boom!
#CrushingYourCompetition
Social Media Strategy #7
Facebook Promoted Posts or 'Boost Posts'
Since Facebook is getting more and more restrictive on who's stuff they show more of (based on their popularity contest and who has the most money) we have have to play by their rules if we're going to win the Facebook game.
You've probably noticed that when you post something the post hardly gets seen.
That's Facebook saying 'hey, if you want your posts to get seen by more people, you gotta pay us!'
So here's what I do: 
Since I blog and my blog posts are constructed to give value and get leads. I post the blog post on my Facebook page with some catchy text and then I boost the post on Facebook.
Here's what that would look like on my Facebook page.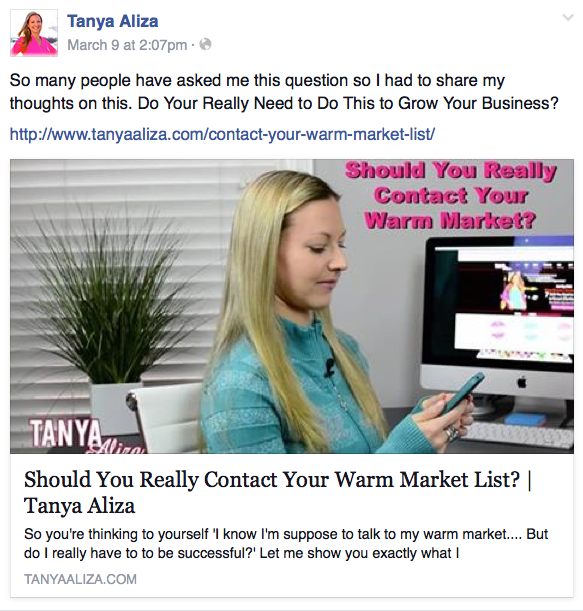 By boosting the post I can get 1000's of eyeballs on it fast, driving a ton of people to my blog and getting a bunch of new Brand exposure to me and what I offer. I spend about $10 to do this and the results are amazing.
Just think about the opportunity that Facebook is giving you with this:
If you had a weight loss product and you did a blog post on '5 Fast Ways to Get Bikini Ready Before Summer' you shared these tips, then at the end of the post you recommend YOUR weight loss product with a link to buy.
In your Boost Post you could target people that like Jenny Craig's page (super targeted audience) and have them coming over to YOUR world and buying from YOU!
It's pretty powerful stuff and I teach more on this in my Blogging Courses.
In Conclusion: Our world is getting more digital, more mobile and more advanced and if we don't keep up with the changes we're going to be left in the dust with our businesses sitting there suffering. It doesn't have to get super technical but you do have to learn some online marketing for your business. Find someone doing it successfully and plugin.
You just learned 7 powerful ways to market on social media and I hope you enjoyed this post. If you did enjoy it, share it on your Facebook and tag anyone that you feel would benefit from it.
See you on the next post and Happy Social Media Marketing!