This episode is going to reveal a very juicy product pricing strategy that has helped me get people to pull out their credit card to purchase FAST and on the spot.
I learned this strategy back in 2017 after I struggled to get people to continually buy a product that I created after the launch was over.
So, If you've either heard crickets after a product launch, not getting enough sales, or you're just really tired of people saying "I'll think about it" – this episode is for you!
This is a strategy I wish I would have known sooner because it would have saved me a ton of time and made me a lot more money.
Let's dive in!
My Product Pricing Strategy That Gets People To Buy FAST – Episode 255

With every episode of Tanya Aliza TV, I like to empower you with a POWERFUL free resource that goes with the episode which you can implement right away to create some of the same results, if not better, in your entrepreneurial ventures.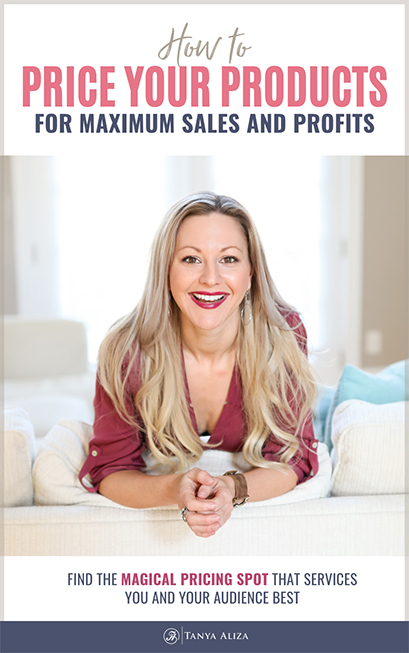 This week, since we are talking about a strategy in pricing your products and services, I put together a guide called How to Price Your Products For Maximum Sales and Profits so you can be on point with your pricing.
After going through this guide you will be able to determine the best pricing for your products and services.
You can download it right away by clicking on the yellow button above 👆
My Product Pricing Strategy – The Influence of Scarcity
The strategy we are about to talk about requires a general understanding of how people make decisions and a book I recommend that covers this is called "The Psychology of Influence"  by Robert Cialdini and it discusses all of the ways you can influence people through the six kinds of human influential triggers.
This is because you are always selling yourself and your ideas.
So, this is a book I read at least once a year to get realigned with everything, and it's something that you have to read and you have to go through as well. It's that powerful.
My Product Pricing Strategy – My First Successful Product Launch
Back in 2014, I had my very first product launch and it was successful. We had $250,000 in revenue for a 10-day launch.
It was huge and I believed people were loving my program. However, after the influx of sales, we had no one buying after – and all we heard were *crickets*
What typically happens during a product launch, and why it's usually successful, is because of the open date and the cart close date.
There is always a short window of opportunity for your customers to buy whatever it is you are selling.
A product launch, therefore, has a whole bunch of scarcity invoked in it so customers usually take action.
But what happens when you re-release the product and the scarcity is completely taken away? They start feeling that they can always "come back to buy".
What happens when your customer procrastinates?
There is no urgency incentive

They never take action and lose sales
Instead of having to relaunch a new product over and over again, what I discovered is you can simulate a launch instead.
How did I manage to simulate a launch? It's through an evergreen funnel.
I have set up my evergreen funnel webinar style. I teach potential customers some relevant and beneficial information then make an offer on the back end.
Here are the two pricing strategies I have incorporated into my evergreen funnel:
Regular and special pricing 
An evergreen funnel allows people who have never seen your offer before to come in and see your offer for the very first time.
What they see is special pricing only available to those coming in fresh.
A short window of opportunity to buy
We sweeten the pot intently.
I typically have two sales/offer pages that show the regular price and bonuses and another with the special price and special bonuses. The latter goes away after a certain period and they will only be able to see the regular sales/offer pages and purchase from there.
Potential customers will have to make a decision right between that timeframe if they want to get the special price and bonuses.
How does this work? This strategy makes people buy faster because of the law of scarcity:
Limited time offer

Limited pricing

Limited bonuses
So think about what you're selling and how you can invoke the same sort of model in your world.
Because if you do you'll get more people buying your courses, your online coaching programs, products, and services faster than ever before.
In Closing
I hope this episode helped show you how scarcity marketing can get your potential customers to take action instead of procrastinating.
Just remember, to introduce scarcity in your process you can always offer regular and special pricing as well as a short window of opportunity to buy the product.
I often get asked how I price my products, and that's why I put together the following guide for you 'How to Price Your Products For Maximum Sales and Profits' to make sure you are equipped with a free resource that will help you come up with a really nice number to price your products and services for maximum sales and profits.
You can download it right away by clicking on the yellow button below 👇

Resources Mentioned & More That Will Help Rock Your Biz
📖 Influence Book – Learn More Here
Have you ever wondered how some people just have that 'Magic' over others? They can go up and talk to people easier, they can command attention and lead people into buying decisions easier…. how do they do it? Is it just a gift? Nope… it has everything to do with understanding how people operate and how to INFLUENCE them. This is one of my favorite books and if you're in a position where you collect decisions from people (sales) this is a MUST read!
🌟 My List Building Bootcamp – Learn More Here 
This is my signature course when it comes to generating high quality leads for your business and building a 6-7 figure email list of highly engaged buyers.
✅ Tanya Aliza's Toolkit – Learn More Here
All the things that Tanya loves and uses in her life and business. From video and camera equipment, favorite books, wellness solutions and more.
🖌️ Tanya's Done 4 You Branding Service – Learn More Here
Let Tanya and her marketing professionals help you with your Brand. Everything from websites, Logos, and Sales Funnels all Done 4 You
🌟 B-LAB – Learn More Here
AKA Build Like A Boss, The B-LAB is Tanya Aliza's FREE Facebook Mastermind group full of awesome Networkers and Entrepreneurs that are all on a mission to grow their businesses Faster and easier with Online Strategies for prospecting, recruiting, and sales. We do theme days of the week, we hold each other accountable and we lift each other! Come introduce yourself and your business.
Did you get some value from these tips so you can use scarcity marketing in getting your potential customers to take action instead of procrastinating?

I hope you did because each week I put my heart into making sure you get some good training on properly strategizing your pricing when it comes to your products and services so you get the most sales.

Wanna Share This Because You Love Sharing Valuable Info?
Each Monday I post a new video training and free resource on my blog.
Each Tuesday I do a Live Q&A training on my Facebook Page so make sure we're connected www.facebook.com/tanyaaliza
Stand Out and Stay Connected… drop a comment below.
You are a Rock Star!