In this episode, Sean Cannell shares his best Youtube marketing tips to help you grow a wildly successful business FAST.
Video can be one of the most powerful tools in helping you attract new customers and teammates to your business.
But let's be honest, video can be scary for most people!
If that describes you or if you're just getting started with video, then I have a treat for you today.
I had the honor of interviewing my good friend Sean Cannell – a YouTube marketing master who helps people build their influence, income and impact online with video.
Here's what you'll learn from Sean Cannell in today's episode of Tanya Aliza TV:
• How to create content that brings in customers and teammates even if your brand new in business or at using Youtube
• How to easily transition people from watching your videos to buying from you or joining your team
• The #1 biggest mistake people make when using Youtube to build their business
• His top 3 tips to help you overcome self-doubt if you're thinking 'why the heck would anyone even listen to me?'
• His #1 strategy to help you build your business or sell your products and services FASTER
• Why content on YouTube is more effective for your business in the long run over Facebook's live video And so much more…
Sean Cannell Shares His Best YouTube Marketing Tips To Grow Your Business Fast Using Video – Episode 86

With every Episode of Tanya Aliza TV, I like to empower you with a POWERFUL free resource that you can implement right away and create results with fast in your business.
This week since I have Sean Cannell on the show we've decided to share something really cool that Sean is doing right now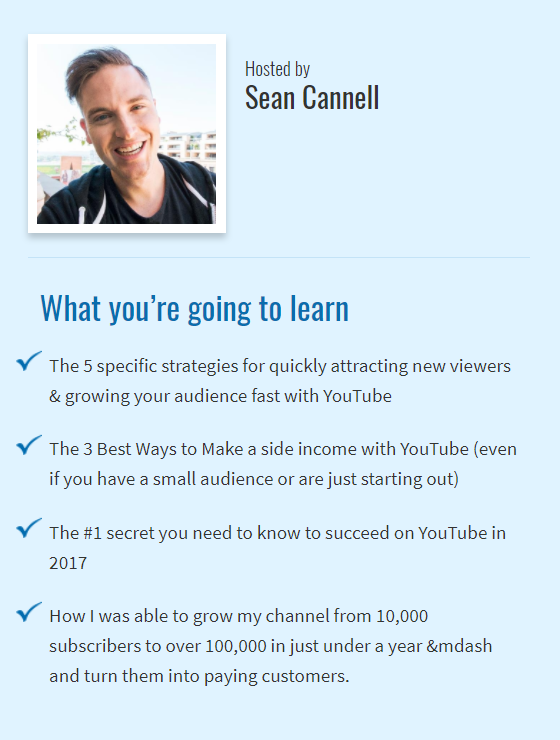 that can really help you.
Sean's put together a FREE info session called The Tube Masterclass where he will show you his 5 Strategies for Growing Your Audience and Income with YouTube in 2017.
It's going to be amazing so make sure you click the yellow button above and get registered.
YouTube Marketing Tips – Why Youtube
YouTube is a search engine second only to Google, which is unlike any other social media platform.
This is why Sean and many other entrepreneurs (including myself) are big advocates for using Youtube to build your business.
Youtube is a really powerful and fast way to engage and connect with people so there's no doubt you'll want to use Youtube as a way to grow your business.
YouTube Marketing Tips – Who is Sean Cannell
Sean Cannell is one of the go-to people that I follow when it comes to advice on strategy, video equipment, and getting found on Youtube.
He teaches influencers how to go further faster with social media and video and has over 20 years of experience in online videos, social media, and online marketing.
He's built multiple successful brands online including Sean Thinks, THINK International, THINK Media TV (which is one of my favorite channels) and Clear Vision Media to over 250,000 subscribers and over 10 million video views.
He's also worked with many top YouTubers, authors, businesses, and non-profits helping them increase their influence and impact online.
Sean's a bestselling author and creator of Video Ranking Academy which is an online course that I've actually been through and has helped me grow my audience and turn those video views into business income.
His passion right now is helping influencers spread the message that matter with video and social media.
Sean has a lot of experience and results when it comes to using Youtube to build a thriving business so make sure you take notes during the interview.
He drops some pretty powerful drops of wisdom and tips that will definitely help you in your business 😉
And make sure you get registered for the FREE info session called The Tube Masterclass where he will show you his 5 Strategies for Growing Your Audience and Income with YouTube in 2017.
Click on the yellow button below to get registered>>

Resources Mentioned & More That Will Help Rock Your Biz
Video Ranking Academy by Sean Cannell – Learn More
If you are already doing videos and posting them on YouTube and you want to learn how to optimize these videos so that you get more views and Rankings, this is one of the best trainings I've been through that can help you do this. I've been able to rank my videos on the first page of YouTube in 1 day with this training.
Episode 76 – Facebook Page vs Group – Which One Will Grow Your Business Faster – Go To This Episode
The 3-Minute Expert – Learn More
I really love this training presented by my buddy Ray Higdon. It's all about how to become an authority in your business through your blog and doing really simple and fun 3-minute videos that generate you leads and sales for your business. Ray has obviously mastered this art with his multi-million-dollar brand, blog, and videos so he's one trainer that you might want to check out! I've worked with Ray very closely and his training is fabulous!
Facebook Live Checklist (Free) – Learn More 
This is my go-to checklist that I've been using before, during and after my FB Live broadcasts that have gotten me tens of thousands of eyeballs on my products and services! It's no secret that doing FB Lives can bring you a lot of exposure and business, but sometimes it can be exhausting and intimidating to know if you're doing them right to get people to actually take the next step with you…
The B-L.A.B. – Come Join Us Here
AKA Build Like A Boss, The B-LAB is Tanya Aliza's FREE Facebook Mastermind group full of awesome Networkers and Entrepreneurs that are all on a mission to grow their businesses Faster and easier with Online Strategies for prospecting, recruiting and sales. We do themed days of the week, we hold each other accountable and we lift each other up! Come introduce yourself and your business.
Did you get some value from these Youtube marketing tips?

I hope you did because each week I put my heart into making sure you get some amazing network marketing tips and strategies to rock it in your business while creating a life you love.

Wanna Share This Because You Love Sharing Valuable Info?
Each Monday I post a new video training and free resource on my blog.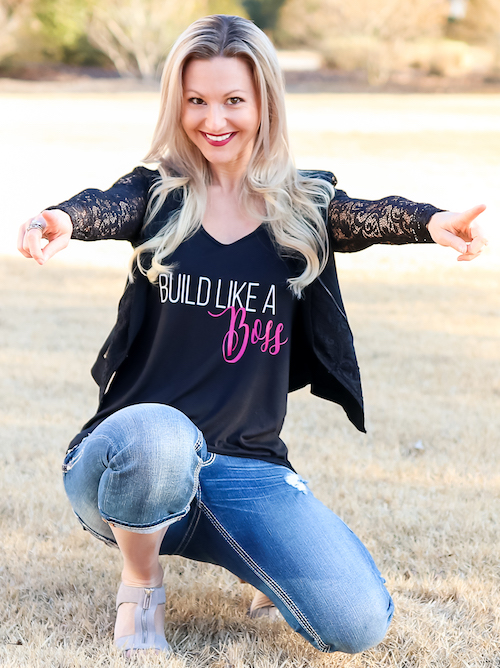 Each Tuesday I do a Live Q&A training on my Facebook Page so make sure we're connected www.facebook.com/tanyaaliza
Stand Out and Stay Connected… drop a comment below.
You are a Rock Star!
Question of the week: Did you enjoy these Youtube marketing tips from Sean Cannell? Let's show Sean some love and drop a comment below and let him know what you loved most about the interview!