In this episode, I share 5 simple online marketing strategies that you can implement today to start getting more of the right people in front of your business, products or services.
Are you frustrated with the gap that exists between your network marketing company trainings and what your business actually needs in order to thrive and grow?
Typically, when you get started in Network Marketing, the training mantra will be "go out and talk to more people" but they don't actually teach you any online marketing strategies that can help you find "more people" to talk to.
And I get it, it's hard to teach marketing on a mass scale. You have people from all walks of life coming into Network Marketing companies and they all have different backgrounds and levels of education.
So, they keep the training very basic and watered down. The only way to grow a business is to market it.
There's no way around it.
And if you want to generate a thriving 6-figure income in network marketing, you're going to have to learn some online marketing strategies. After all, every business on this planet has to market in some way, shape or form.
In this episode, I'll be sharing 5 simple online marketing strategies that will help you attract the right people for your business, products or services.
Online Marketing Strategies – 5 Simple Ways To Grow Your Network Marketing Business Online – EPISODE 43

With every Episode of Tanya Aliza TV, I like to empower you with a FREE resource that you can download and implement right away.
In this Episode, I've got something really special for you. It's a FREE Live Master Class where I pull the curtains back and show you the 5 simple online marketing strategies I use in my own business to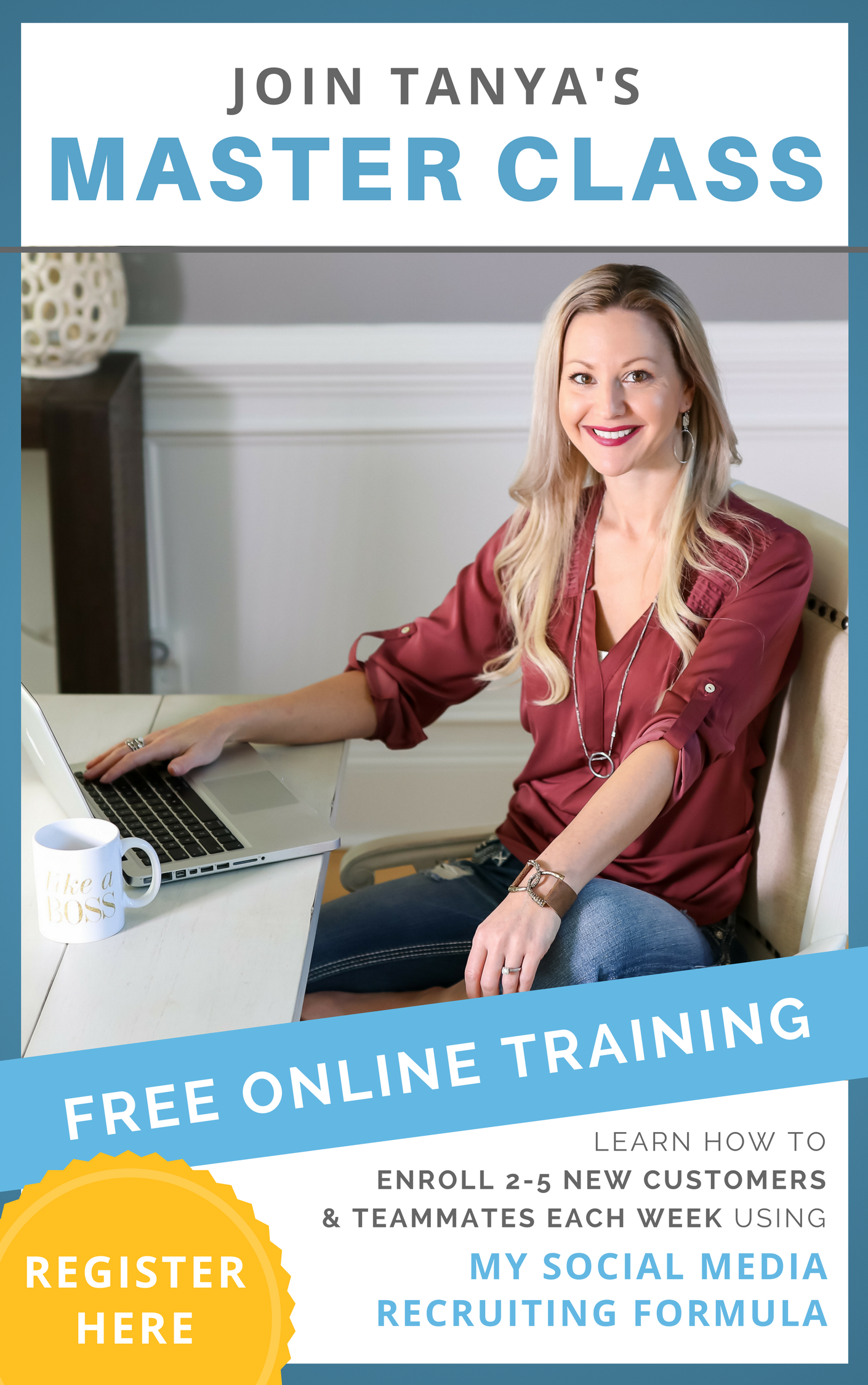 bring in tons of leads and sales into my business on a weekly basis.
These are the same strategies I use that helped me become one of the top 3 enrollers in my Network Marketing Company.
You don't want to miss this class.
Click on the yellow button above and get yourself registered and ready to bridge that gap in your business.
My philosophy around business is very simple. Work Smarter – Not Harder.
I've got a pretty good work ethic but I also like to travel and enjoy my life. Therefore, I've automated a lot of my business processes.
The right means of marketing can help you automate your business. This won't happen overnight but over time it will, and trust me, it's pretty cool when it does.
That should be your goal for your business too, unless you want to spend all day in front of your computer, which I'm pretty sure you don't;-)
So, to close that gap that you might be experiencing by the lack of online marketing training, I'll be showing you some simple internet marketing strategies that will help automate and grow your business.
So, let's dive right in.
ONLINE MARKETING STRATEGY 1 – MAXIMIZE FACEBOOK PHOTO ALBUMS
If you're not already sharing photos on Facebook that are relevant to your product, service or business, you might want to start using this marketing strategy immediately. The reason this strategy works is because photo albums are one of the most viewed pieces of content on social media.
Also, people are naturally nosy and will look at your photo albums when there checking out your Facebook page. Your job is to give them something juicy to look at. Something that will intrigue their curiosity.
Here's how this strategy works:
Let's say you have a weight loss solution that has been working quite well for a lot of people. You or your team might have a library full of testimonial photos or before and after stories.
You start sharing those photos on a consistent basis and you add them to a photo album. For example, you can create a photo album called 'Before and After.' Then every time you create a photo related to your product, you can go ahead and tag it to that specific photo album.
Be sure to add a call to action to go along with your photo and encourage people to either connect with you directly to learn more.
However, if you share a link on your post, make sure it takes them to a lead magnet or capture form.
Whatever you do, do not send them to your companies replicated website.
If you aren't familiar with this strategy or want to learn more about how to post your photos on Facebook the right way, you'll want to read this blog post that shows you the exact formula you'll want to be following so that your posts get more eyeballs and engagement from your audience.
ONLINE MARKETING STRATEGY 2 – FACEBOOK ADS IS WHERE IT'S AT
Done right, using Facebook ads is, by far, the most powerful and effective marketing strategy you can use to quickly grow your business. If you're not using Facebook or you don't have a Facebook Page you're missing out on a huge opportunity to take your business to the next level.
Creating Facebook ads is an awesome way of finding those "perfect" customers or potential business partners. You can keep it simple by just boosting your posts right from your Facebook page.
However, if you don't have a Facebook page you'll need to create one first. If you don't know how to do that or you're just not sure where to start, I'll leave a resource at the very bottom of this post that's designed to show you how to use Facebook more effectively for your business.
ONLINE MARKETING STRATEGY 3 – GO VIRAL WITH YOUTUBE VIDEOS
If you've been following my blog for some time now, you know I'm a big FAN of doing Youtube videos.
I love using Youtube videos as part of my marketing strategy.
You can go viral super fast if you're doing video.
Here's what's so powerful about doing video. By the time you see the video that's on this blog post, I'm probably on the beach sipping Margaritas.
With video, you record it once and it goes viral to thousands of people without it requiring your presence. With traditional network marketing strategies, you can only be in front of a handful of people at once.
How many times would you have to leave your home to get in front of thousands of people? Now that's the power of automation. BOOM!
ONLINE MARKETING STRATEGY 4 – BLOGGING FOR PROFITS
Want to attract a hungry mob of interested prospects for your business, products or services?
Then consider adding blogging to your online marketing strategy. The benefits of blogging for your business are many.
In fact, blogs are recognized as one of the top social media platforms on the web today. Having a blog and consistently blogging (at least once a week) will increase your credibility and authority with your audience.
If done properly, it will also generate hundreds of leads for your business on a daily basis. If you're an entrepreneur and you want to earn a 6 or 7-figure income, then blogging is an absolute must for your business.
ONLINE MARKETING STRATEGY 5 – THE POWER OF WEBINARS
How many people can you fit in your living room for a home business presentation? A handful of people, right? How many can you get to an online webinar?
Hundreds!
And that's why webinars are such a powerful marketing strategy.
I've been doing webinars for years now and one of the coolest things about doing Webinars is that you can promote them via your Blog, Youtube or Social Media and get exposure that is ten-fold.
Imagine the number of people you can help and impact with your product, service or business if you start doing Webinars.
In closing, the training your network marketing company provides is fine if all you want is some extra cash coming in.
But if you started your business because you want to live a life full of time and financial freedom, then you'll need to invest some time in learning some online marketing strategies that can help your business grow by leaps and bounds.
Click on the yellow button below and get registered for my Free Live Master Class.
Can't wait to see you there!
Some Awesome Resources That Will Help You Even More
Unlimited Fan Page Profits – Learn More
If you don't have a Facebook Fan Page yet and you're looking at all these rock stars with Fan Page and you want one for yourself… Unlimited Fan Page Profits is a training that I put together that will walk you through the steps of building a Profitable Facebook Page and marketing plan to generate leads, build a big audience and make daily sales.
The Ultimate Branding Blueprint – Learn More 
This is my signature course when it comes to building an Influential Brand Online that attracts leads and sales for your business.
Video Ranking Academy by Sean Cannell – Learn More 
If you are already doing videos and posting them on YouTube and you want to learn how to optimize these videos so that you get more views and Rankings, this is one of the best trainings I've been through that can help you do this. I've been able to rank my videos on the first page of YouTube in 1 day with this training.
Did you get some value?

I hope you did because each week I put my heart into making sure you get amazing online marketing strategies to rock it in your business work while creating a life you love.

Wanna Share This Because You Love Sharing Valuable Info?

Each Monday I post a new video training and free resource on my blog.
Each Tuesday I do a Live Q&A training on my Facebook Page so make sure we're connected on Facebook www.facebook.com/tanyaaliza
Stand Out and Stay Connected… drop a comment below.
You are a Rock Star!