Want to learn how to get customer testimonials that are so darn good that they do all the selling for you?
Testimonials are hands down the best way to encourage sales in your business.
They're also the best way to expand your reach and grow your audience.
In this episode of Tanya Aliza TV, I'm going to take you behind the scenes and show you my entire process for collecting red hot customer testimonials that have grown my audience and increased my sales.
This is a powerful episode that you don't want to miss. Let's get to it!
How To Get Red Hot Customer Testimonials That Generate More Sales For Your Business – Episode 254

With every episode of Tanya Aliza TV, I like to empower you with a POWERFUL free resource that goes with the episode which you can implement right away to create some of the same results, if not better, in your entrepreneurial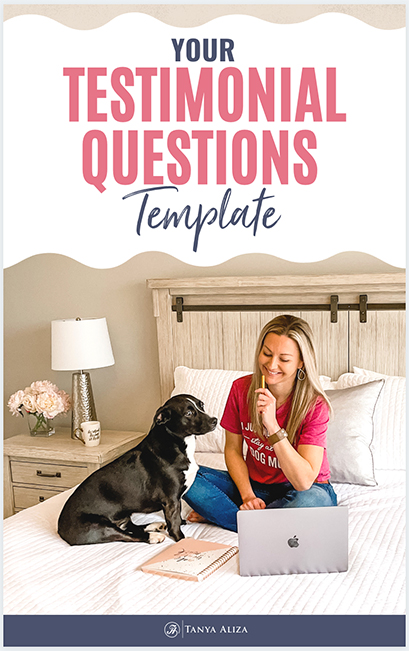 ventures.
This week, since we are talking about the strategic process in collecting testimonials, I put together a Testimonial Questions Template so you know the best questions to ask your clients or customers.
After going through this freebie you will be able to ask the correct questions from your customers and clients so you can remarket their responses and testimonials.
You can download it right away by clicking on the yellow button above 👆
Serious question, are you collecting testimonials or success stories when you sell your products and services from your customers?
If you are, are you doing it properly so that you're leveraging the most opportunities with these testimonials and success stories from your clients and customers?
I know the power of testimonials and success stories when it comes to showcasing your products and services. It builds trust and credibility with what it is you are offering.
I'll be honest and humble to say that I have not always done this with a very strategic process. It isn't until recently that I finally discovered and implemented a strategic process that has skyrocketed our results.
I want to share this process with you.
Whether you're selling services or physical products, or if you're an affiliate marketer or a network marketer, this process can help you.
Customer Testimonials Process #1 – Have A Process in collecting testimonials
The very first step is actually having a process.
We didn't have a process before so we were scrambling. We just took screenshots and just threw it in a Dropbox folder.
What we did was we created a process and communicated it clearly within the TanyaAliza.com team.
Customer Testimonials Process #2 – Have a place where people can share their experience
The first problem we had in the past is that we were all over the place.
We had multiple social media platforms where people were always leaving nice comments.
What we decided to do as a team is everytime we find someone with something nice to say about our product, we reach out to them, nicely ask if it would be okay for them to fill out a Google form my community manager created.
The Google form that was created uses some of the template questions included in this episode's freebie.
Once they complete the Google form, we now have a formal testimonial that we can use in our marketing materials to share.
Testimonials are the single best way to showcase your products and services in a very unbiased, non-salesy way. It leads to the most sales of your products and services.
I love to use a more formal way of collecting testimonials and our graphics team can make images of these testimonials that we can promote all over social media platforms.
Customer Testimonials Process #3 – Incentivize people to leave testimonials for you
What I do with my clients is send out an email to those who have purchased my products after a certain time, to check-in on them.
You can incentivize these clients or people by stirring up excitement and letting them know you're going to have a drawing on those who take 5 minutes of their time to leave you an awesome testimonial.
You can then send them to the Google form you have prepared.
Customer Testimonials Process #4 – Repurpose the content
When the testimonials come in through the Google form in different formats, I have my creative team take the testimonial and format it for all the different marketing platforms.
We also schedule when they get posted out.
Having posts scheduled to go out brings awareness and alleviates resistance to your products and services.
Your posts get people curious about your products and services.
Customer Testimonials Process #5 – Showcase testimonials or client success stories with a call to action
Have fun with your posting schedule because you'll be putting a call to action on your posts.
If the testimonial is talking about how a specific product of mine helped them, my call to action would be to go check it out so they can possibly purchase the product.
Make sure you're not only showcasing the testimonial to make your brand look good, but for it to be a purpose-driven post by putting a call to action for anyone that is looking at the testimonial.
Make sure to have a place where those who want to learn more can go to and buy from you.
Customer Testimonials Process #6 – Create a highlight Reel on your Instagram profile
You can go and learn how to use highlights more effectively to get more exposure on your products and services.
You can take your regular posts that are showcasing a testimonial and share the posts to your Instagram stories.
You can then put that story in a highlight that stays static on your profile and doesn't disappear after 24 hours.
I have a highlight on my instagram profile that's called "Client Success Stories" or "Client Wins" so whenever someone comes to my profile on instagram they can see those testimonials.
In Closing
Okay, so I hope this episode helped show you the power of collecting testimonials.
Because like I said, the single most powerful thing that you can do to help sell your products and services is to create a simple process around collecting your testimonials.
You'll need to have a very purpose-driven plan on how to leverage on your testimonials to sell more of your products and services.
And remember that to help you with this I put together a freebie for you called 'Testimonial Questions Template' to make sure you know the best questions to ask your clients or customers while collecting testimonials.
You can download it right away by clicking on the yellow button below 👇

Resources Mentioned & More That Will Help Rock Your Biz
📌  Episode 236 – My Secret Instagram Story Highlight Strategy To Get More People To See Your Posts – Read More Here 
in this episode of Tanya Aliza TV, I'll be sharing what this little known strategy is all about and how you can use it to get more of your posts seen which in turn will help you generate more sales for your business.
📖  Ultimate Branding Blueprint – Learn More Here
This is my signature course when it comes to building an Influential Brand Online that attracts leads and sales for your business.
🌟  My List Building Bootcamp – Learn More Here
This is my signature course when it comes to generating high quality leads for your business and building a 6-7 figure email list of highly engaged buyers.
✅  Tanya Aliza's Toolkit – Learn More Here
All the things that Tanya loves and uses in her life and business. From video and camera equipment, favorite books, wellness solutions and more.
🖌️  Tanya's Done 4 You Branding Service – Learn More Here
Let Tanya and her marketing professionals help you with your Brand. Everything from websites, Logos, and Sales Funnels all Done 4 You
🌟  B-LAB –  Learn More Here
AKA Build Like A Boss, The B-LAB is Tanya Aliza's FREE Facebook Mastermind group full of awesome Networkers and Entrepreneurs that are all on a mission to grow their businesses Faster and easier with Online Strategies for prospecting, recruiting, and sales. We do theme days of the week, we hold each other accountable and we lift each other! Come introduce yourself and your business.
Did you get some value from these tips so you can have the best process in collecting testimonials to grow your audience and increase your sales.

I hope you did because each week I put my heart into making sure you get some good training on customer testimonials and much more.

Wanna Share This Because You Love Sharing Valuable Info?
Each Monday I post a new video training and free resource on my blog.
Each Tuesday I do a Live Q&A training on my Facebook Page so make sure we're connected www.facebook.com/tanyaaliza
Stand Out and Stay Connected… drop a comment below.
You are a Rock Star!